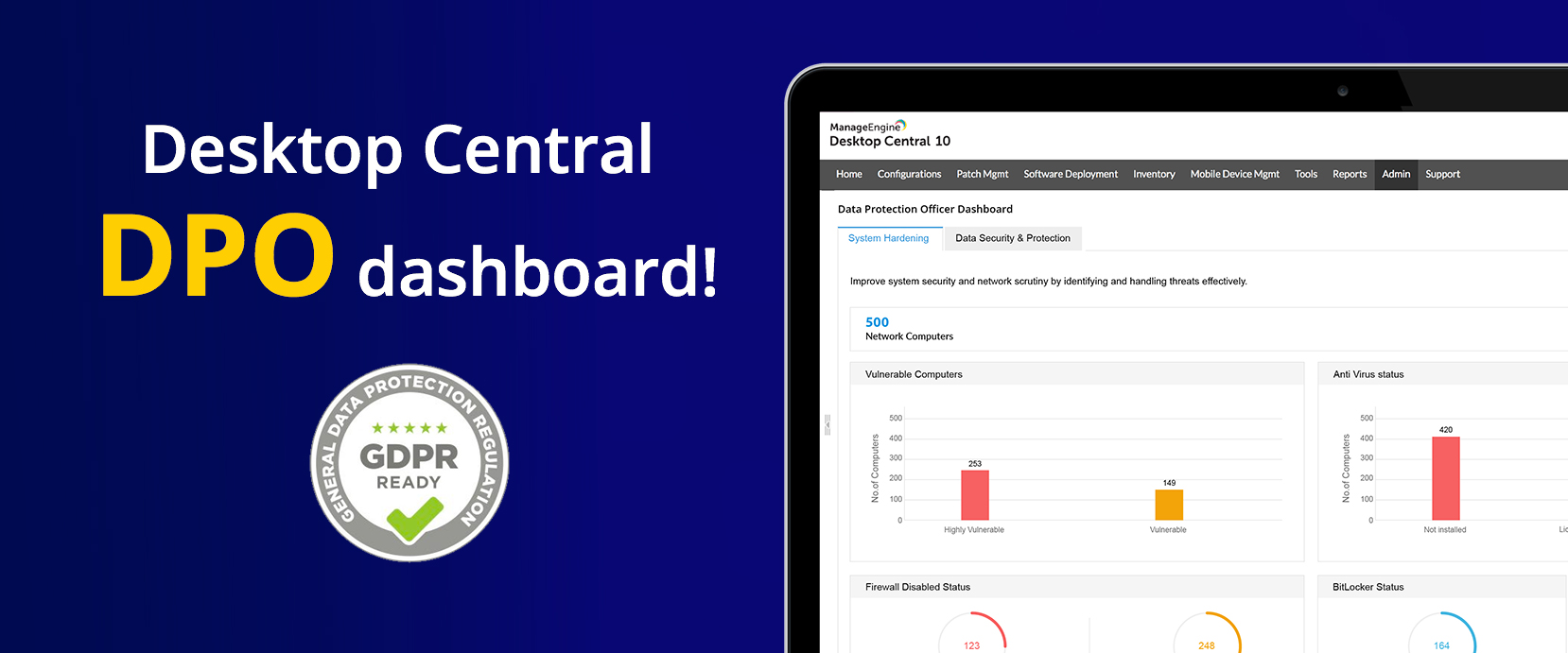 When considering everyone in your enterprise, you may think of your chief executive officer as one of the most important employees. However, if you factor in the steep demands of the upcoming GDPR, it would be accurate to say that your data protection officer (DPO) will soon be equally important—at least when it comes to securing your enterprise.
Have you started staffing up for the GDPR?
With no shortage of cautionary tales circulating the media, enterprises are starting to wise up to the implications of the GDPR, as well as the consequences of noncompliance.
With all the demands of the GDPR, DPOs are realizing they have too much on their plate. Not only do DPOs have to ensure GDPR compliance, but they're liable for every bit of personal information that's collected, processed, and stored in their enterprise. Keeping track of all these records single-handedly would be a challenge for anyone.
Desktop Central lends a helping hand
Securing your network from vulnerabilities is the wisest step to take towards GDPR compliance. Desktop Central's new DPO dashboard sheds light on your enterprise's data security levels, pinpoints unprotected areas, and lets you configure various settings so you can stay vigilant against data breaches and cyberattacks.
Highlights of Desktop Central's DPO dashboard
Identify and patch computers with missing patches. Over the last year, ransomware like WannaCry and widespread vulnerabilities like Meltdown and Spectre taught us about the importance of proper patching. The DPO dashboard provides accurate information on vulnerable computers with missing patches, which are instantly patched with automated patch management that runs around the clock.
Receive instant notifications when prohibited applications are installed on computers in your enterprise to protect your network from malicious software.
View details on which computers have a disabled firewall. Establish a firm perimeter around your network with advanced firewall, browser, and wireless communication settings.
Analyze granular details on the amount of information slipping out of your enterprise and configure settings to efficiently handle all incoming and outgoing data.
Gain control over your enterprise's data by seeing how much data is being shared and who has access over that shared data.
Keep track of computers running on an end-of-life OS; when OSs are no longer supported by their manufacturer, they can invite potential threats into your network.
Desktop Central's DPO dashboard is designed to let you perceive every detail of your enterprise's data flow, identify network security levels, and come up with preventive measures to avoid unexpected data leaks. Read more about Desktop Central's DPO dashboard.