Read our case study on how Desktop Central reduced expenses by 60% for the Care Institute of Medical Sciences (CIMS). In the case study, we tell you exactly how  Desktop Central improved desktop management operations and managed a diverse array of devices to simplify the work of the system administrators at CIMS.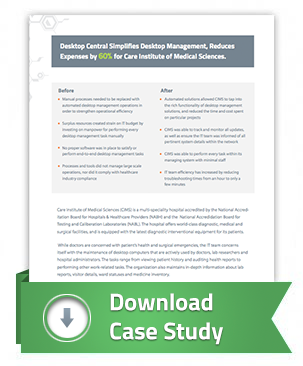 Does your health care organization rely solely on Desktop Computers to perform everyday jobs, such as viewing patient reports, in-patient administration, client transaction accounts, and medicine stock and supply transaction? Besides all this, is the IT team responsible for system management and performance as well?
Now, that was exactly what the IT team at CIMS was doing. The IT team maintained desktop computers actively used by doctors, lab researchers, and hospital administrators. Their tasks ranged from manually managing patch updates and deploying necessary software applications to protecting confidential data, such as patients records, detailed lab reports, visitor details, ward statuses, and medicine inventory from replication. When usage rates peaked during the day time, they used a sophisticated IT infrastructure to manage desktop computers and complete the daily tasks within the CIMS network.
Despite the sophisticated IT infrastructure in place, the manual tasks proved cumbersome, time-consuming, and complex. It was time to automate desktop management operations and simplify the execution process. And, Desktop Central spared no time in doing just that for CIMS!
Click here to download the case study on how Desktop Central helped CIMS gain an edge in managing the growing number of systems securely.