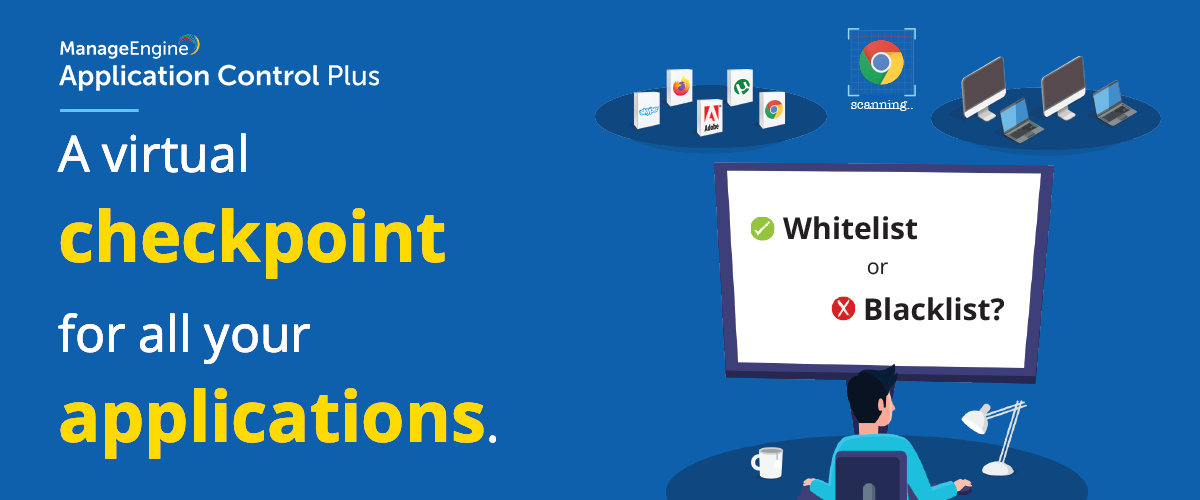 We're pleased to announce the debut of ManageEngine Application Control Plus, an application whitelisting, blacklisting, and privilege management solution.
 IT operations could come to a standstill if applications suddenly ceased to exist, but applications can be considered double-edged swords. As important as applications are, they also form the largest threat vectors in any network. There has been an unprecedented increase in application-related security issues, with the number shooting up from 5,732 to 17,311 in the past 10 years. With these numbers predicted to rise even more, antivirus software alone will not be sufficient to protect organizations from the next possible attack.
 According to the "State of the Software Security Report," more than 85 percent of applications in any network will have at least one vulnerability. Since keeping applications patched is mandatory for security, limiting the number of applications utilized to only those absolutely necessary helps reduce the workload of IT administrators. Games and instant messaging applications continue to be major contributors to unproductivity. Keeping them in check is an easy way for organizations to increase their overall efficiency.
 However, even if organizations have an effective system for controlling applications in their network, they may overlook the possibility of attacks resulting from unnecessary privileged access. A combination of whitelisting, blacklisting, and administering application-specific privileges is required to defend against application-related threats.
 Application Control Plus is a comprehensive enterprise security software that brings together privilege management and application control capabilities. It helps enterprises gain a holistic view of their network by aiding in the instant discovery and categorization of authorized and unauthorized applications. With application-level privileged management and dynamic, rule-based whitelisting and blacklisting, Application Control Plus ensures only authorized access occurs, minimizing an enterprise's attack surface.
  With Application Control Plus, you can:
‌Instantly discover and categorize all running applications.

Simplify application control list creation and management by using predefined rules.

Build application whitelists by enforcing a trust-centric approach.

Prevent malware, zero-day vulnerabilities, and advanced persistent threats by blacklisting malicious executables and applications.

Cater to your network's unique prerequisites utilizing the various flexible modes available.

Easily manage and resolve greylisted applications.

Control application-specific privileged access, and reduce the chances of attacks leveraging privileged credentials.
 With Application Control Plus, you can now prioritize security without compromising on productivity.
Want to learn more about Application Control Plus? Sign up for a free, 30-day trial to see how it can help secure devices in your network.