According to Gartner, the ITOM market is divided into "three mini-suite categories — delivery automation, experience management, and performance analysis." With business growth becoming reliant on the success of IT operations, managing IT operations to ensure optimal performance, uninterrupted service delivery, and an exceptional user experience is critical for organizations.
An effective IT operations management (ITOM) strategy involves not only monitoring network performance to minimize the impact of downtime but also simplifying IT resource management to aid capacity planning and prevent indiscriminate purchases.
Given that, you need ITOM software to perform ITOM processes efficiently and smoothly. Yet, there are certain factors you need to keep in mind before developing your ITOM strategy. Since "What is ITOM?" is a popular question on the internet, we will take you through the ways to achieve top-notch IT management in this blog.
Factors to consider to ensure hassle-free ITOM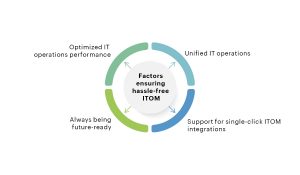 1. Optimized IT operations performance
To take control of IT operations performance, you need to be aware of what's happening in your network now and what's likely to happen next or eventually. To address these questions, you need to have a system in place that lets you spot, solve, and prevent network faults.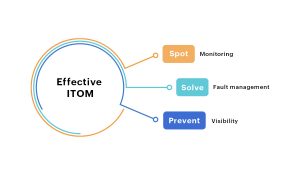 Monitoring
Discovering and monitoring physical and virtual network devices is necessary to keep an eye on the health and performance of your IT operations. When you actively monitor those devices, you'll be constantly updated about their availability status, which helps you easily identify network faults or performance issues.
Fault management
With threshold-based monitoring, an ITOM tool keeps performance outages at bay by promptly alerting about threshold breaches that indicate faults. Further expanding its fault management capabilities, the perfect ITOM system should have different alert channels, such as SMS, email, web alarms, and ticket logs. This way, network admins never miss out on alerts and can quickly act on performance issues, even at the slightest sign, preventing downtime.
Visibility
You can scrutinize the network to act quickly on outages, but a smart network admin goes the extra mile to prevent network issues in the first place. This requires you to see the bigger picture of IT operations by visualizing the network architecture. Such end-to-end network visualization helps you foresee network anomalies and take preventative actions beforehand.
 2. Unified IT operations
With managing IT operations comes the need to manage their different components, such as event logs, firewalls, configurations, bandwidth, applications, IP addresses, switch ports, and storage.
No doubt there are ample tools on the market for managing and implementing each component of ITOM processes. But toggling between different tools to check the network status, staying compliant with the license models and policies of each tool, and configuring and managing alerts from various tools requires a lot of manual effort, and striking a balance between them all requires even more.
Network admins can miss out on important updates or critical alarms due to a lack of correlation between tools and a lack of visibility into the entire ITOM process. That is why the perfect ITOM solution should unify all these IT operations and provide a centralized view of the IT infrastructure. This also eliminates the need to purchase multiple tools, saving you both money and time.
3. Support for single-click ITOM integrations
If you wish to build a strong, effective ITOM strategy, integration is the key. With IT becoming more intense and complex, a unified ITOM solution alone will not make a network admin's life easy. You need to integrate communication, alarm management, and ITSM tools with the centralized ITOM solution to ensure faster discovery and troubleshooting of network faults.
In other words, these integrations can help you manage internal and external communications, combine data from individual process monitoring solutions to create a single view of overall IT operations performance, and convert alerts from various ITOM components into actionable items to aid L1 troubleshooting. Thus, such single-click integrations are crucial in reducing the MTTR and preventing business losses.
4. Always being future-ready
AI and ML are already surging. Your service delivery experience will miss out on a lot if you don't consider adding them to your ITOM strategy. From virtual assistants to intelligent recommendations to predictive data analysis, AI- and ML-based algorithms have a lot to contribute to the smooth execution of IT operations.
Imagine the field team rushing to the floor to fix a network issue only to find that it can be done remotely. In such cases where restarting a service or server would serve the purpose, these AI- and ML-based algorithms help network admins automate labor-intensive ITOM tasks and repetitive L1 and L2 fault management activities. Some tools even automate threshold configurations by analyzing data growth patterns. This allows network admins to prioritize and focus on critical IT operations while automating the rest.
OpManager Plus: An all-in-one ITOM solution for every business!
ManageEngine OpManager Plus enables centralized ITOM by proactively monitoring network components, such as servers, routers, storage, firewalls, bandwidth, switch ports, applications, interfaces, and device configurations—all from a single console. With OpManager Plus' Notification Profiles, you can perform fault management activities effectively since alerts across all ITOM processes are unified. Additionally, you can visualize the bigger picture of IT operations with the rack view, 3D view, and floor view diagrams.
 Always future-ready, OpManager Plus automates basic fault management activities with workflows. With the help of AI- and ML-based algorithms, OpManager Plus' adaptive thresholds automate threshold configurations for CPU, memory, and storage. Make ITOM effortless with seamless integrations with other ManageEngine applications and third-party tools, such as ServiceDesk Plus, AlarmsOne, ServiceNow, REST APIs, and Slack.
 Want to know more? Click here to learn more about how OpManager Plus can effectively optimize your ITOM processes. Or download our free, 30-day trial to gain hands-on experience.