Now that we've said goodbye to 2021, we are on our way to completing 20 years of IT transformation. We are taking account of every milestone, every accolade, every cheer from our users, partners, and employees to show the world what turned out to be an eventful year.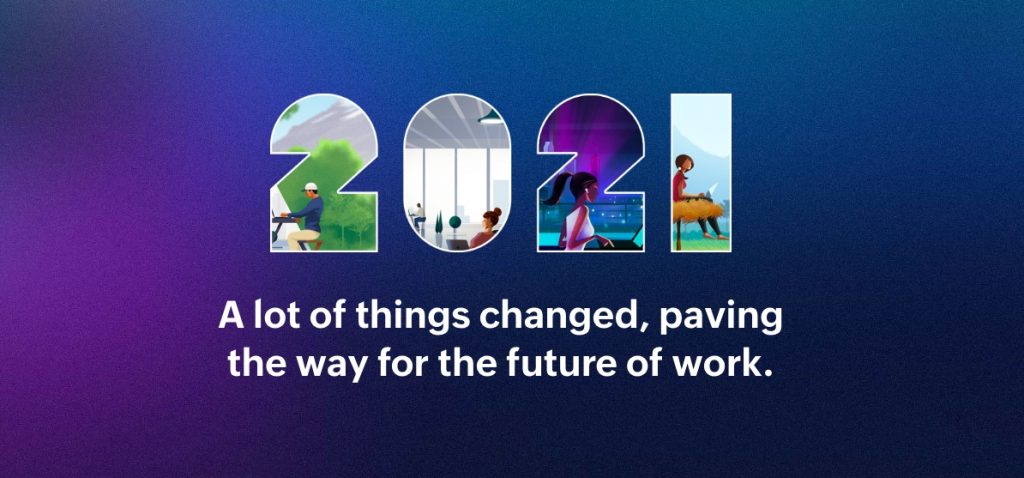 2021 was our moment: Opening doors for the future of work 
This past year was not easy, but we adapted and embraced the hybrid work model with transnational localism. We think this is a good time to present an alternative to the globalization of work. We've chosen to provide residents of small towns and cities around the world with local employment opportunities so they can experience a better quality of life while supporting the local economy.
In India, we now have three hub offices, 31 spoke offices, and 262 people working out of these spoke offices. In the US, New Braunfels, a growing town located between San Antonio and Austin, is home to one of our newest offices. We believe our transnational localism philosophy will create a balance between at-home and in-office work for employees who previously never had a say in the matter.
New roads, smarter solutions
With the dawn of a new era for workplaces, organizations modified their work styles according to technological demands. Just as we navigated to the cloud to upscale our work, we saw a 75.6% hike in customers who turned to our cloud solutions for their end-to-end IT management. Unfortunately, switching to cloud solutions amid a pandemic also paved the way for countless threats targeting remote workers. 
As these new threats emerged, we helped equip our customers with better security solutions. With these upgrades, we witnessed our customers detect 86% more WFH-themed ransomware attacks with our SIEM solutions and manage over 12.4 million active endpoints with our UEMS solutions.
According to our 2021 Digital Readiness Survey, in the past couple of years, 86% of organizations relied on AI and analytics for better data-driven decision-making. Likewise, in 2021, we observed that 2.5 billion metrics were processed each month for anomaly detection using Site24x7, and there was a 73% spike in the use of ML-powered threat detection in our SIEM solution. 
Riding out the storm
With over 50 products released since our inception, the goal is always to set our focus on the evolving needs of our customers. During the pandemic, the world changed without warning, and every one of us was knocked out of our comfort zone. We realized that our customers need us now more than ever. So, in 2021, we focused on what we do best: expanding and perfecting our product portfolio for you. This translated to two product releases:
RMM Central automates endpoint management and network monitoring for MSPs.

Endpoint DLP Plus protects sensitive data on managed endpoints from data disclosure and theft.
Going the extra mile 
We equipped our solutions with additional capabilities to facilitate your digital transformation. Here are a few of the updates:
It has been an absolute delight to cater to your requirements and have you trust us with your IT management necessities. In order to serve you better, we expanded our workforce by 19% and our partner communities by 15%.
Badges of appreciation
In large part thanks to the trust you place in our products, our efforts were recognized and appreciated around the globe in 2021. We received many awards and accolades:
Check out the list of highlights from our year here.
All of this began with us trying to assist your enterprise IT management, and it's been an amazing ride. Our prime focus is and will always be to fulfill your requirements. Now, if we had to pick the best part of 2021, it would be all the insightful conversations we had at last year's 481 online workshops, 245 webinars, 101 virtual events, 36 tradeshows, and 34 ITCONs. Phew—we sure tried hard to meet you virtually!
So, here's to refusing to succumb to the hard knocks that have flown our way. We welcome 2022 with a receptive mindset and the drive to continue improving for you.
Thank you for an eventful year! Take a walk through our 2021.