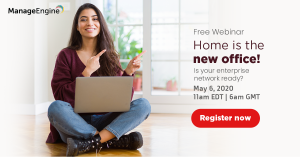 COVID-19 has had a ripple effect on organizations, forcing them to accommodate a home-based workforce. Even organizations that had already maintained a robust remote work structure before the crisis are finding it difficult to deal with this transition. Though remote work has allowed businesses to keep operating, it has brought up various complications such as compromised network security, the need for constant configuration changes, and insufficient VPN capacity.
Challenges raised by remote work
Here are a few concerns organizations now face:
Insufficient VPN capacity
With a VPN becoming the best bet for providing access to business-critical services, there has been significant pressure on organizations' VPNs. It has become imperative for organizations to work towards increasing the capacity and reliability of their networks.

Compromised network security
The sudden shift to working from home has dealt a blow to companies that still depend on desktops and can't ramp up their mobile IT devices; most of these organizations have been forced to adopt BYOD policies. Organizations implementing a BYOD policy must ensure employees' devices are up-to-date with the latest firmware versions, monitor app permissions, see what data is being pulled from devices, and implement precautionary security measures.

Constant configuration changes
A data breach is one of the biggest security threats organizations face during these difficult times. To prevent malicious users from accessing confidential information, it's important to have proper configurations in place so that no breach occurs through devices connected to the network.


Ensuring a good end-user experience
With the surge in traffic on websites and mission-critical internal and external applications, it's crucial for admins to prevent performance degradation to ensure an optimal end-user experience.


Want to know how you can address these concerns effectively? Join us in our free webinar, "Home is the new office! Is your enterprise network ready?", hosted by our product experts. Learn how ManageEngine's IT operations management software can help you during these tough times.

Date: May 6, 2020

Time: 11am EDT | 6am GMT

Hope to see you at the webinar!