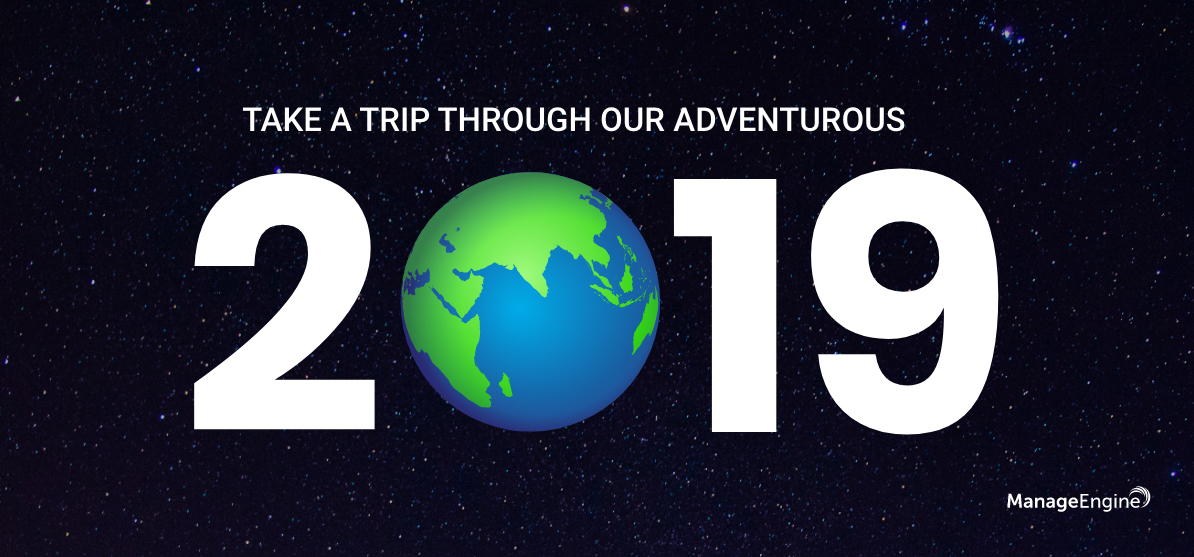 Mark Twain once said, "Twenty years from now you will be more disappointed by the things that you didn't do than by the ones you did do."
 As another decade draws to a close, we at ManageEngine, started to reminisce about the roller coaster of a ride that began 20 years back. As 2019 winds down, we're taking stock of what's turned out to be an eventful year here at ManageEngine. From brand-new product launches to new offices and data centers across a number of countries, it's been a fulfilling ride on the IT management engine.
Leaping at every opportunity
With 14 new products released in the last decade, we've made sure to stay on top of every IT trend to address the growing needs of our customers. 2019 witnessed information security, artificial intelligence, and on-demand software coming to the forefront. With this in mind, we launched four new products in 2019 alone:
PAM 360 provides complete privileged access security for enterprises.
 We also strengthened our solutions with new capabilities like an intuitive AI assistant, user entity and behaviour analytics, automated incident response, public cloud cost analytics, and a rapid-start enterprise service desk.
The world is our oyster
It has been incredibly gratifying to see users from across the world trust us with their IT management needs. Some of the biggest highlights of our year was meeting you folks and having insightful conversations at 390 events across 52 countries.
Globally yours
Our aim has remained unwavering: to provide the best of services and solutions to you, no matter where you are in the world. To fuel this goal of ours, we opened two new offices in Australia and Mexico. In addition, we opened three new data centers across China and Australia, and initiated a 15 percent increase in our partner workforce to better cater to the needs of our customers.
Beating our personal best
Success tasted pretty sweet this year when, thanks to you, our efforts were acknowledged and honored throughout the world. We received a number of awards and accolades this year:
All this would not have been possible without our amazing customers, who have always been at the center of everything we do. Your needs and concerns will always be our number one priority. And we knew there was no better way to do that than to keep the conversation alive through the 300 blogs, 339 webinars, and 184 videos that we published this year. But, we still haven't had our fill, so you can expect more conversations like this in 2020!
2019 was an amazing ride. We'd like to sign off by acknowledging the valuable lessons we've learned from our journey so far. So here's welcoming a new decade and our aim to be a little wiser and a lot more resolute on being the best at IT management and IT security.
Take a closer look at our 2019 story.