Seeing as everything's bigger in Texas, it should come as no surprise that ManageEngine's Dallas User Conference was an event of epic proportions. Held at the Sheraton, which incidentally is the 72nd-largest hotel in the world, our user conference featured three action-packed days of presentations, networking, and one-on-one sessions.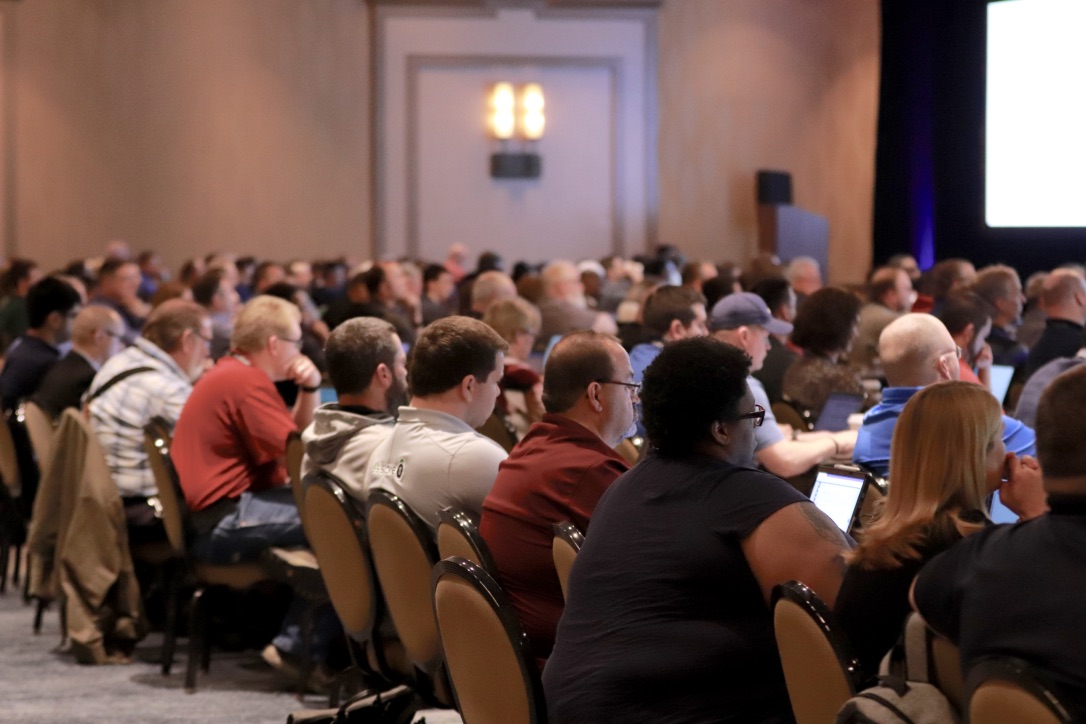 Engaging presentations
With three different tracks—Security Information and Event Management, Desktop Central, and ServiceDesk Plus—the 274 conference attendees left teeming with new knowledge and offered overwhelmingly positive feedback about the conference.
Jennifer, an application support analyst from Dallas said, "My team uses ServiceDesk Plus for request, incident, and change management. It has been great to use so far, and will be even better when I put into play everything I have learned at this user conference!" And Emily, who works at an electrical manufacturing company agreed. "It was very informative and the guys in track three were very lively! I learned many details that can be used to make our lives a little easier in IT! Looking forward to the rest of the conference and to attending in the future! Keep up the good work!"
Given that this was my first user conference, I asked attendees how this compared to conferences they've attended in the past. PJ, an IT manager from Newfoundland, said, "It's definitely different. More personal. I've been to the one-on-ones several times, and everyone knows my name. Even just this—you and I standing around the coffee machine talking—I don't think you'd see this at another conference, certainly not at an HP conference." Shots fired at Hewlett-Packard aside, it was great to see so many people enjoying themselves.
ManageEngine technical evangelist Harish "Hary" Sekar was excited by the level of engagement. When I asked Hary what was different about this conference, he said, "Never have we had a customer pitch on our behalf before. Now, we have customers talking about us. They're pitching for us. And that's what ManageEngine has done. We've garnered amazing customers who are ready to show us off to the world."
Sky-high energy in every room
ManageEngine president Raj Sabhlok was delighted by the customers' energy and eagerness to learn. Raj said, "First off, I think the level of engagement was really high, and that includes the fact that we've expanded the number of days in the conference. I think that can be attributed to the fact that these customers are focused on understanding tools and how to optimize their environments.
"And secondly, there's been this continual stream of new product offerings that customers are really excited about. So, we came out a week ago with single sign-on for Identity Manager Plus, and probably the most topical thing these days is AI. We have Zia, a conversational, virtual tech support agent; Zia has generated a lot of interest because it really has the potential to streamline jobs and eliminate errors—all by leveraging AI."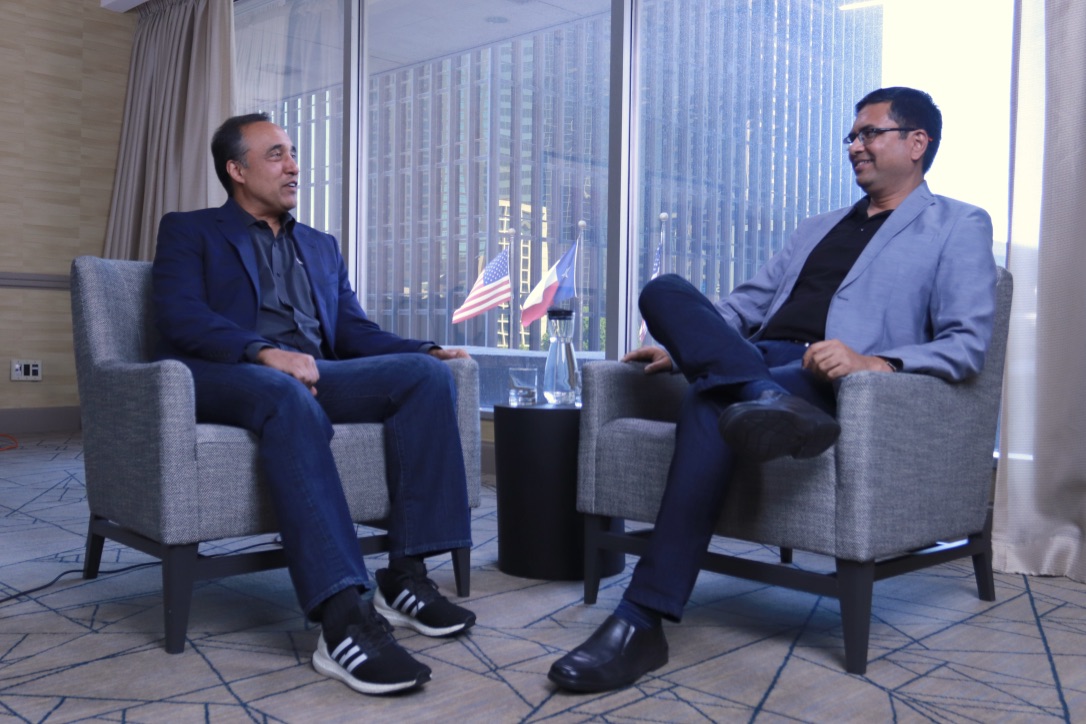 Rajesh Ganesan, vice president of product management, agreed with Raj. With a cheery demeanor, Rajesh stated, "The products are becoming more mature, and people are opening up about their build requirements. Everything is coming together nicely. This is a culmination of a lot of things. The product teams back in India are doing a fantastic job. And this user conference is a great place to see the validation."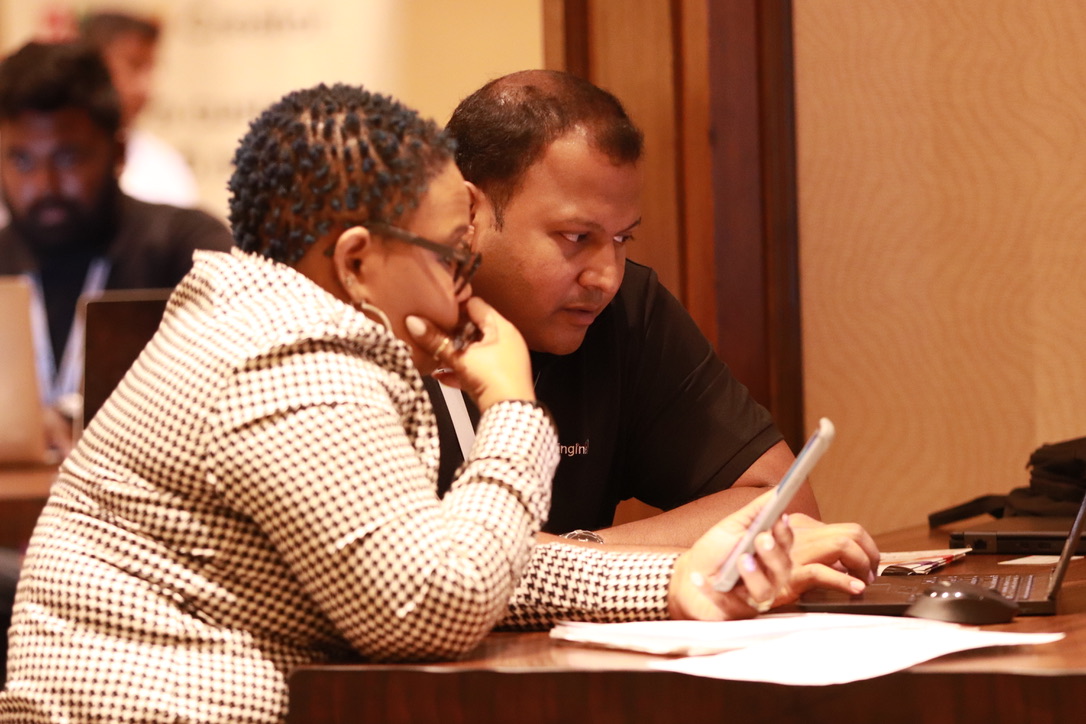 One-on-one sessions with experts
Rajesh wasn't the only one walking around with a big smile. Attendees had access to product experts, who were available to answer questions, offer recommendations, and perform demonstrations. Monica, an IT asset management specialist for the City of Dallas, took advantage of the one-on-ones, saying, "The one-on-one was very well organized, and the educational component was amazing. Anand and Santhosh were very insightful, patient, and professional."
Marco, an IT director at a consortium of schools, also had the pleasure of working with Santhosh. He said, "I was able to get my questions answered. Santhosh really took care of my needs and helped me out." Also, Marco is a huge fan of Desktop Central. "I can't live without Desktop Central. It allows me to make sure our staff, teachers, and students have a consistent experience using their computers. I really do love it. I have actually stopped using GPOs in favor of Desktop Central."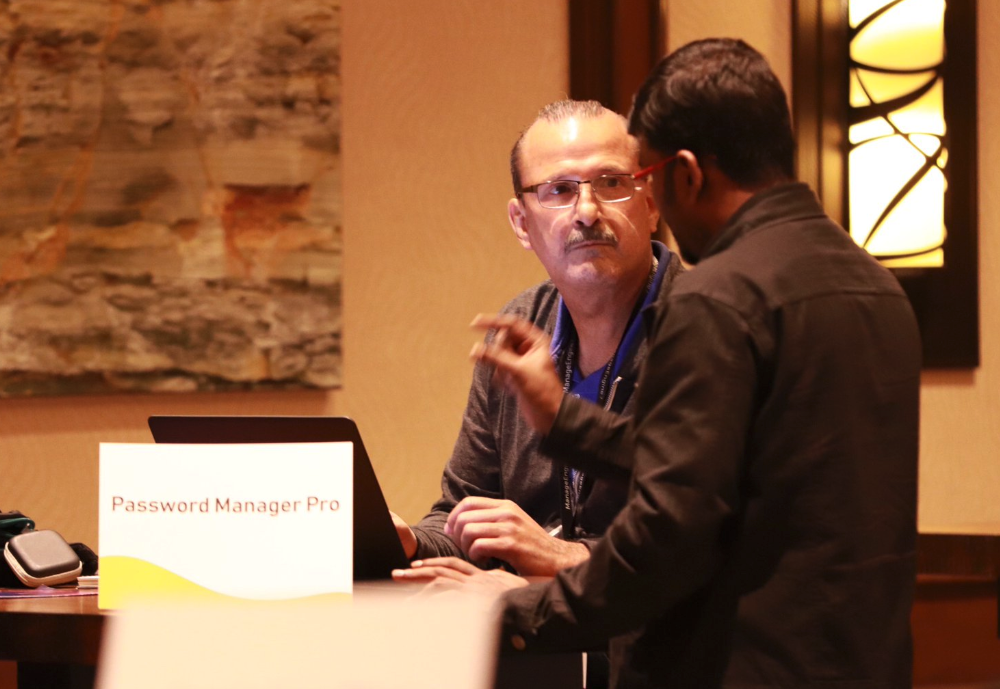 Stephanie, an IT Security and risk analyst from Arkansas, attended the one-on-ones to gain insight into ADAudit Plus. She noted, "Product team members were very helpful. It is evident that user success is a priority for them."
And Stephen, a network and system administrator at a mortgage company, had a particularly good plan of attack; he'd go to the one-on-ones after attending the seminars. Stephen said, "The one-on-one sessions are a great feature of the conference. They enabled me to engage my support team about questions that came up during the seminars."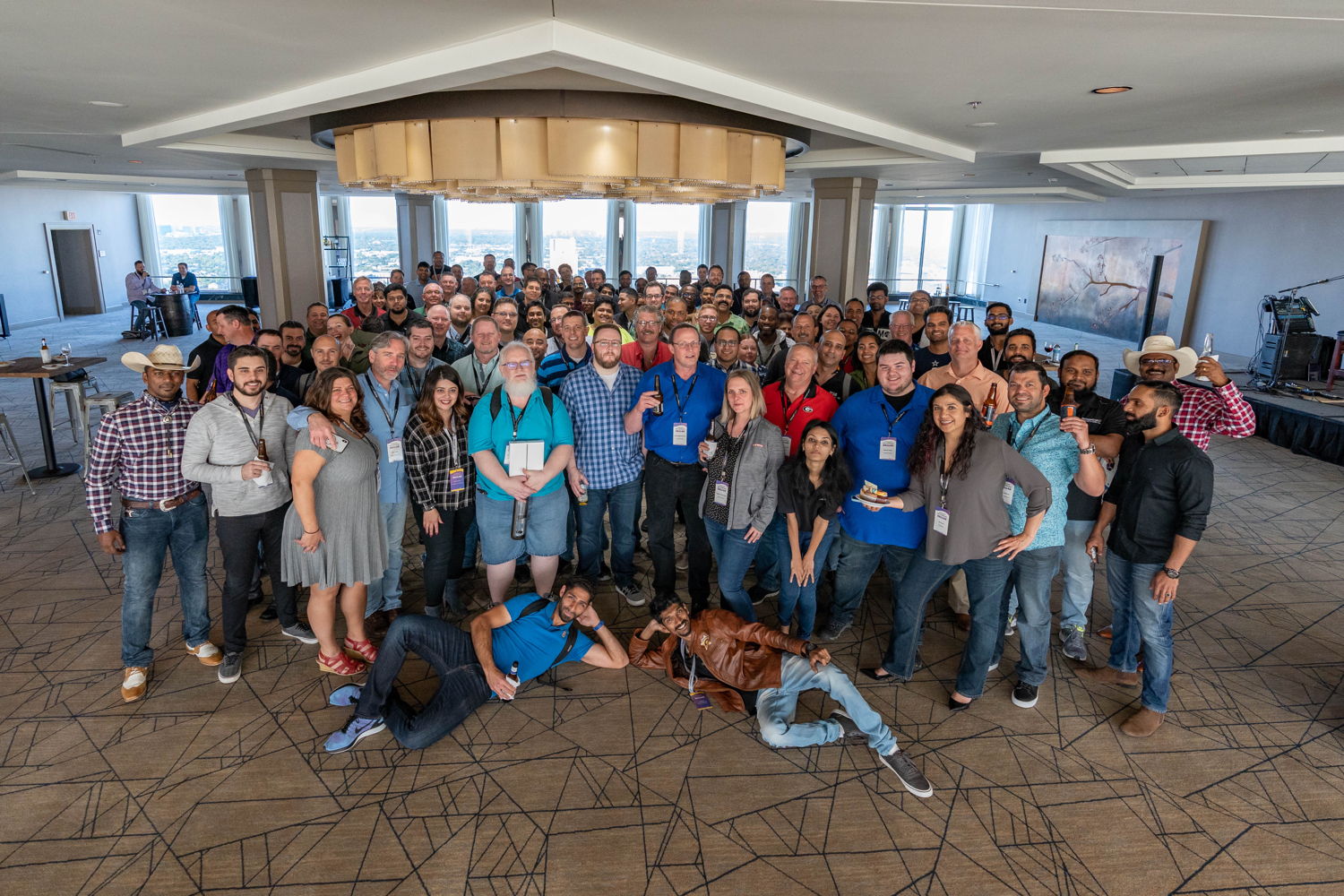 Busting loose at the conference bash
With live music, an oversized Jenga game, exciting cornhole matches, a lucky draw, and a costume contest, it was an event for the books. The event organizers even set up a game of horseshoes—indoors! Taking place atop the sun-drenched 38th floor with a wrap-around view of downtown Dallas, this party was a ton of fun. Winners of the costume contest and the lucky draw received iPads.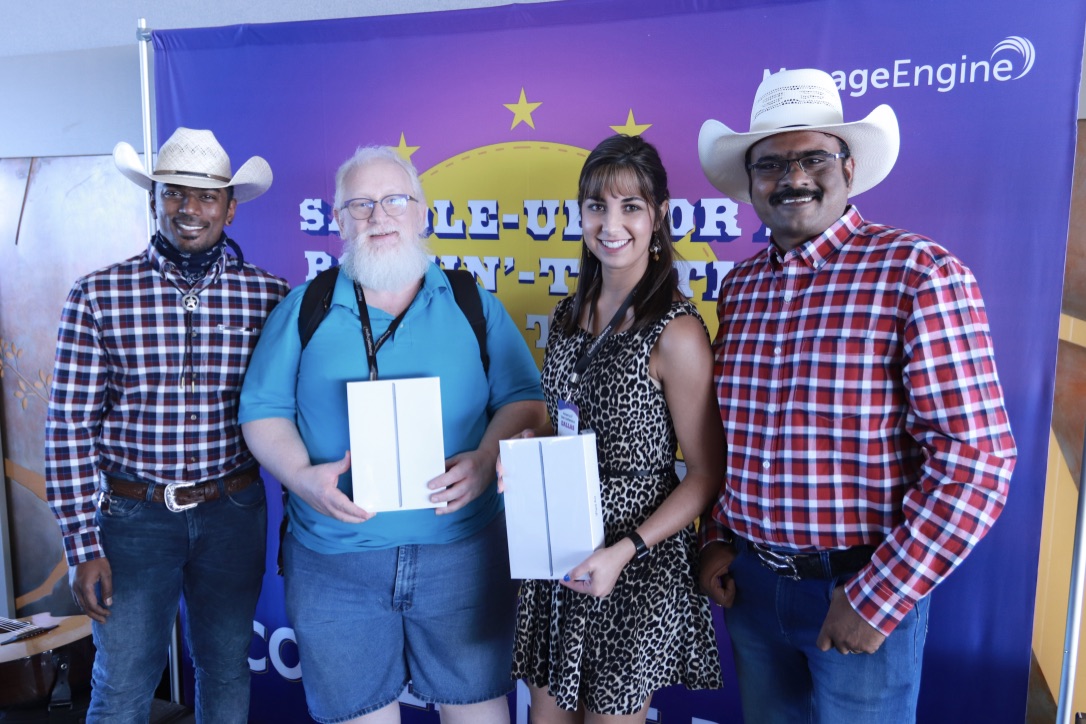 Overall, the conference was a wild success. Our team of experts had as much fun as the attendees, and it was a great learning experience for everyone. As Don, an IT manager at a utility company in Wisconsin, so eloquently stated, "It was great being able to talk to people who understood exactly what I was trying to do and had insight on the future of the product. I learned many things in a very short period of time. Thank you!" You're welcome, Don. And thanks for attending.