Five worthy reads is a regular column on five noteworthy items we've discovered while researching trending and timeless topics. This week, we highlight blockchain's huge potential to disrupt the digital sphere.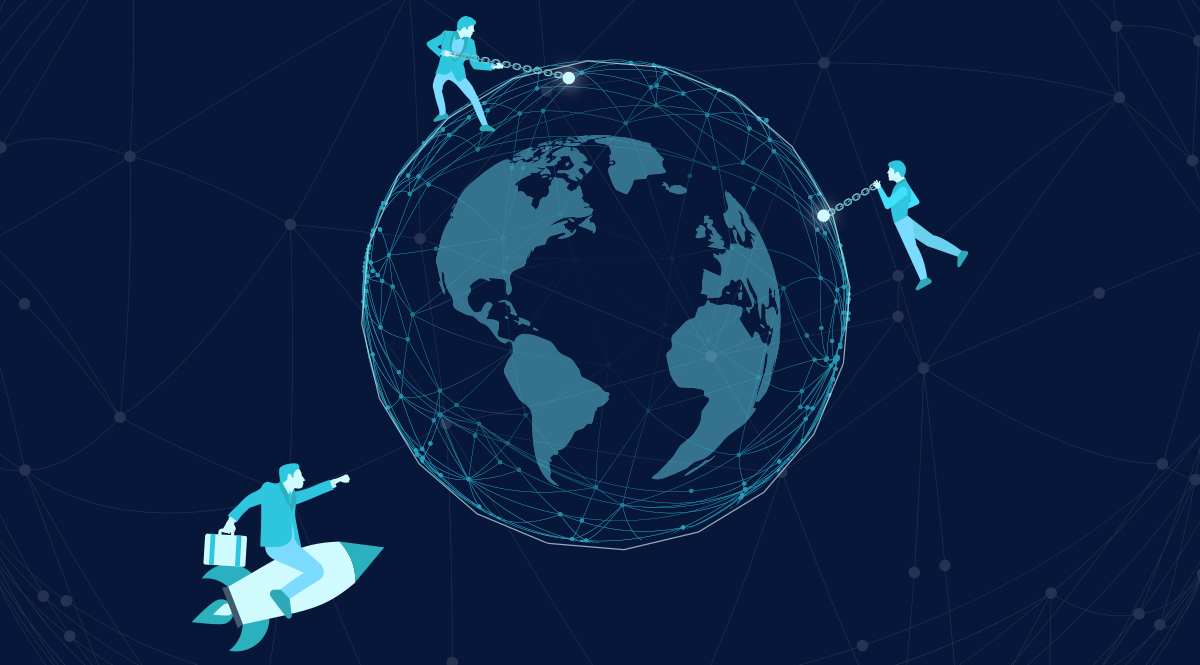 I've always wondered how my parents perceived my growth at every stage of my life; from being a newborn, to being an adolescent, to now. The tiny baby they held in their arms has grown into this author today—indeed an overwhelming journey. Perhaps, that's exactly how Satoshi Nakamoto (original identity unknown) felt after seeing their own invention, blockchain, grow up to be the most disruptive innovation in the tech sphere today.
These days, we see blockchain everywhere in the news. From its start in 2008, blockchain has been the backbone of numerous ground-breaking technologies, including Bitcoin, a peer-to-peer electronic cash system. Blockchain is in its infancy and has the potential to impact almost every domain under the sun—from healthcare and finance to the automotive industry—and that includes cybersecurity.
So, what exactly is blockchain?
Blockchain is a decentralized digital public ledger that records events (read: transactions), and allows only a certain community of enthusiasts to amend these records. A block is typically a collection of digital records, such as personal data, medical information, or even the virtual address of a cryptocurrency.
Transactions across blockchains are publicly available. For instance, if you were to send some bitcoins to a friend, everyone in the network may not know your identity, but they will see the transferred amount along with the public address of you and your friend. In a blockchain environment, private address ownership fulfills authentication requirements and keeps individuals' more exploitable data safe from attackers and third-party transaction service providers. Blockchain records are completely decentralized: they're constantly being verified by the entire network, meaning they don't rely on a single machine or server. Thus, blockchain alleviates the costs involved in authorizing digital transactions by removing the need for trusted third-party service providers, such as banks and payment gateways.
Businesses across a multitude of industries are considering building their own independent, secure, and transparent blockchain-based transaction layer. Nearly 15 percent of financial institutions are now powered by blockchain technology. While Ernst & Young—one of the Big Four accounting firms—has provided cryptocurrency wallets and ATM machines for all its employees in Switzerland, PwC, another Big Four, has started accepting bitcoin payments from its clients. Blockchain adoption promises to bring increased trust and efficiency across global supply chains, financial transactions, and even decentralized social networks.
That said, let's peruse through these five interesting reads from around the internet about blockchain and its potential to impact the future digital world:
While enterprises are increasingly moving towards adopting blockchain business models, there's a growing demand to make their data immune to cyberattacks—apart from staying compliant.
However, blockchain security depends on a secure network architecture, which boils down to having a resilient and proactive IT infrastructure. That being said, IT decision-makers now have the ultimate option of leveraging intelligent solutions that can deliver timely actionable insights on security incidents and pave the way for building a responsive security infrastructure. With an additional layer of security from IT management tools, there's no telling what blockchain can do.
What are your thoughts on blockchain technology? Tell us in the comments.