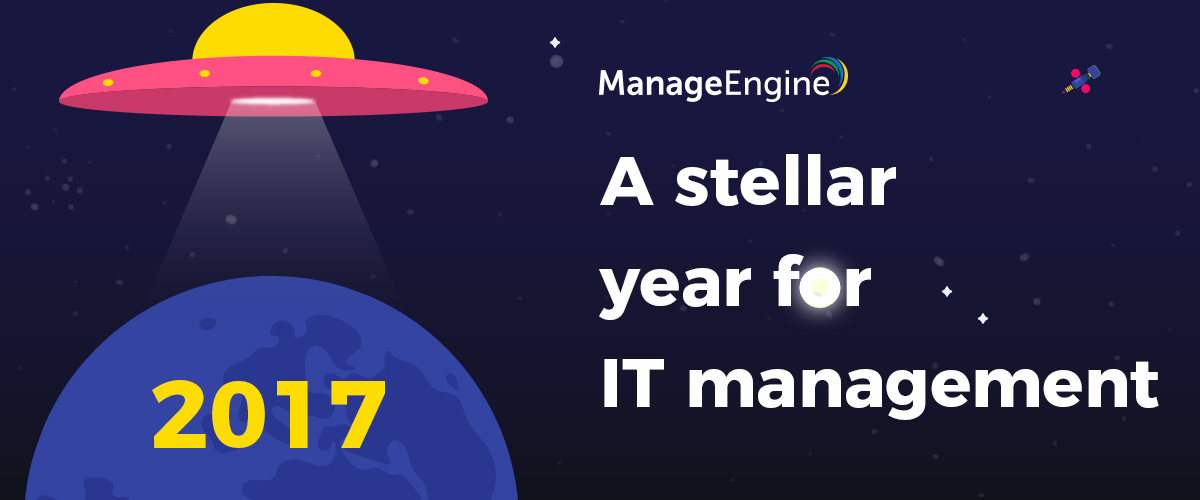 For ManageEngine, 2017 can be largely defined by one of our favorite C.S. Lewis quotes: "You are never too old to set another goal, or to dream a new dream." We began the year with a goal; a goal to bring the numerous domains of IT management together. And we began the year with a dream; a dream to simplify IT management, a dream to help IT propel your business forward. From a brand new logo to brand new products, we left no stone unturned to achieve our goal and make our dream a reality.
We've been productive. 
From the GDPR to ransomware to massive public cloud service outages, 2017 has been a year where information and data security has come to the forefront, like never before. The world is waking up to the need of maintaining security both on and off premises. With this in mind, we launched two new products:  
Patch Manager Plus lets you deploy patches for Windows, Mac, and Linux from a single interface.
Cloud Security Plus allows you to track events in Amazon Web Services and Microsoft Azure with comprehensive reports, an easy-to-use search engine, and alert profiles.
 The world is our oyster.
It has been heartening to see customers from all around the globe trust us with their needs. We're found on six continents, in 190 countries, and still counting. Oh, and just in case that last missing continent has you wondering, reaching those in need of IT management in Antarctica is one of the goals we have set for ourselves for the coming year. Endless snow and IT management, the perfect combination!
Our only competition is ourselves.
We constantly strive to excel at making your lives simpler and easier. And there's nothing like it when our passion is recognized and appreciated by the world. We received a number of awards and recognitions this year, for both our products and our services:
But, don't worry, we absolutely will not let these awards go to our heads! Our focus has always been, and will continue to be, on understanding your needs and addressing them to the best of our ability. And there's no better way to do that than to interact with our customers. Even after 82 seminars and 46 user conferences and workshops in 2017, we still can't get enough of talking to you all. You can definitely expect more of these events in the coming year!
2017 made us realize a lot of things. From the demands of the industry to the needs of our customers, every interaction with you left us wiser and smarter.
Each new year is a new chance, a new beginning. So here's welcoming 2018, with a fresh new resolve of getting IT management right.
To get more details on our 2017 story, click here.