Is AI in IT operations (AIOps) worth the hype? What's the business impact like? Should we build or buy an AI powered solution? These are a few questions most organizations have been asking lately.
With Gartner projecting the market for AIOps platforms to grow at a rate of around 19%, it's natural to question whether the increasing adoption trend is justified.
To help organizations and IT decision-makers delve into the driving factors behind the hype surrounding AIOps, we've published a holistic whitepaper, AIOps: The journey from reactive to proactive ITOM for modern IT infrastructures.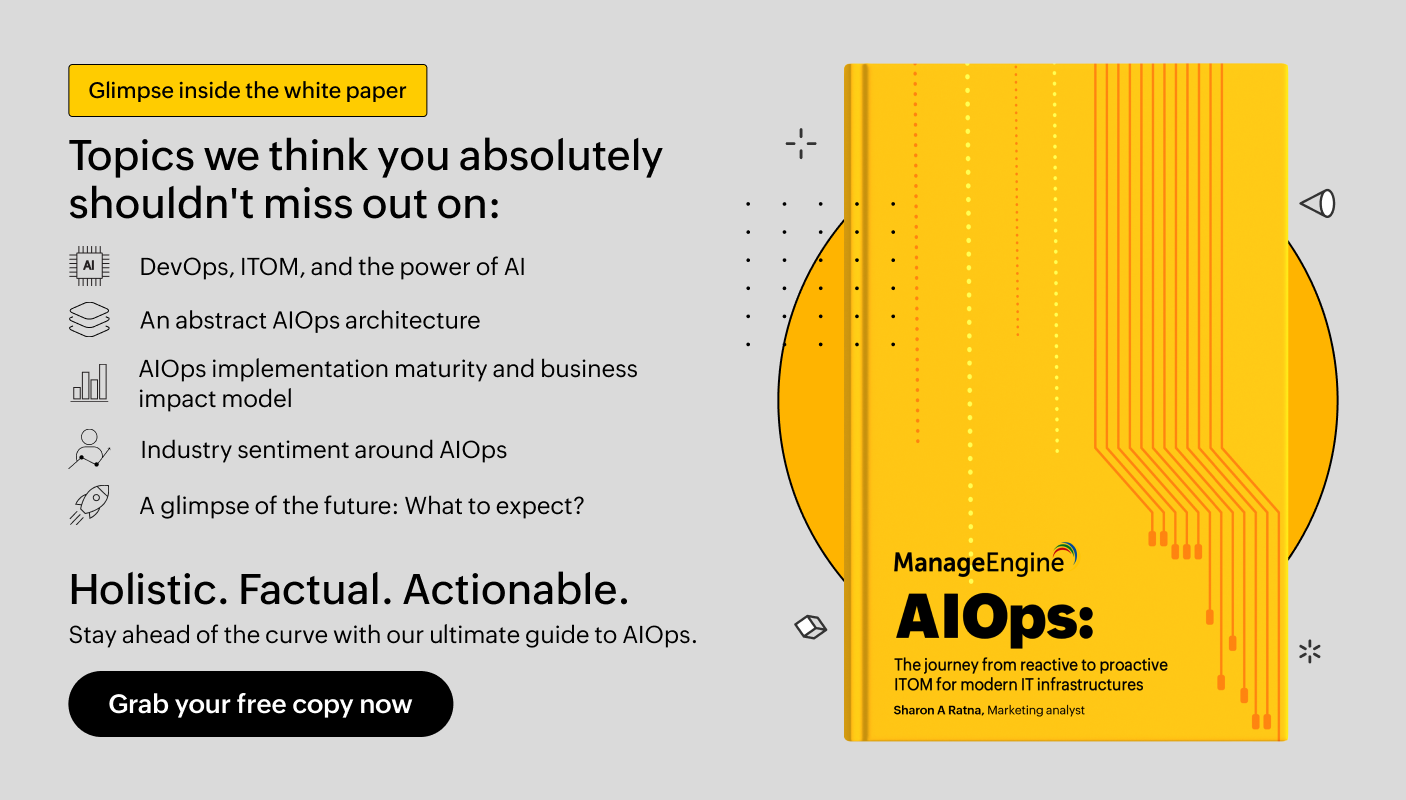 How does this ultimate guide on AIOps help you?
As more and more businesses continue to embrace AIOps to improve their IT environment, it's important to stay up-to-date on the latest trends and best practices to gain your competitive advantage.
That's where our latest whitepaper on AIOps comes in. Whether you're new to AIOps or an experienced practitioner, this guide is a must read. Here are just a few ways it can help you:
Brush up on the basics: Understand the fundamentals of AIOps. Dive into a comprehensive overview of AIOps, including its definition, key components, and benefits.
Explore how it impacts your IT operations: AIOps promises to revolutionize IT operations. This whitepaper explains the areas where it can impact your IT operations and ultimately, your business goals. Learn about the benefits including cost optimization with unified proactive monitoring.
Get to know the implementation: Implementing AIOps can be complex. Learn how you can eliminate the hurdles and hassles by understanding the steps involved, including data collection, analysis, and automation.
Understand the current market landscape: The AIOps market and offered solution capabilities are rapidly evolving. This whitepaper can help you stay up to date with the latest trends and developments.
Get a peek into the future of AIOps: This whitepaper provides a glimpse into the future of AIOps. Learn the emerging trends, including refined automated decision-making. Explore how AIOps is likely to evolve in the coming years, and what it could mean for your business.