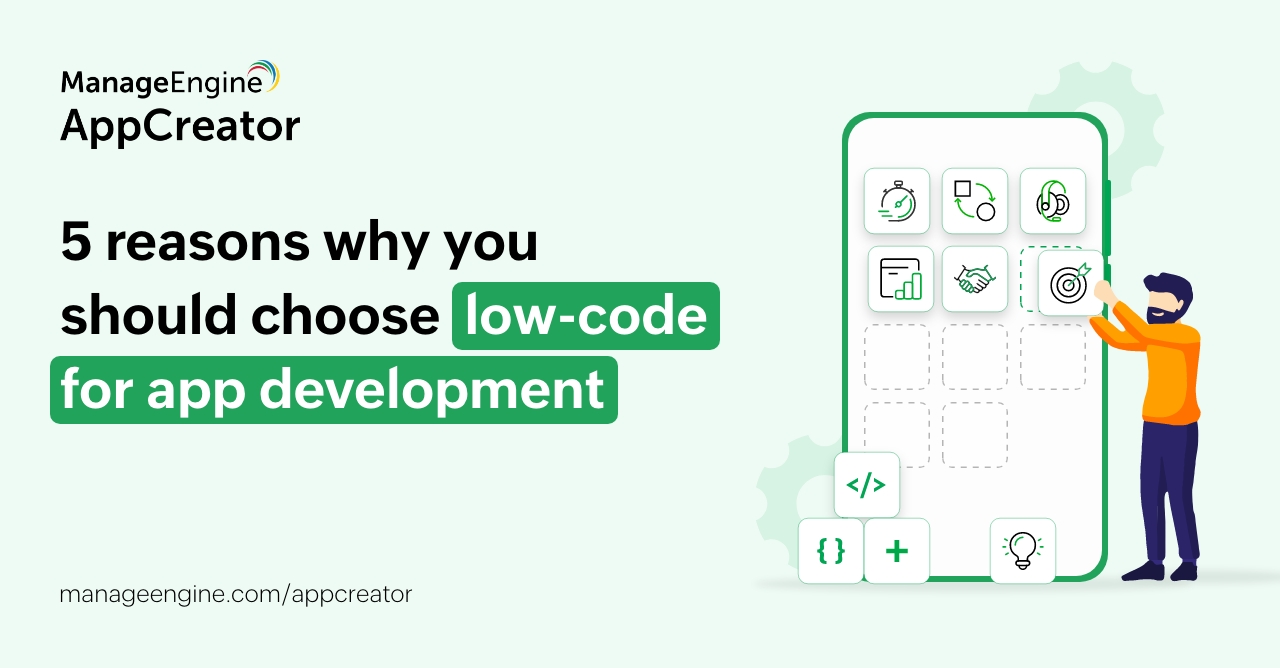 Companies across the globe are transforming to increase the value they deliver, and better cater to the market requirements. Their first step towards this process is digitization, which can be achieved with the help of digital technologies that help automate manual processes. This facilitates problem solving, system operations, workflow management, and culture progression.
Successfully implementing digital transformation requires a variety of resources including collaboration and communication tools, project management software, digital accounting tools, CMS platforms, CRM and HR tools, and cloud storage. These resources are readily available on the market and can be purchased and implemented without much hassle. But ready-made and ready-to-use tools have their drawbacks as well. The disadvantages include limitations on functions and capabilities for addressing unique use cases, as well as restrictions on scaling and deployment of the applications. On the other hand, building numerous tools from scratch and maintaining them is burdensome for IT teams and business operators, because it requires several resources, proficient coding knowledge, and plenty of time. Though it's a complex process, it's also an essential one for companies to function well in our highly connected world.
As a result, to simplify and ease the process for these teams, new techniques and solutions have emerged. What if users with little to low coding knowledge can build, collaborate, and maintain multiple software for their organizations without these hurdles?That's where the ultimate user-friendly approach, low-code, comes into picture.
What is low-code?
Low-code is an agile approach to building software solutions via minimal coding where the users can design, develop, integrate and maintain applications with visual development tools. It's an alternative to the traditional means of building applications that help users become more productive and innovative.
How do low-code platforms benefit app development?
Low-code platforms make it easier for users to focus on solving the problem rather than on its implementation. For example, using escalators to travel between floors is quicker and requires less physical effort than using staircases to travel the same distance. Meanwhile, the mechanism behind escalators is not something the users have to be concerned about as long as it helps them reach their destination. Likewise, low-code platforms enable users to easily create applications using visual development tools while bypassing the technical aspects of app development.
Let's look at some of the key benefits of choosing low-code platforms for developing software applications:
1. Speedy application building: The drag-and-drop UI builders in low-code platforms allows developers and non-developers to create and deploy applications quickly, as it requires zero manual coding. This approach leads to a shorter app development cycle compared to traditional methods, which in turn enables organizations to automate processes faster. The visual interface also extends to the logic level, and allows for the creation of complex workflows without needing to write extensive lines of code, which also can save a significant amount of time and resources. Low-code platforms also allows for faster prototyping, testing, and iteration, which enables organizations to validate ideas quickly, and bring new products and services to market more efficiently.
2. Cost-efficient: Low-code platforms are cost-effective and easy to maintain because they eliminate the need for expensive development and reduce IT overhead expenses. They provide a one-stop shop for all digitization process needs, enabling users to build and integrate multiple applications required for efficient operation of an organization. Additionally, low-code platforms provide for faster development and deployment of applications, which can result in a higher return on investment for enterprises. With low-code, organizations can reduce development costs and minimize the risk of project failure, and also enable non-technical users to participate in digital transformation.
3. High productivity: Low-code platforms enable both technical and non-technical users to create applications quickly and easily without the need for extensive coding knowledge. This can save time and resources, resulting in productivity boosts and freeing up employees to focus on more complex and strategic problems. Being a user-friendly platform, it reduces the motive for employees to look for unauthorized means of app-building and thus eliminates shadow IT. Low-code platforms also offer better security, and governance capabilities for secured development.
4. Less dependency: Low-code platforms bridge the gap between IT and business teams by empowering business users and citizen developers to create applications in close collaboration with the IT teams. This approach enables organizations to respond more quickly to changing business needs, and can also help to foster a culture of innovation and collaboration. Gartner states that by 2024, the majority of technology products and services will be built by professionals outside IT, which highlights the increasing importance of citizen developers and the decreasing dependency on IT teams for building applications.
5. Smooth collaboration: Low-code platforms enable users to speed up innovation from anywhere and at anytime. With the help of user management controls available in these platforms, organizations can improve communication and coordination between developers, business users, and IT teams, for better efficiency. One scenario is these platforms enable business users to create and test their own application prototypes, which can then be reviewed and refined by developers.
To conclude, low-code platforms can serve as a go-to product and an all-in-one solution for relieving developer burdens, addressing bespoke digitization requirements, and simplifying business processes. They are beneficial for digital transformation as they allow for increased productivity, reduced costs, improved collaboration, and greater accessibility. They also simplify the process of building and maintaining software tools for IT teams and business operators, by eliminating the need for extensive coding knowledge and resources.
Now that you have read about the benefits of low-code, are you ready to begin your digital transformation journey? Try our low-code platform AppCreator.
It's a user-friendly, low-code tool for organizations of any size to smoothen their business process and run efficiently. It includes benefits such as increased productivity, reduced costs, improved collaboration, faster time-to-market, and greater accessibility, as well as additional features. It's a great option for organizations looking to transform digitally and streamline their operations. Download AppCreator right away to explore all the features and benefits that it offers.