Apple has issued its hot new release—MacOS Ventura for the Mac desktop computer operating system. Apple users are excited about new features, such as continuity camera and stage manager, but organizations might need more time for testing the operating system in their production environments. Either bulk-deployment or bulk-deferring the OS update comes with its own challenges.
Worry not, Endpoint Central has you covered!
ManageEngine Endpoint Central is a UEM solution for managing and securing a wide range of devices and operating systems, including MacOS, iOS, Android, Windows, ChromeOS, Linux, and IoT devices. These are managed across their entire lifecycle, from onboarding, provisioning, and securing to decommissioning. Endpoint Central also has a strong security suite built into the solution, and it is delivered through a single lightweight agent. 
Note: It is recommended that you upgrade to the latest version of Endpoint Central to ensure complete support for the new operating system.   
How do you update your endpoints to MacOS Ventura using Endpoint Central? 
Admins can deploy the patch for updating the OS for thousands of endpoints in just a few clicks using the patch management feature. 
Refer: Update to MacOS Ventura using Endpoint Central 
How do you postpone MacOS Ventura upgrades using Endpoint Central?
Admins can deploy a configuration to block applications from running in their environment using Endpoint Central. This will postpone the upgradation of the MacOS. 
Refer: How to deploy a configuration to defer the upgrade to MacOS Ventura using Endpoint Central
Note:
Bundle Identifier: com.apple.InstallAssistant.macOSVentura
Installer Name: Install macOS Ventura
The admin can also choose to avoid OS auto-updates by following these steps: 
Deploy AppStoreAutoUpdateDisable.sh from the script repository to Mac devices to disable auto update to MacOS Ventura.

Use the System Preferences computer configuration and restrict Software Update to block users from manually updating to MacOS Ventura.
How does the latest MacOS Ventura release affect Endpoint Central?
Apple's releases in the last two years have focused on prioritizing end-users' decision-making, which has resulted in a few changes: 
Users with administrator credentials can turn off the Endpoint Central Agent through System Settings -> General -> Login Items.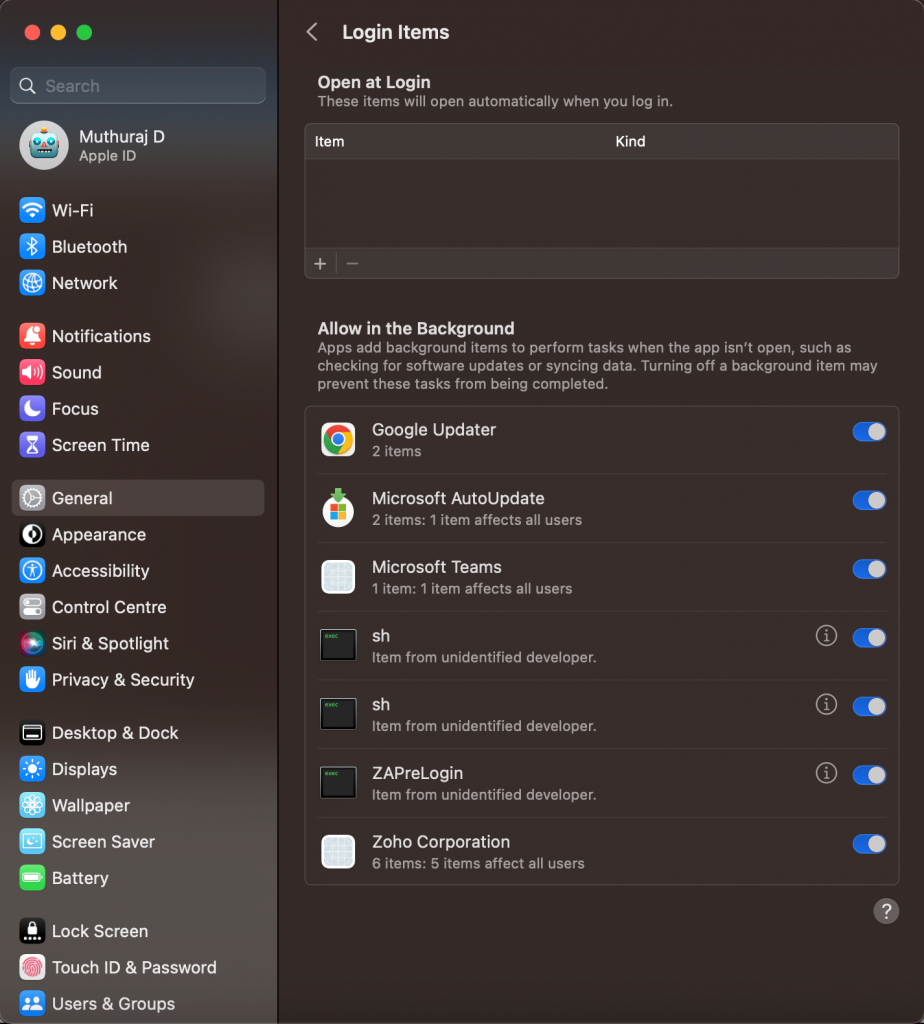 Agent background processes will come under the name Zoho Corporation and a notification prompt will be shown during agent installation as shown below:

Click here to sign up for a free, 30-day trial of Endpoint Central today!