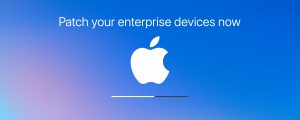 Apple has recently released OS updates for multiple operating systems, addressing known and exploited security vulnerabilities along with previously unknown ones. During the past week, various data security organizations like the US Cybersecurity and Infrastructure Security Agency and Indian Computer Emergency Response Team have issued warnings asking users to install the latest updates on their Apple devices as soon as possible to avoid possible exploitation of devices and device data.
Apple has released iOS and iPadOS updates to fix vulnerabilities that were previously unknown. While this might not sound alarming, it is best to keep these devices updated, as previously unknown issues have now been disclosed with this update. Apple has also released updates for macOS, tvOS, and watchOS devices to address a vulnerability that was reportedly exploited and acknowledged by Apple. This vulnerability can be leveraged by malicious actors to gain access to apps and execute arbitrary code with kernel privileges.
Despite OS updates being made available to patch these issues, previously undisclosed vulnerabilities have been discovered, reported, and are now public knowledge, meaning that hackers will be hustling to take advantage of these vulnerabilities on devices that haven't been updated before the window closes. This can pose a huge security threat when these unpatched iOS and iPadOS devices are being used for work and contain sensitive corporate data.
Here's how you can keep your organization safe
While Apple has made these vulnerability patches available, it doesn't mean every user will apply them; you'll still need to ensure that the devices in your organization have this latest update installed on them. Users might inadvertently skip these crucial updates, not knowing that their device and the corporate data on it are vulnerable to being exploited by bad actors.
Mobile Device Manager Plus can help you with this by facilitating OS updates to be automated on corporate-owned iOS and iPadOS devices. You can configure an OS update policy and set a preferred time window to install the latest OS updates on devices to ensure that all known vulnerabilities are fixed on devices containing corporate data. Users can also be given the option to skip updates until a certain period, after which pending updates will be automatically installed on devices.
Start your free, 30-day trial of Mobile Device Manager Plus today and ensure the devices in your organization are safe!