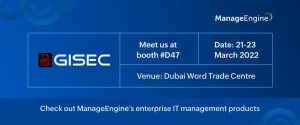 ManageEngine is excited to participate in GISEC Global from 21-23 March 2022 in Dubai. We'll be at booth #D47, hall 6 at the Dubai World Trade Centre.
Every organisation works towards having a secure business environment, which can be achieved with a robust IT infrastructure. Businesses in the Middle East are accelerating towards digitisation and heavy reliance on technology has exposed organisations to various cybersecurity risks. To mitigate these risks, it requires proper planning and execution of effective strategies in day-to-day business operations.
Not knowing about the existing cybersecurity risks is a major cause for concern in organisations across the world. Without extensive awareness of the risks and impacts of cyberattacks, it is challenging to take effective measures to prevent them.
This is why it's imperative to educate all employees, especially technicians handling critical data on cybersecurity risks, that can potentially impact their organisation. For example, training models on the implications of data breaches or ransomware attacks could be implemented to create awareness among employees about the economic and legal consequences of data breaches. This helps in developing a culture of cybersecurity awareness among the business at the ground level.
"We are excited to announce that ManageEngine is participating in GISEC 2022 on 21-23 March, 2022. Cyberattacks are becoming increasingly prevalent across the world. To tackle them, it is crucial for organisations to invest in cybersecurity solutions and adopt new strategies to defend against internal and external cybersecurity threats. At GISEC, discover more about ManageEngine's comprehensive suite of IT management products that can help your organisation take a proactive approach towards cyberdefense." -Nirmal Kumar Manoharan, regional director, ManageEngine, a division of Zoho Corp.
It is crucial to prevent cyberattacks rather than to plan the recovery strategy. You need to track critical incidents in real-time, monitor privilege access to data, and analyse all network activity to defend the network and systems against these malicious attacks. Powerful, data privacy and security law compliant solutions can automate these tasks to manage and secure the network against these attacks.
Visit us at GISEC Global on 21-23 March 2022 at Dubai World Trade Centre to learn more about ManageEngine's comprehensive suite of IT management solutions ranging from IT service management, operations management, Active Directory management, IT security, analytics, endpoint management, and more. Interact with our product experts at booth #D47, hall 6 and discover cybersecurity solutions that can defend your organisation's network.