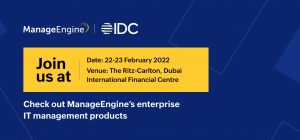 We, at ManageEngine, are excited to participate in the IDC Middle East CIO Summit 2022 on 22-23 February at The Ritz-Carlton, Dubai International Financial Centre.
Middle East countries have been pushing digital authoritarianism, among various other steps, to better the economy. The potential of technology is still largely untapped in the Middle East. The digital footprint in the region has a huge potential to drive the future economy of the Middle East.
In an effort to facilitate this, the public and private sectors alike have been making significant improvements in their organizations to globalize their business operations. 
"Real and sustainable IT management solutions are the future of a technology-driven organization in this digital era. ManageEngine is dedicated to its customers in the Middle East with a focus on building authentic and powerful IT management solutions to secure and manage your devices and network. Visit us at the IDC CIO Summit Middle East from 22-23 February 2022 at The Ritz-Carlton, Dubai International Financial Centre to address new challenges faced by organizations and discover modern-day solutions to them."
– Nirmal Kumar Manoharan, regional director, ManageEngine, a division of Zoho Corp.
Adapting to new digital technologies and enhancing the organizational culture comes with its own complexities. For instance, lack of knowledge and expertise in the technologies can virtually paralyze the daily business workflow while migrating the organization to a new digital landscape. Implementation of technologies along with necessary training on the products can help improve the overall functionality of the product.
Also, a value-based perspective can help you decide what specific technology is required, compared to the hoarding of various extraneous technologies that are of no use to the organization. An organization's full economic potential can be reached through proper implementation of solutions that address the specific needs of the business.
Visit us at IDC CIO Summit Middle East on 22-23 February 2022 at The Ritz-Carlton, Dubai International Financial Centre to learn more about ManageEngine's comprehensive suite of IT management solutions that aid in radical business growth, and take advantage of the opportunity to attend the product presentation on Dynamic Shift in the Digital World by Karthik Ananda Rao, ManageEngine's chief technical evangelist, and interact with our product experts to find solutions that best address your organization's needs.