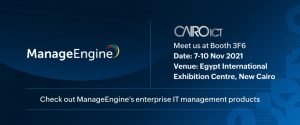 ManageEngine is excited to announce that we will be participating at Cairo ICT, Nov. 7-10, 2021, at the Egypt International Exhibition Center in New Cairo.
The pandemic has accelerated the digital transformation across all industries and the Middle East and North African regions (MENA), including Egypt, are no exception. The focus on improving IT infrastructure will optimize business operations across all industries including banking, government, healthcare, and manufacturing. In the MENA region, we work with trusted partners to provide the right products to the right customers, and we will take this opportunity at Cairo ICT to interact with our customers. We will showcase our entire suite of IT management solutions, ranging from IT service management, operations management, active directory management, IT security, analytics, endpoint management, and more.
The economic setback caused by the pandemic has accelerated the digital transition in the MENA region; more people are connected to the internet than ever before leading to an active start-up ecosystem across all industries.
IT service management has been at the forefront throughout the shift to a remote and hybrid work environment. At Cairo ICT, we look forward to showcasing our entire suite of IT management solutions and establishing our local presence in the region. This year, considering the shift in business working models, our product updates and announcements are focused on cybersecurity and digital transformation technologies. We'll exhibit many of our solutions at this year's premier hi-tech event at the Egypt International Exhibition Center.  – Nirmal Kumar Manoharan, regional director, ManageEngine, a division of Zoho Corp.
To facilitate the technological transformation, ManageEngine products now integrate the latest digital technology trends such as automation, AI, ML, and embrace the cloud to extend its range of IT management solutions. Releases this year include a new add-on for Desktop Central called Anti-Ransomware, a new Endpoint DLP tool, and a dedicated Center for Internet Security benchmark compliance resource for Vulnerability Manager Plus.
With all our products, ManageEngine is dedicated to providing 360-degree solutions that help you resolve your organization's IT management issues. Let us show you how.
Visit us at Cairo ICT—Nov. 7-10 at Booth 3F6—in the Egypt International Exhibition Center to learn more and demo our latest product offerings.