Five worthy reads is a regular column on five noteworthy items we've discovered while researching trending and timeless topics. This week, we'll take an in-depth look at multiexperience which came in second on the list of Gartner's top 10 strategic technology trends for 2020 and it's importance in an organization's digital transformation.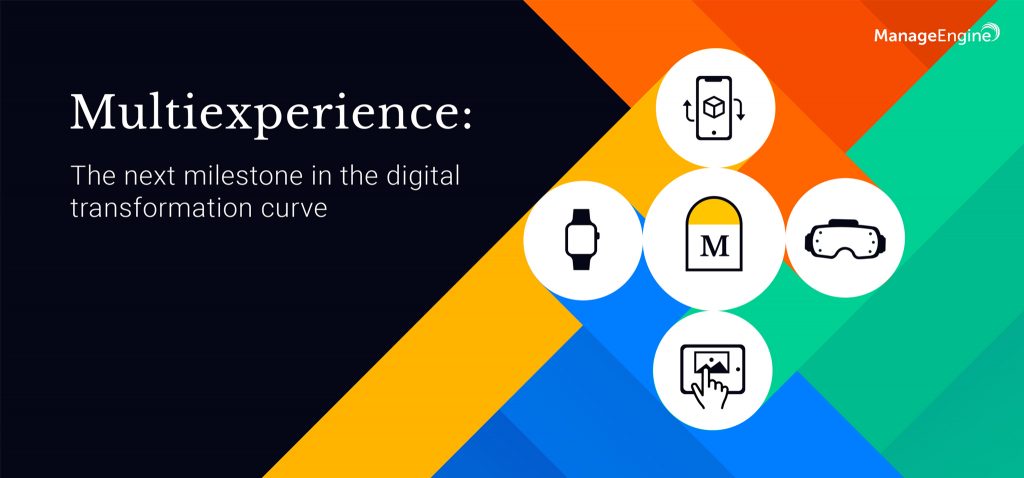 If you think about how many devices you used 10 years back compared to how many you use now, the amount has significantly increased. Our interactions with many brands are now facilitated by various devices, including multisensory and multi touchpoint interfaces. From wearables and the Internet of Things (IoT) to smart hubs and more, the user experience through these devices plays a vital role in defining a brand's image.
Multiexperience, a concept introduced by Gartner in 2019, is about adapting to the growing market of devices and offering a consistent user experience across multiple touchpoints like smartphones, wearables, desktops, and other modalities (voice, touch, gesture, etc). Coming in second on the list of Gartner's top 10 strategic technology trends for 2020, multiexperience is a journey-centric approach to business that focuses on reducing customer effort in order to boost the adoption.
Imagine a scenario where you're at a billing counter with a long queue lining up behind you. You're about to make a payment using a mobile app, and its screen suddenly freezes. Luckily, your bank provides the option to use the device of your choice, so you can use your smart watch to make the payment seamlessly thanks to your service provider offering consistency across multiple platforms. In this way, multiexperience isn't just about enabling multiple platforms to function as digital touchpoints; rather, applications need to run on multiple platforms while providing a unified user experience (UX). The key to achieving this is to maintain consistency across all platforms so everything feels familiar.
Ever scrolled through an online shopping site and wondered whether the chair you're looking at would suit your décor? You select the chair's image for a closer look, and voila! You can now visualize the 3D image of the chair placed against the backdrop of your home on your screen. This is because the vendor has enabled augmented reality (AR) to enhance the user experience.
These are just some examples of multiexperience, which focuses on virtual reality (VR), AR, mixed reality (MR), sensing technology, and multichannel human-machine interfaces to create an immersive user experience while maintaining consistency across the various touchpoints leveraging these technologies.
For businesses trying to apply multiexperience to the digital user journey, Gartner Research Vice President Jason Wong recommends a four-step model including the use of customer information, understanding users' needs, and utilizing predictive analytics to make informed recommendations and changes.  He uses Dominos as the perfect example of a company that has achieved this. With Domino's Anyware™, users have the option to order a pizza from 11 different sources.
Businesses across the world are also bound to follow the path of Dominos as per Gartner's prediction, which states that "by 2023, more than 25 percent of the mobile apps, progressive web apps, and conversational apps at large enterprises will be built and/or run through a multiexperience development platform."
That said, here are five interesting reads on multiexperience, and its role in the digital transformation of businesses.
  1. New Reality With Multiexperience: A Comprehensive Guide
Technical mediums will only keep increasing, and companies and brands should ensure maximum connectivity via multiexperience. With faster and more efficient technology like 5G, this can now be delivered with ease. Learn more about how industries can provide multiexperience seamlessly.
2. The Rise of the Multiexperience Solution Market
The Gartner-identified trend, multiexperience, replaces "technology-literate people with people-literate technology." Here, the interpretation becomes the work of the technology rather than the other way around. Learn more about the verticals leaning towards multiexperience to gain a competitive edge and stay ahead of the digital transformation curve.
3. Multiexperience development in 2020: In-depth guide
Discover how multiexperience development (MXDP) is becoming a crucial part of digital transformation, the technologies vital for this, and the benefits and risks of multiexperience development platforms (MXDPs).
4. From Omnichannel to Multiexperience: Continuously Evolving the Customer Journeys of the Future
Though the foundations of multiexperience and omnichannel are similar, multiexperience is actually the next evolution of omnichannel. Discover all about MXDPs and the key factors that define them in this article.
5. Multiexperience: This Will Change The Way We Perceive The Digital World In The 2020s
Immersive technologies should be leveraged to create unified user experiences; the challenges for these new technologies is to identify the needs of potential users, and the value they expect from it. In this article, practical use cases of immersive technologies are discussed to help understand the concept of multiexperience.
Technology is becoming more diverse and integrated with our daily lives. Users expect to get a consistent experience from devices of their choice, and if not made available, they could lose interest and move on to a different product. Multiexperience is a technology that has the potential to catalyze an organization's journey towards complete digital transformation and user satisfaction. As is the case of any other progressive technology, those who adopt will thrive, and those who do not may fall behind their competitors.