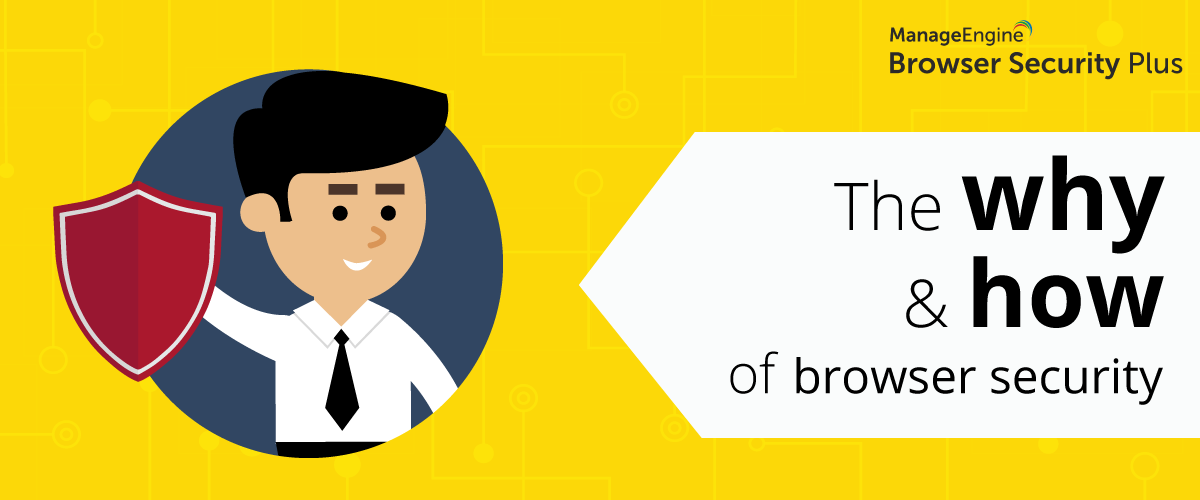 The internet has reshaped the workplace, and internet browsers have become an indispensible tool for today's workforce. Browsers have also become the weak link that cybercriminals are exploiting to target organizations. Unfortunately for these organizations, restricting access to the internet is not an option.
This is where browser security comes into play. By following proper browser hygiene practices, end users can ensure their browsers don't fall prey to cyberattacks. User education might work at times, but it still leaves the organization open to web-based threats if and when users fail to follow security best practices.
Implementing a solid browser security tool to harden browser settings, monitor and control the usage of extensions and plug-ins, filter websites that are appropriate for work, and isolate malicious files can help secure your organization from browser-based cyberattacks.
How to secure your enterprise's web browsers
Incorporating certain rules across your organization as preventive measures will reduce the scope of web-based cyberattacks.
Ensure HTTPS is used for all communication. Data transferred with HTTP can be intercepted and even manipulated by third parties. When a website uses HTTPS, the more secure of the two protocols, the communication is encrypted and the data entered into the website can't be hacked. This simple practice protects your data against man-in-the-browser attacks and ensures a baseline of data security.
Keep browsers and their add-ons up-to-date. With vulnerabilities frequently being discovered in browsers and their add-ons, browser and add-on vendors release updates fairly regularly. When a browser or add-on is left unpatched, the likelihood of those vulnerabilities being exploited by cybercriminals increases. Some plug-ins and browsers also interact with the operating system directly, which can increase the severity of browser-based attacks, so maintaining patches should stay at the top of your to-do list.
Disable unnecessary browser add-ons. Most browser-based attacks happen through unreliable extensions and plug-ins installed by users. You can reduce the likelihood of these attacks exponentially by closely monitoring add-on installations. You need to be proactive in your efforts of detecting and blacklisting new malicious extensions before users get tricked into installing them.
Disable Google Sync in Chrome browsers. Google Sync is a feature that allows users to sync data with Google Cloud, making that data accessible from any browser that's logged into their Chrome account. This feature, although helpful at times, opens up avenues for data breaches. Check out our blog on the pros and cons of Google Sync.
Enable safe browsing on all browsers. To deal with the increasing number of websites hosting malware, browser vendors have started maintaining their own malicious website databases. Chrome's Safe Browsing feature, Edge's SmartScreen filter, and Firefox's Safe Browsing feature each detect and block malicious websites when users try to visit them.
How Browser Security Plus fits the bill
Browser Security Plus combines browser security functionalities with seamless multi-browser management. This tool allows you to establish and maintain compliance with regulations, and have complete visibility into your network to enforce security policies, control browser extensions and plug-ins, create sandboxes, and lock down enterprise browsers.
Feature highlights
Configure and deploy browser settings: Tweak browser settings to fit your organization's needs, then deploy the configurations to select computers. Browser configurations are intelligently grouped into policies that address specific requirements like threat defense and data leakage prevention.
Control and manage add-ons: Provide and revoke access to browser add-ons, like extensions and plug-ins, based on their reliability, and silently push mission-critical extensions to computers from a central repository.
Isolate browsers: Segregate trusted websites and business applications from their untrusted counterparts. Untrusted sites are rendered in a virtual browser to ensure that enterprise data remains secure.
Comply with regulations: Set rules required by your organization and monitor for compliance to the Security Technical Implementation Guidelines (STIGs) and industry security standards predefined by the Center for Internet Security (CIS).
Reroute applications: Force certain applications to be rerouted to certain browsers. For instance, you can ensure legacy applications are automatically opened in Internet Explorer, a legacy browser, even when opened in Edge, Firefox, or Chrome.
Benefits of a strong browser security strategy
Prevent cyberattacks at their most used threshold: browsers.
Remain vigilant about the browsers being used, and whether they're up-to-date.
Keep track of browser add-ons, extensions, and plug-ins present in your enterprise.
Prevent cyberattacks by removing high-risk add-ons, extensions, and plug-ins.
Secure web activities by hardening browser settings.
Ensure only trusted websites can be accessed by filtering URLs.
Manage website-browser compatibility issues by directing websites to destination browsers.
Stay compliant with browser security standards like CIS and STIGs.
In today's internet-dominated world, browsers have become an endpoint in themselves, and every organization needs a proper browser security strategy. This layer of security will bolster your existing endpoint security strategy, effectively improving cybersecurity. Try Browser Security Plus free for 30 days and see how it complements your existing endpoint security strategy.