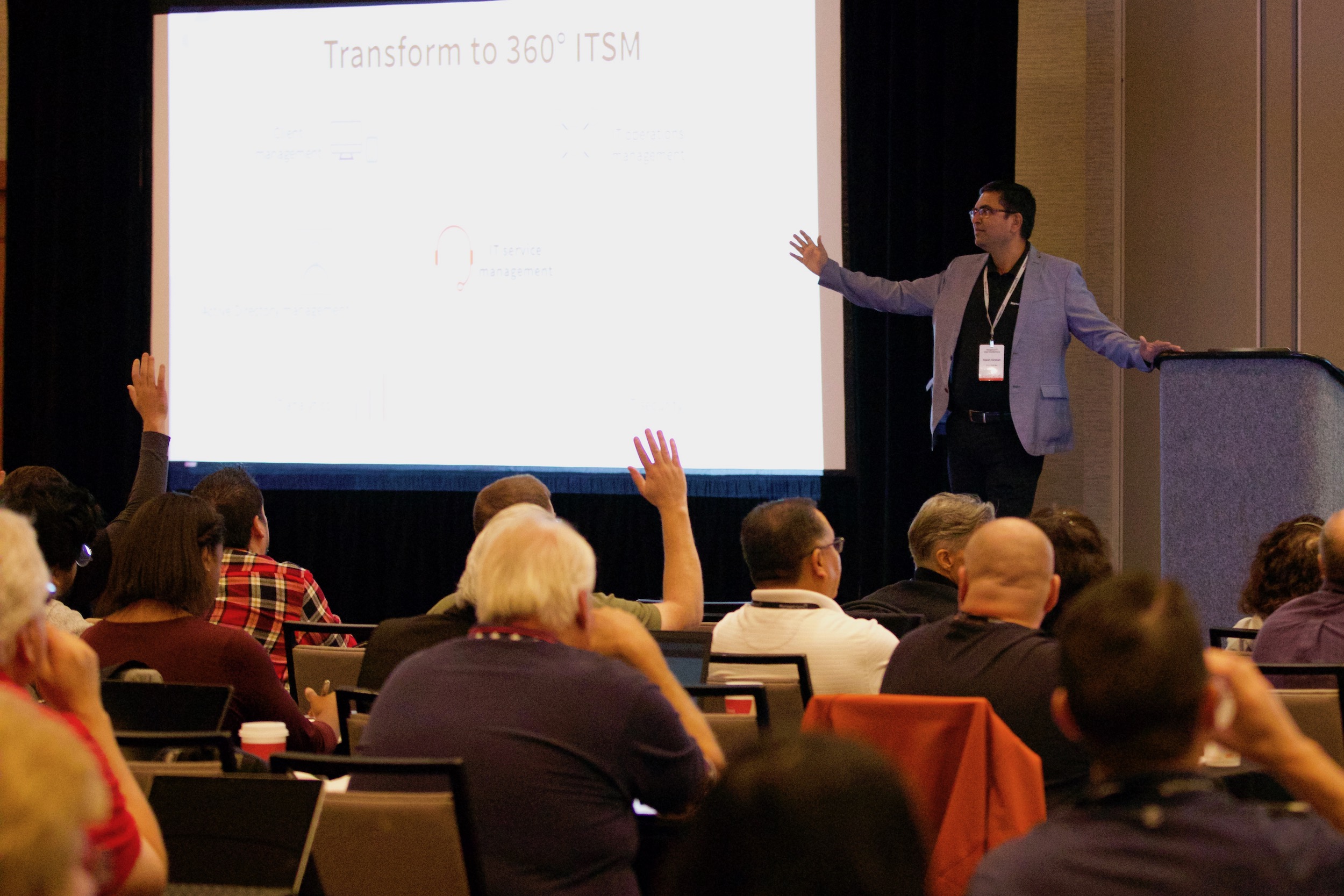 Our last two User Conferences were abroad, but it's time to return to the states for our Dallas User Conference. We're kicking off our first User Conference in Texas on Wednesday, April 24. You know what they say about the Lone Star State: Everything's bigger in Texas, and this User Conference will be no exception. Instead of the usual two-day event, we're delivering three days of sessions on IT management solutions and industry trends.
Our User Conferences serve as a great way to get trained on products that are new to you, but even longtime customers will benefit from the event. You may discover a feature that you never knew about, learn about a new integration between products you already use, or pick up a few IT best practices that address recent trends. One past attendee summed it up nicely:
"The dedication of the ManageEngine team, their presentation, and product reviews were a welcome change from attending other conferences that are mostly sales pitches."
Yet another customer said:
"This has been one of the best conferences I have attended, and I look forward to implementing many of the features I have learned. The ManageEngine team is AMAZING."
The conference will start out with keynotes from two of ManageEngine's key decision makers. President Raj Sabhlok will open the event with a discussion of IT's role in the cloud era. Vice president of product management Rajesh Ganesan's keynote will cover one of the biggest topics of the year, digital transformation. We'll start the final day of the User Conference with yet another keynote titled, "Breached: The security landscapes of organizations today." After that, customers can ask any question on their minds during a Q&A session with the ManageEngine team.
Those four sessions are just the tip of the iceberg. We'll have three tracks every single day of the conference; one track will focus on our ITSM solution ServiceDesk Plus, another on our Active Directory management tools, and the third on our ITOM and endpoint management products. Not that anyone's counting, but that amounts to dozens of sessions on how our IT management tools can help you secure your organization and streamline IT operations.
We've designed this conference's agenda to address one key piece of past attendees' feedback. Some customers noted that they missed out on important information at the User Conference because they had to choose between two sessions that were scheduled at the same time. Well, not anymore. We're repeating some of our most popular sessions—like "Automating patch management and securing web browsers to combat cyberattacks" and "Transforming your service desk into a powerhouse of efficiency"—on Day 3 of the conference so you won't miss a thing.
If you can believe it, our Dallas User Conference will offer a lot more than IT best practices, a first look at product roadmaps, and one-on-one sessions with our product experts. We're having about as much fun planning the networking receptions as you'll have attending them. The conference bash on Day 2 promises to be a blast, with games, good food, and a lucky draw. 
When you're not chatting with ManageEngine staff and other IT pros, you'll be perfectly positioned to enjoy what Dallas has to offer. The conference is smack dab in the heart of downtown Dallas at the Sheraton Hotel Dallas, so you'll just be a 30-minute walk away from the photo ops that Reunion Tower has to offer, 20 minutes from Dallas' lively Deep Ellum neighborhood, and 8 minutes from the must-see Giant Eyeball.
If all this sounds like something you can't pass up, now's the time to register for the conference. For questions about conference logistics, don't hesitate to email userconf@manageengine.com. Hope to see you in Dallas!