The 2018 World Cup is finally here. The energy, the hustle, the bets, Messi vs. Ronaldo—World Cup fever is back and infecting millions of fans around the globe. In fact, this year's World Cup has garnered so much online attention that its search volume across Google and YouTube is besting that of the Winter Olympics. But all this attention didn't come out of nowhere. If we look back at past events, we can easily see how vast the fan base is as well as how quickly it's growing. During the 2014 World Cup, the total number of unique Brazilian visitors to World Cup's official site reached 49 million, an increase of 136 percent from May through June of that same year; and among the five major global regions, Southeast Asia had the greatest increase in visitors from May to June at 858 percent! Last year, the global watch time for YouTube videos featuring players like Messi, Neymar, Suárez and Ronaldo increased over 80 percent.
As the 2018 World Cup kicked off in Moscow earlier this month, everyone is excited—everyone except IT and network admins. Network admins across the world are already facing strains in their networks while more and more employees are tuning in, either secretly or openly streaming matches live while their coworkers may be sitting there wondering, "Why is the Internet so slow?"
Image Source: statista

Image Source: think with Google
 Find out what % of your bandwidth is impacted because of World Cup streaming! 
According to reports and surveys conducted by Packeteer, at least sixty to seventy percent of network managers don't know what is traversing their networks. The problem with watching global broadcasts like the World Cup for enterprises is that the traffic is within a browser, typically using port 80, which affects the performance of other business-critical applications using that port.
So, is there a way to mitigate connectivity issues without killing the party? There is, and ManageEngine NetFlow Analyzer can help.
Brace for the impact
NetFlow Analyzer lets your folks enjoy streaming events like the World Cup without taking a toll on your network's bandwidth. Netflow Analyzer is flow-based bandwidth monitoring software that offers:
In-depth visibility into your bandwidth usage.

Real-time notification options to alert on spikes in bandwidth.

Traffic shaping to prioritize bandwidth for business-critical apps.

Forensics to identify and prevent attacks.
Complete visibility
With flow-based monitoring, you can monitor your network bandwidth and proactively identify bandwidth bottlenecks and hogs. NetFlow Analyzer supports NetFlow, sFlow, JFlow, IPFIX, and other flow types to help you stay ahead of bandwidth issues by providing real-time visibility into your network's bandwidth performance. Drill down to interface-level details, and get real-time insights into your device performance with one minute granularity reports. Customize, schedule, generate, and export reports to identify the top talkers, conversations, and traffic patterns, which you can use to make informed decisions on your bandwidth growth and requirements.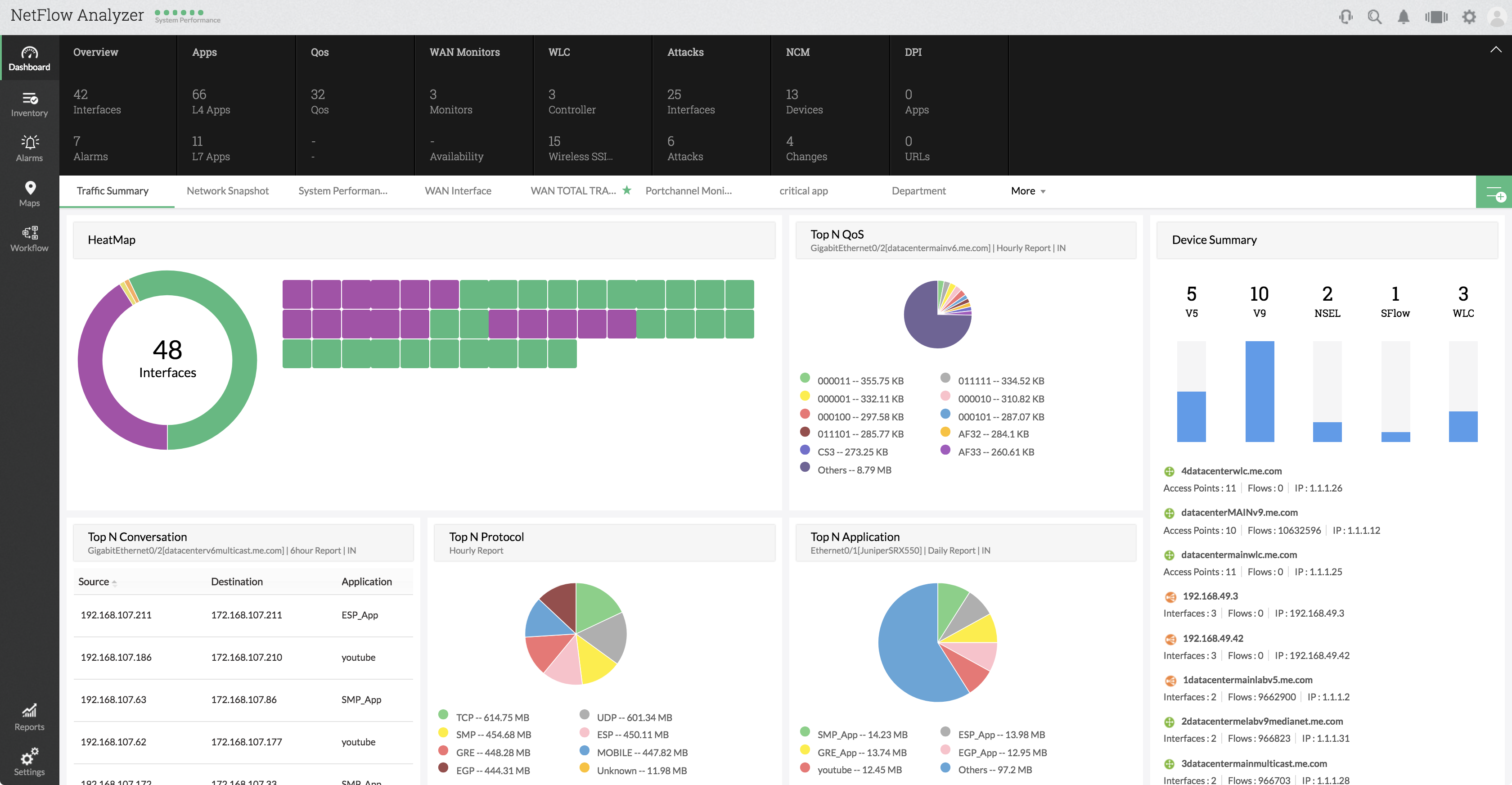 NetFlow Analyzer Dashboard: All the reports you need in one place.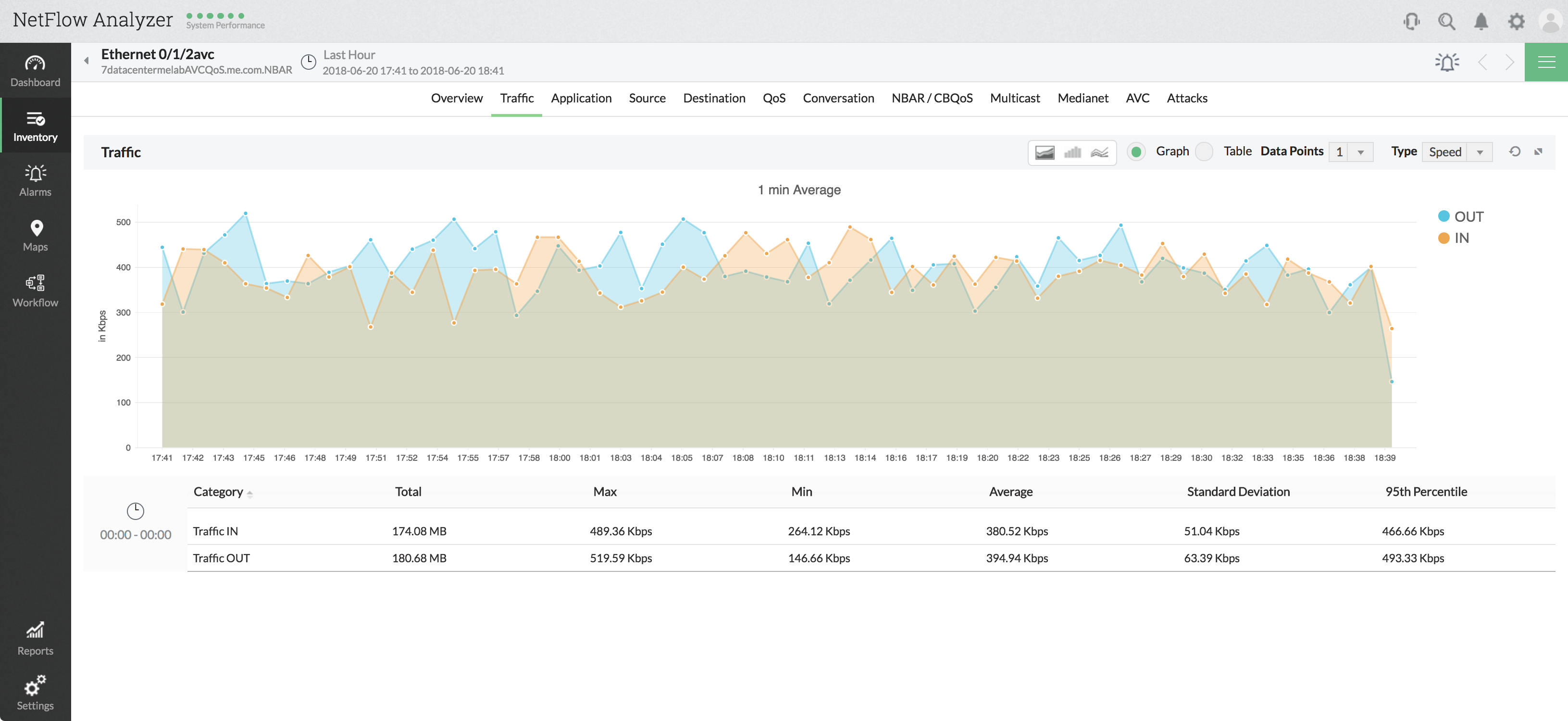 Drill down to the interface level, and get detailed reports on device, application, media, source, destination traffic, top conversations, etc,.
Application Mapping and Groups
As there are a number of websites that stream the world cup matches live, it's hard to identify and monitor the traffic. NetFlow Analyzer offers application mapping and grouping features that help you group applications by port, protocol, and IP and view the cumulative traffic. When you need to monitor the traffic to a particular application say, a certain web site, eg. ESPN, BBC, Sony Live, YouTube etc., this feature is highly beneficial.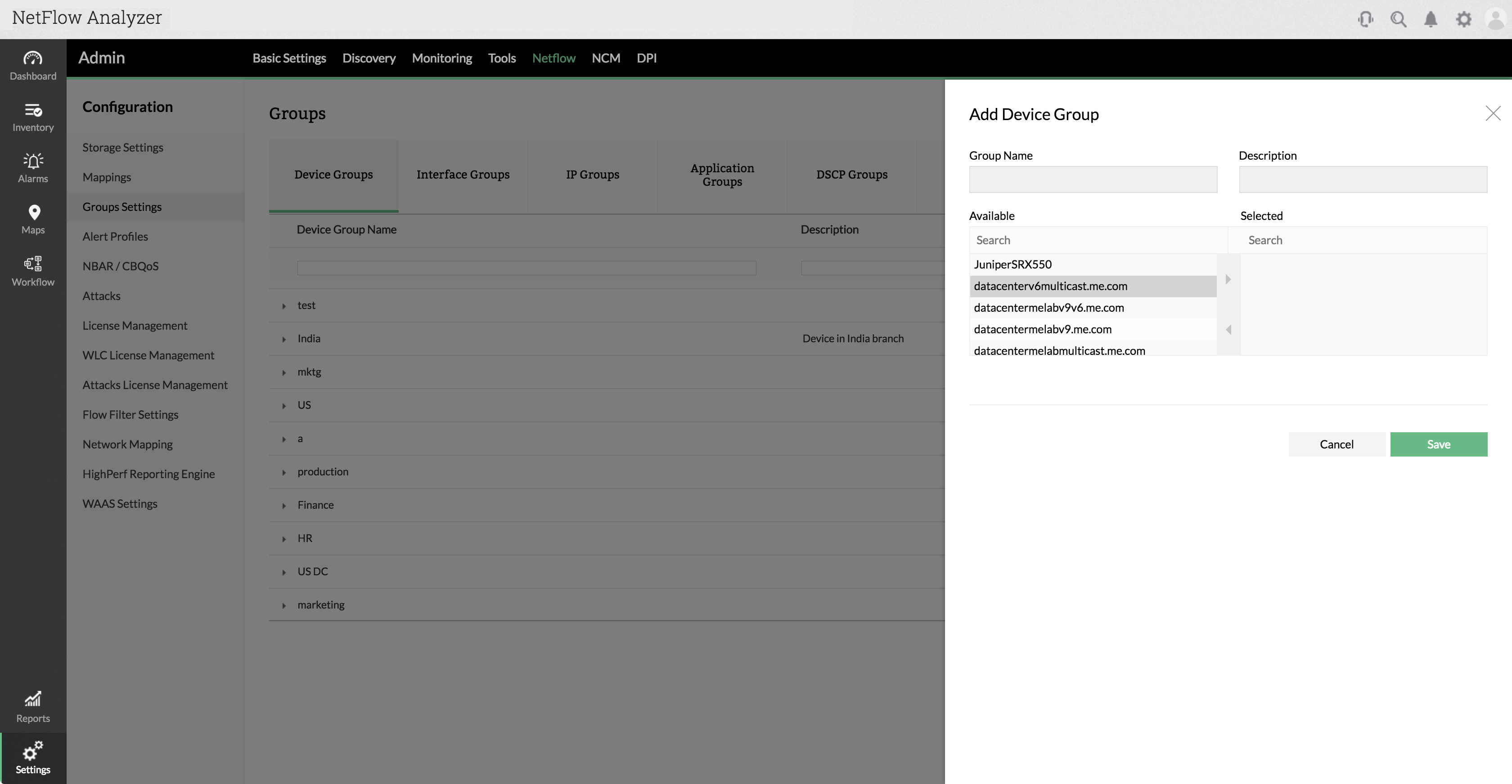 Create and monitor application groups based of departments, port, protocol and IP
Threshold-based alerts
As a network administrator, you simply can't sit around all day watching and waiting for an issue or anomaly to arise, especially during times like this when traffic activity is incredibly high. What you need is a network monitoring tool that not only detects such issues and anomalies but also alerts you in real time when your network is heading off track, so you can troubleshoot issues before they affect your end users. NetFlow Analyzer lets you set thresholds for every performance metric and generates alerts whenever there's a spike in utilization. Configure threshold values based on utilization, duration, and frequency, and receive real-time notifications via email and SMS.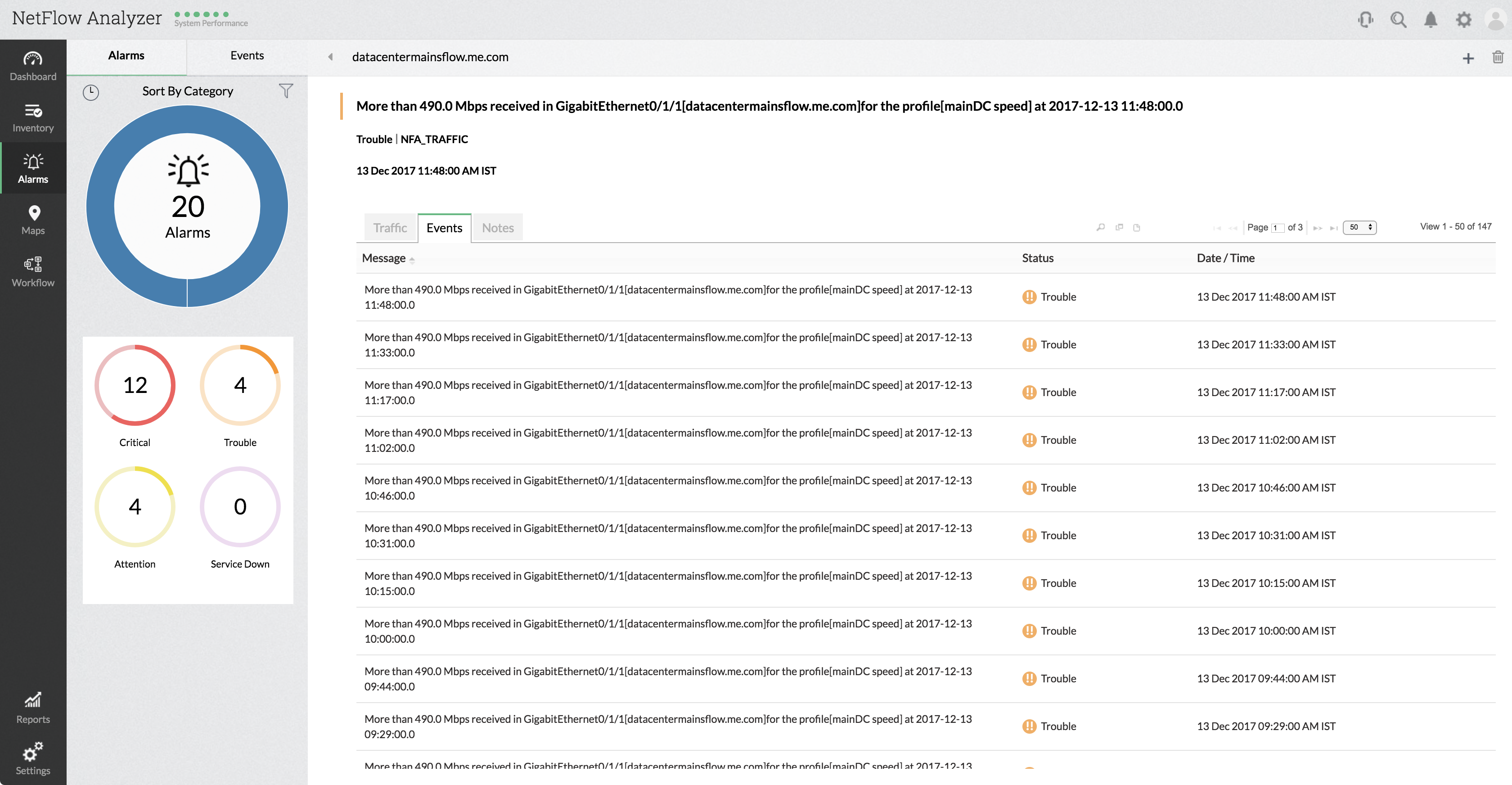 Set thresholds based on utilization, duration, and frequency, and get real-time alerts and notifications.
Shape traffic
While live video streaming might be your biggest problem, it probably isn't the only network hog. NetFlow Analyzer analyzes your network traffic in real time to identify which applications and users are consuming the most bandwidth. With NetFlow Analyzer's network configuration management (NCM) add-on, you can classify and shape application traffic, configure IT policies based on your business needs, generate and compare pre and post policy reports, and set higher priority to business-critical apps, thereby ensuring that non-business applications aren't eating up your network. This also lets you control how your BYOD policy affects your network.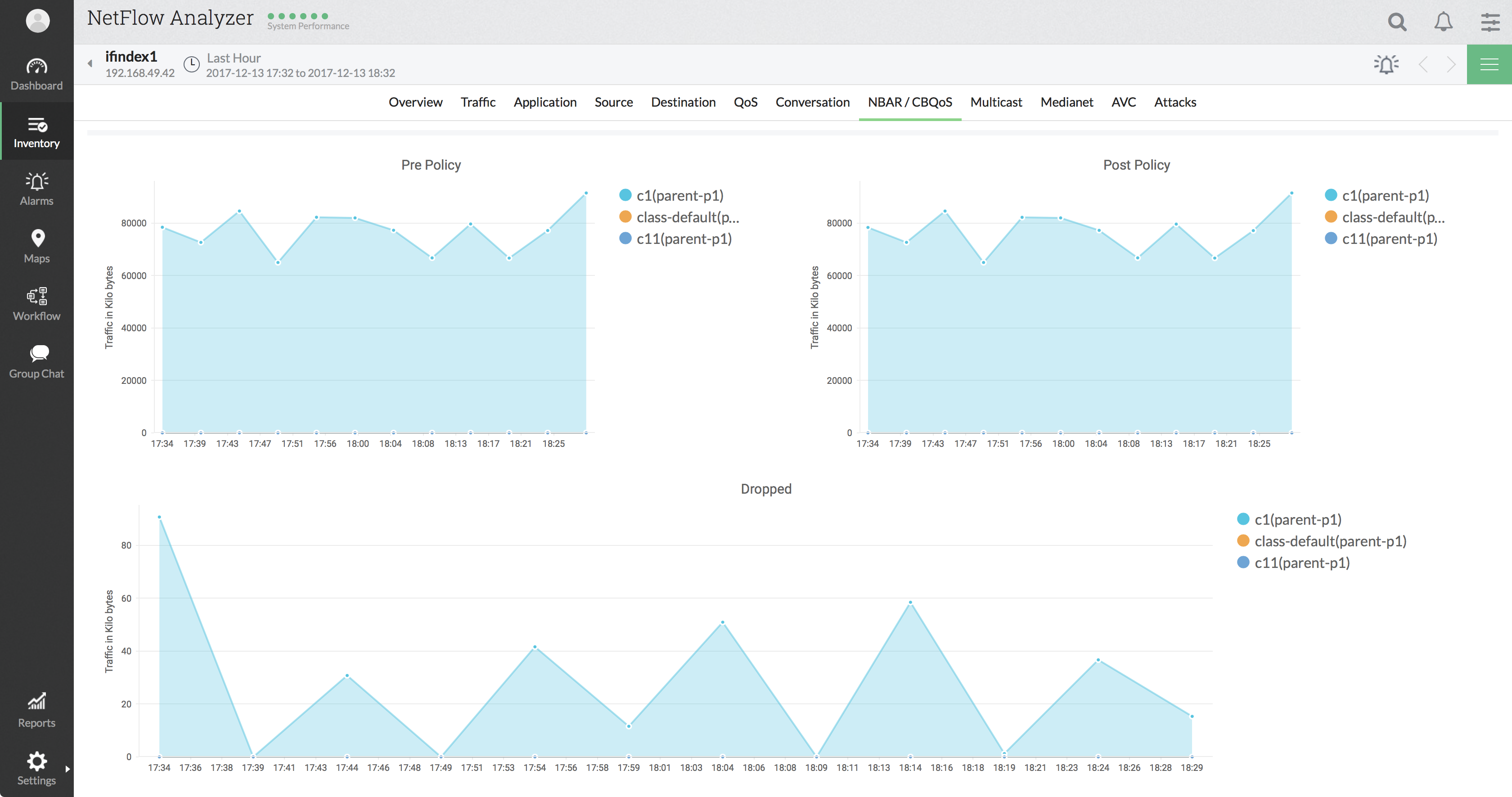 Shape app traffic with CBQoS reports. Compare pre and post policy results.
Forensics
Employees streaming matches at work may be costing your business more than just productivity. With something as popular as the World Cup, security risks are an inherent part of the issues you'll likely face. Cyber criminals are always a step ahead, so it's better to be prepared for SEO poisoning, malware, and phishing attacks. NetFlow Analyzer uses a continuous stream mining engine to detect security threats and network anomalies around the clock. NetFlow Analyzer's Advanced Security Analytics Module (ASAM) helps you identify, classify, and tackle security threats before they can affect your end users.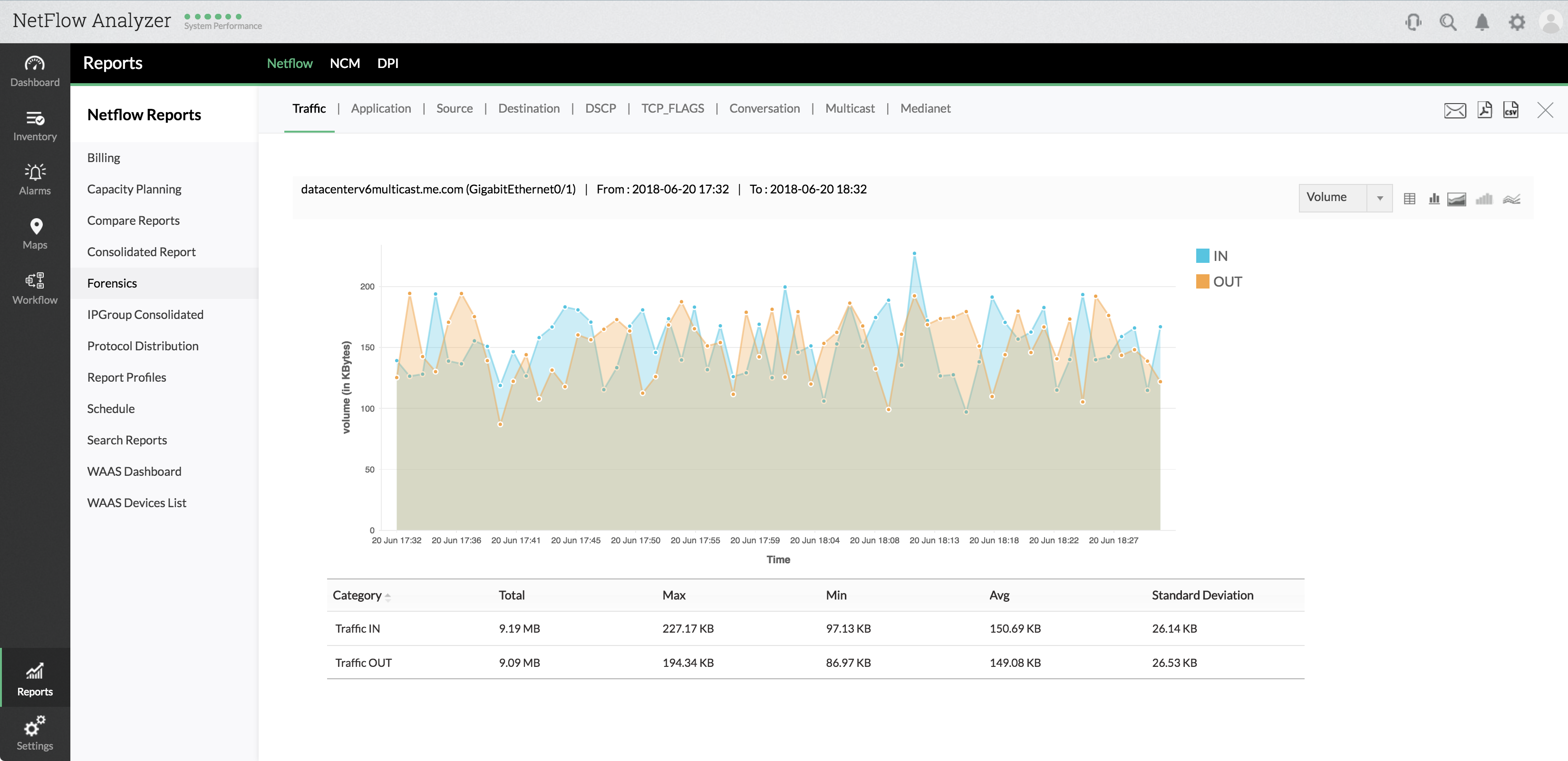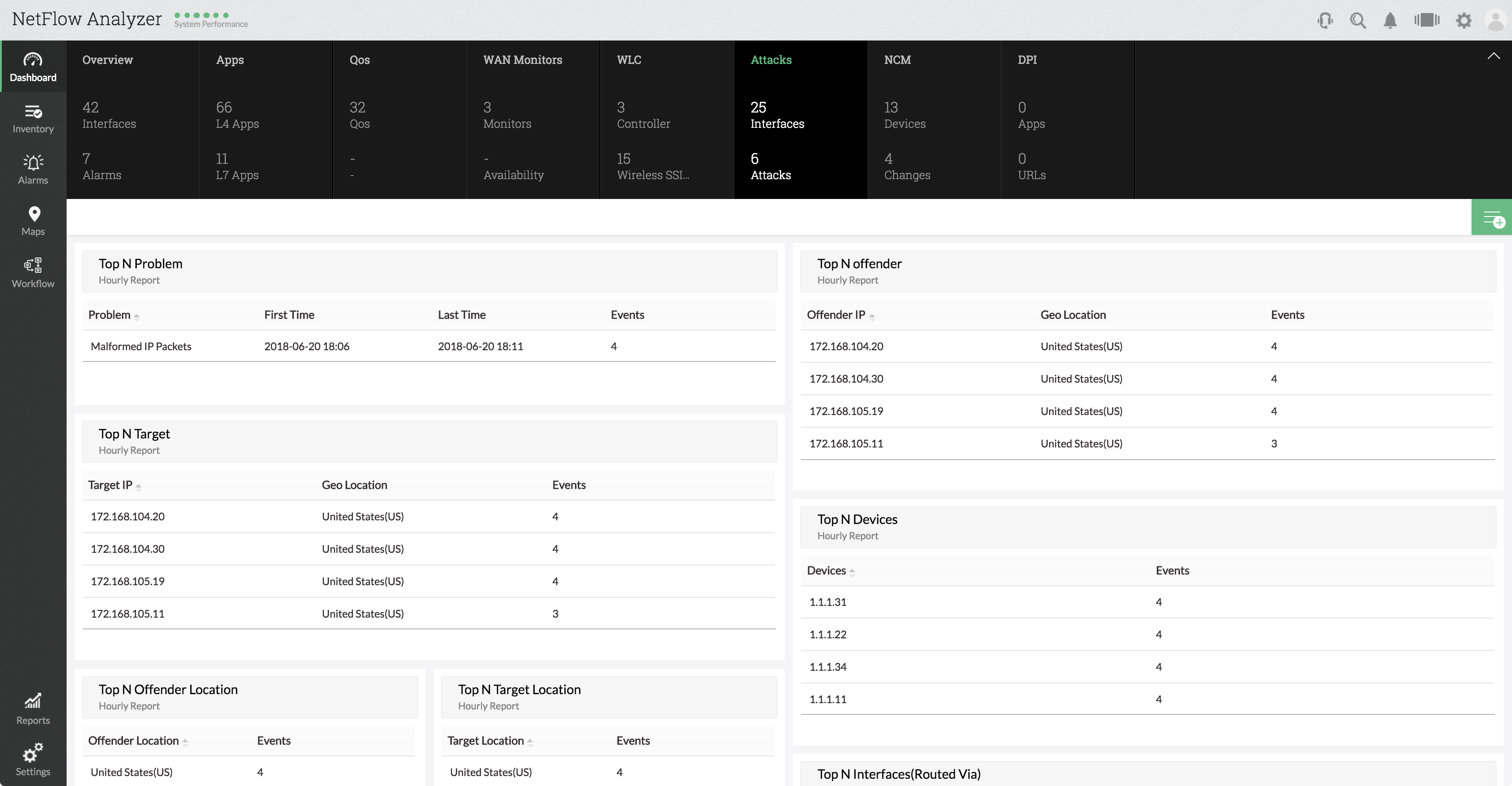 Identify, diagnose, and troubleshoot context-sensitive anomalies and zero-day attacks with detailed forensics reports.
To try out NetFlow Analyzer for yourself and experience all it has to offer. Download your free, 30-day trial and start comprehensively monitoring your network's bandwidth.