The results of the ninth annual Tahawul Tech's Network World Middle East Awards have been announced, and ManageEngine has won the title for Network Management & Monitoring Vendor of the Year once again—an award ManageEngine also won in 2016.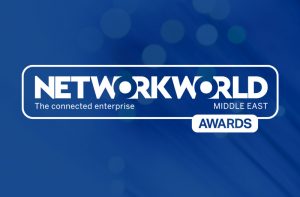 Computer News Middle East (CNME) has been hosting the Network World Middle East (NWME) Awards for nine years now, acting as the a platform for recognizing the top networking and IT talents across the Middle East. Each title is judged by a panel of technology experts and winners are determined by votes cast by users around the globe. The ninth annual NWME Awards was hosted on March 27, 2018 at the Habtoor Grand Hotel in Dubai. Elister Technologies, our partner in Dubai, represented us at the event and accepted the award on our behalf.
Dipak Raste (center), manager of project delivery, and M. Zabi (right), account manager, Elitser Technologies LLC, accepting the NWME award for Network Management & Monitoring Vendor of
the Year on ManageEngine's behalf. Elitser Technologies LLC is a partner of ManageEngine in the UAE.
One of the key elements that paved the way for this recognition is ManageEngine's OpManager. With major recent enhancements along with its competitive advantages, OpManager has proved its strategic importance in the market. The proof is in the votes, which were cast by system administrators, developers, and network administrators worldwide.
We'd like to thank all our supporters who voted for us as well as all our customers who have helped us grow and rooted for our victory. We would also like to thank CNME and Tahawul Tech for hosting the Network World Middle East Awards.
Also, The Integrator's annual ICT Champion Award hasn't been held yet this year, but in both 2016 and 2017, ManageEngine took home the Network Management Vendor award and aims to do it again this year.
Curious to learn about why we won these awards? Find out for yourself by downloading your free 30-day trial.