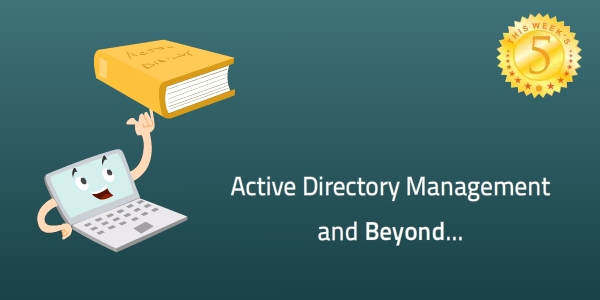 This Week's Five is a weekly column of five interesting reads from all over the web, with a different topic each week. This week, we'll explore the developments in active directory management.
With the emerging trends, changing business needs and drivers such as IT compliance and BYOD, identity and access management (IAM) has undergone a sea change. And so have products offering IAM solutions. The most popular directory service and IAM solution – Active Directory, has evolved too.
Check out the following blogs to know about the latest Active Directory developments.
1. Today, application access management is such a huge challenge, entailing IT administrators the same painstaking efforts involved in some aerospace engineering experiment! Primary reason for this challenge is the growing number of SaaS apps and the industry's eager adoption of them.That's the reason the latest enhancements to Windows Azure Active Directory offer single sign-on capability for several prominent SaaS apps and a wonderful control panel for easy management of those apps. Read on..
http://blogs.technet.com/b/ad/archive/2013/07/07/application-access-enhancements-for-windows-azure-active-directory.aspx
2. The BYOD wave has not abated, and is sweeping everyone off their feet every day! At this rate, it will not be surprising if Gartner's prediction – that by 2017, half of the world's companies will require BYOD – happens a little earlier in time! So, the Active Directory is being prepped to be able to cater to such a need. Here's the latest enhancements to Active Directory, which will help with the BYOD trend.
http://blogs.technet.com/b/ad/archive/2013/07/10/extending-device-support-in-active-directory.aspx
3. Talking of BYOD, it is very important to discuss about Active Sync and it's unseen side. It's not just a mobile data synchronization app. It also provides features required to implement a basic but effective BYOD program. Check this out:
http://blogs.technet.com/b/canitpro/archive/2013/07/08/byod-basics-exchange-activesync-overview.aspx
4. To extend your on-premises Active Directory to the cloud, you create a hybrid Active Directory forest with domain controllers both on premises and in the cloud, so you can sync identities and authenticate users across them. Read about it.
http://www.infoworld.com/d/microsoft-windows/active-directory-heads-the-cloud-what-it-does-and-doesnt-do-222847?page=0,0
5. What's new in Active Directory? Find out
http://windowsitpro.com/active-directory/windows-server-2012-active-directory-recycle-bin
So this weekend, check out the updates on Active Directory Windows Management front.
Check out our Last Week's Five