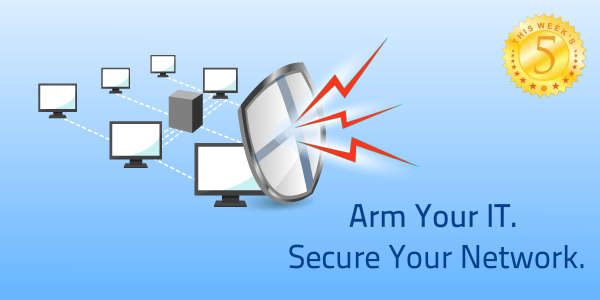 This Week's Five is a weekly column of five interesting reads from all over the web, with a different topic each week. This week, we'll explore possible IT threats and their management.
Today's enterprises face unprecedented security threats. As organizations embrace new technologies, newer threats appear. Mobile devices, cloud computing, and virtualization have all made enterprise security all the more complex. Tech-savvy lawbreakers are becoming more and more innovative. How do you keep them at bay? Here are some articles that provide valuable tips on bolstering the overall security posture of enterprises.
A CEO's Guide to Big Data Security  – Despite its potential to reduce cyber-security risks and increase resilience, Big Data analytics is not yet mature within the field of information security.
More Users Experiencing Phishing Attacks – Kaspersky Lab recommends that businesses employ a combination of education and technology to limit the threat of phishing attacks.
Creating a DDoS Mitigation Strategy – In defending against distributed-denial-of-service attacks, enterprises must comprehend the motives of the cyber-assailant.
New Mitigation Guidance From Microsoft – To help enterprises protect their Active Directory environment, Microsoft IT has released a detailed technical reference document, "Best Practices for Securing Active Directory."
Secret to Online Safety – Generating strong passwords will certainly increase your security. But there are other factors to think about.
With the latest wave of cyber-attacks, security management has become the top priority for enterprises. While defining security measures is fundamental, ensuring adherence to several IT regulations has become an integral facet of enterprise security.
Arm your enterprise with suitable IT security solutions, build a secure fortress, stay secure, ensure business continuity, and enhance productivity!
Check out our Last Week's Five