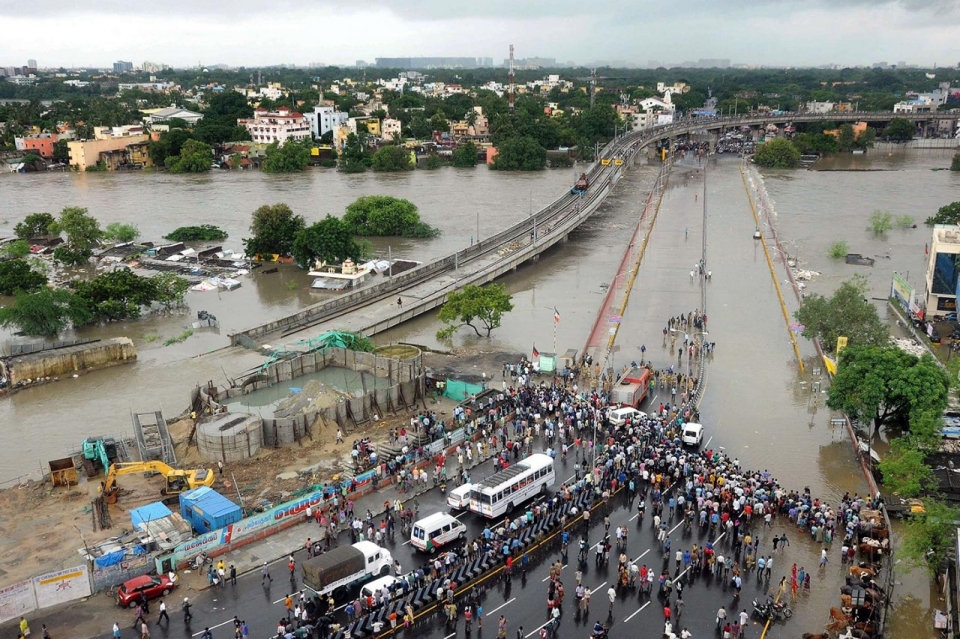 Dispatch from Chennai: December 3, 11pm PST
Below, Ian Wenig offers a first-hand view of the disaster and the country's response. Ian is the vice president of business development for Zoho.com, one of our sister divisions. He was in Chennai earlier this week and managed to travel by road to Bangalore yesterday. Earlier today, we received the following report:
Dear all,
Amongst the many issues that you can imagine is the lack of information from reliable sources, including and especially the news media and the government. The first three days, news reports simply re-broadcast images from previous days and reported on obvious facts about people being stuck and in need of resources, etc. There was nothing about what to actually do to get to higher ground or where there were shelters set up – nothing practical. There was one headline about the senior minister who was supposed to "fly over the area this morning" but no reassurance whatsoever about what that would accomplish or how anyone could benefit.
People in Chennai took to social media and set up networks of help and tried to get info out to those who could still use their phones or access the internet. My sense was that only a small percent could use this, but it definitely illustrates the power and will of the people despite inept services and infrastructure.
Many of our staff, about 800 in total, were stuck on our flooded campus for two days, heroically doing work, manning calls and getting projects done while they could. Peter and others did an amazing job re-routing calls to mobile phones and handling logistics for Zoho while their own families were at home, many without power for the duration. A group of about 40 staff left Chennai yesterday by mini-bus and are here in Bangalore at our office to take on calls and do support. It's a long journey by road. About six hours and then add another 2 in traffic getting through this city.
The image below is our Estancia campus – roughly 30 miles south of Chennai – on Tuesday.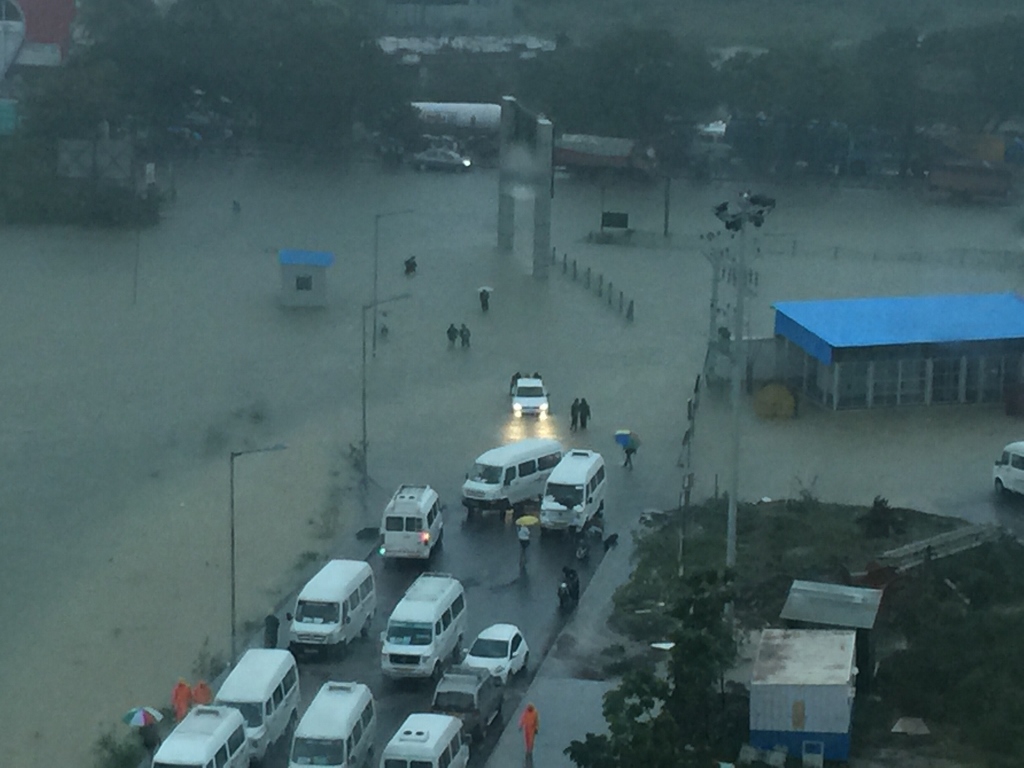 The situation is still very tenuous because more rain is in the forecast and the city needs to continue dealing with the existing disaster.
The good news is that help has come now from multiple agencies including the army and navy. The rain has subsided for past 36 hours – a reprieve for sure, and it doesn't look like heavy rains will strike again for now – but that could change. The Chennai airport remains closed until at least Sunday, and not much is moving out of the city by ground.
Yesterday's "escape" was lucky for me as I was able to convince a group of stranded, elderly French lady tourists and their driver to attempt the crossing of Chennai by road to get to the Bangalore highway. Information on where to safely cross the flooded streets came through the "power of the people" as well. Local drivers passed the details to each other and it eventually made it to us.
Stay tuned. Be grateful.
Ian
---
UPDATE: December 3
Unfortunately, our Chennai office has completely shut down. This is a sad first for us in over twenty years of operations. We had 4 redundant Internet connections and the last one shutdown early this morning. The city is a disaster zone. This has been the worst rainstorm and flooding in almost a hundred years. The airport is closed and most rail connections are suspended or diverted. The AP photo above is just one of the many images chronicling this wrenching event.
Thankfully, our employees and their families are safe. We had a few cases that required rescues from flood waters and abandoned apartments. Other employees were among the first to respond. The city continues to suffer. Incessant rain is part of the forecast for the next few days.
We expect that Chennai will take some time, perhaps weeks, to recover completely. We are planning accordingly. We have a team in a satellite office providing emergency customer service and support center. We are striving to provide the best support we can over this period, but expect service delays. More importantly, problems will be difficult to track and resolve because many of the skilled and technical staff, along with their families, are victims of the floods themselves. Some have had to evacuate their homes. Many are unreachable today.
All ManageEngine cloud services continue to be up and running as they are served from our distributed data centers worldwide. It's the people-related issues that have been impacted, primarily customer support and issue resolution.
We will continue to post updates here. We completely understand that your businesses are also hurting and that many of your customers are impacted as well. We are focused on fixing this now. The vast majority of you have extended your goodwill and patience to us, and we sincerely thank you. For the second time in one unfortunate month, we request you to stand by us.
---
Dec 2, 2015
Dear Customer,
You may have noticed and complained that our customer support has become less responsive over the last few days. Unfortunately, this is indeed true. Our support is completely backlogged because of the flood disaster in Chennai.
Many of you might know that Chennai is suffering its heaviest rains and floods of the last decade. They have battered the city for more than a month now and the forecast today predicts a worse downpour over the next four days. More than 10,000 residents have evacuated, including some of our own employees, and many are unable to get to work due to severed rail and road connections.
ManageEngine has increased support from our offices in Austin, USA to serve global customers during this emergency. People are also working from their homes, where possible. All this will certainly help but we still expect delays in customer service. Please be patient with us.
Related posts :