Microsoft Azure is the fastest growing cloud platform at the moment. Many organizations use Microsoft Azure to quickly build and deliver cloud services that can scale or to migrate existing workloads to the cloud. However, larger and faster cloud services can quickly increase the complexity of a network. To solve this and ensure business-critical workloads run correctly, IT teams need deep visibility into their Azure environments.
The case for monitoring Azure with third-party tools 
Azure offers a variety of native monitoring tools such as Activity Logs, Azure Diagnostics, and Azure Alerts. It also offers Azure Monitor, a robust monitoring and alerting solution similar to AWS' CloudWatch. However, monitoring your Azure environment with these tools can be challenging because of their complex and overlapping offerings.
It can be time-consuming to put together all the metrics in Azure monitor, dig into the results, and see all the relevant data. The best way to eliminate the gaps in visibility left by Azure's native monitoring tools is by leveraging a third-party monitoring tool such as ManageEngine Applications Manager.
Gain deep visibility into your Azure environment with Applications Manager
Applications Manager is an agentless Microsoft Azure monitoring tool that gives deep insights into the health and performance of your Azure environment. It helps you keep your Azure environment healthy and ensure your Azure services are running as expected. If they're not, you will be able to rectify issues quickly.
Applications Manager is an effective Azure monitoring software that collects key metrics from various Azure services such as VMs, storage accounts, Azure Service Bus, Azure SQL Database, and more at regular time intervals and organizes this info in customizable, interactive dashboards. The metrics collected help you understand service health, resource usage, application performance, and more.
Know the state of your organization's services, the current and past health of resources, and the times they were unavailable. Applications Manager serves as one of the best Azure monitoring tools in the industry and notifies you of errors, detects performance bottlenecks, and employs corrective actions to help you resolve issues and optimize application performance.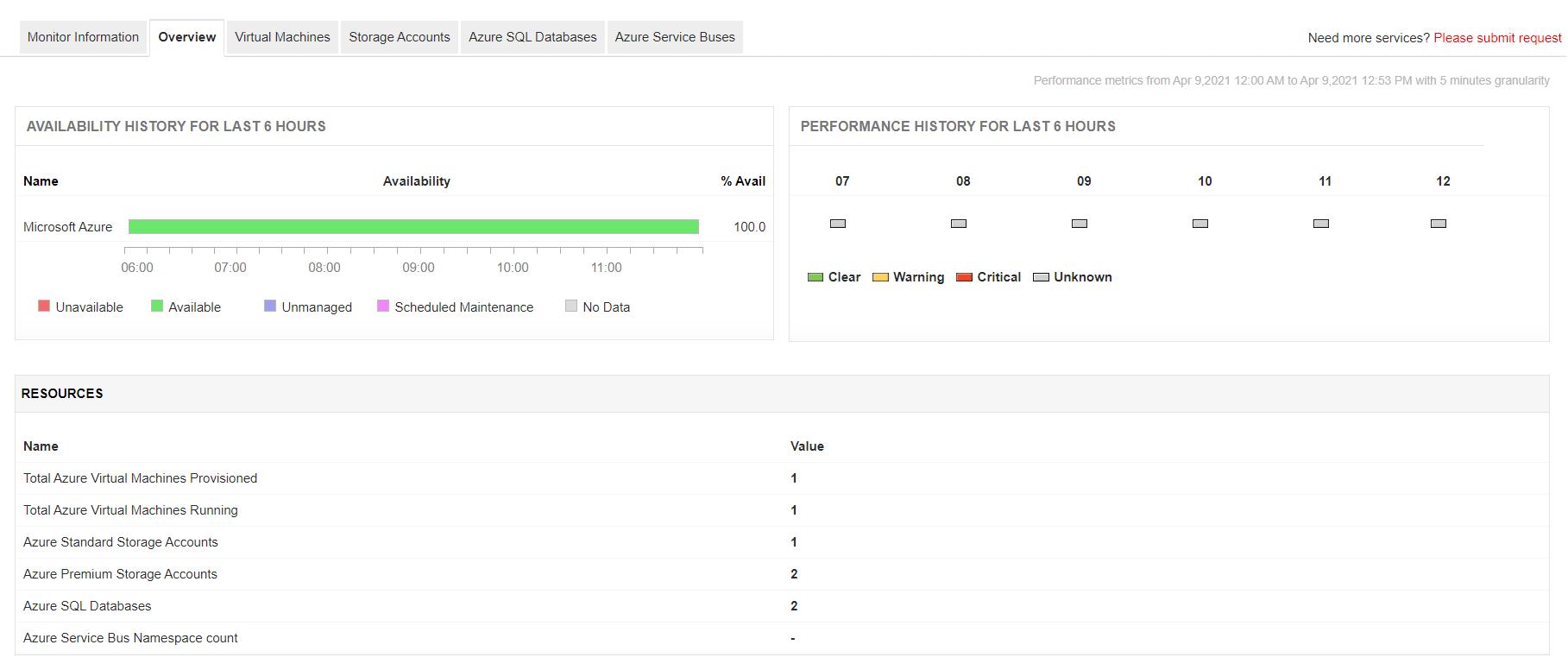 How does it work? 
Applications Manager uses Azure APIs, including Azure Resource Monitor, to connect to Azure for data collection. It automatically discovers your Azure resources and makes it easy to start monitoring.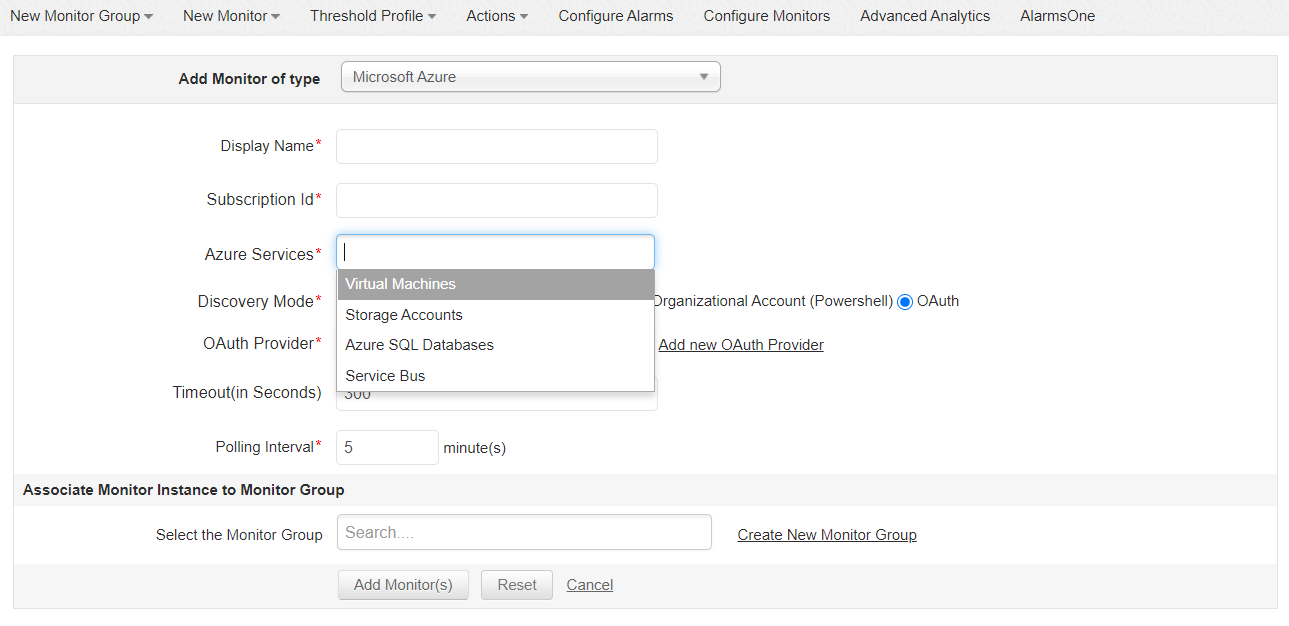 Get notified of errors in the channels of your choice
Applications Manager supports a wide range of notification channels like Slack and  ServiceNow along with Webhook, email, and SMS channels. This way you know about problems in real time and can take corrective actions faster.
Resolve Azure performance issues faster
With instant alerts on problems in your environment, resolution can happen in minutes rather than days or weeks. For example, you can configure the Azure monitor to implement automated actions to start, stop, or restart Azure VMs whenever CPU usage crosses a specified threshold to prevent sudden resource unavailability.
Applications Manager's root cause analysis capabilities enable faster troubleshooting and reduces the mean time to repair, ensuring less impact on business-critical applications.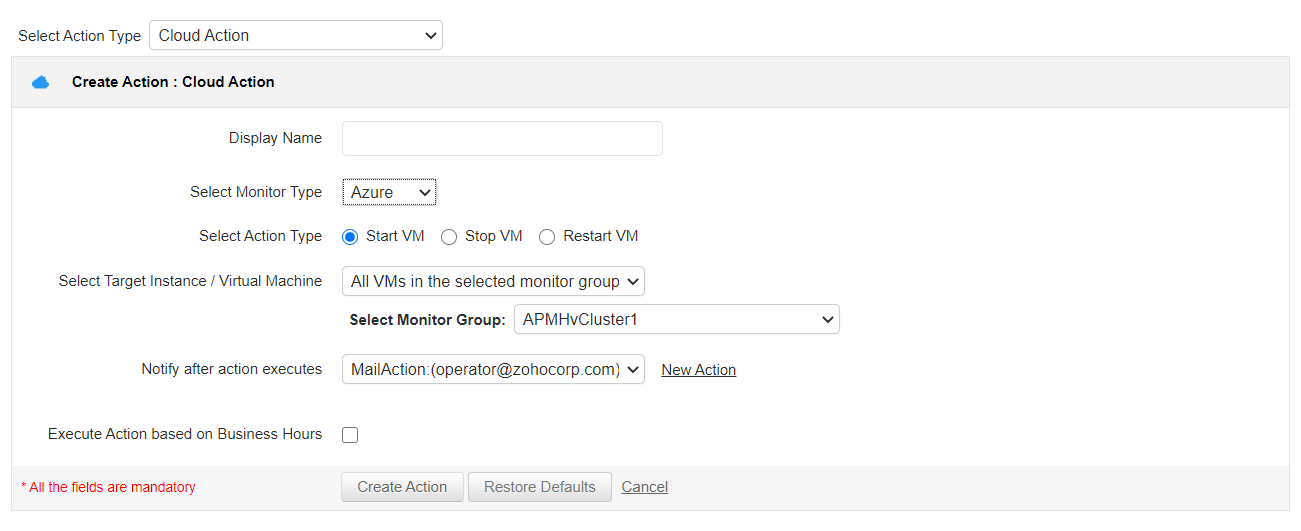 Migrate to Azure with confidence
Prepare for a smooth migration to Azure by monitoring your critical infrastructure and applications with Applications Manager and gain deep visibility into your Azure environment. Applications Manager improves platform reliability and ensures business continuity during migration.
Monitor multi-cloud platforms 
Many enterprises are embracing multiple cloud platforms to gain more flexibility in their cloud environments, maintain better control over workloads, and avoid vendor lock-in. Apart from Azure, you can also use Applications Manager to gain insights into workloads on AWS, Google Cloud, Oracle Cloud, and OpenStack platforms. Discover service outages, application lags, server downtime, and other bottlenecks inside and outside your cloud environments.
Monitor on-premises technologies from the same console 
Most enterprises still maintain traditional on-premises applications and infrastructure components even though they've started migrating to the cloud. As a result, there is a hybrid cloud infrastructure in place where the old and new components coexist.
You can use Applications Manager to monitor your on-premises technologies like servers, databases, web servers, application servers, and more along with the workloads in your cloud environments. This allows you to automate operations and accelerate innovation using just one monitoring tool.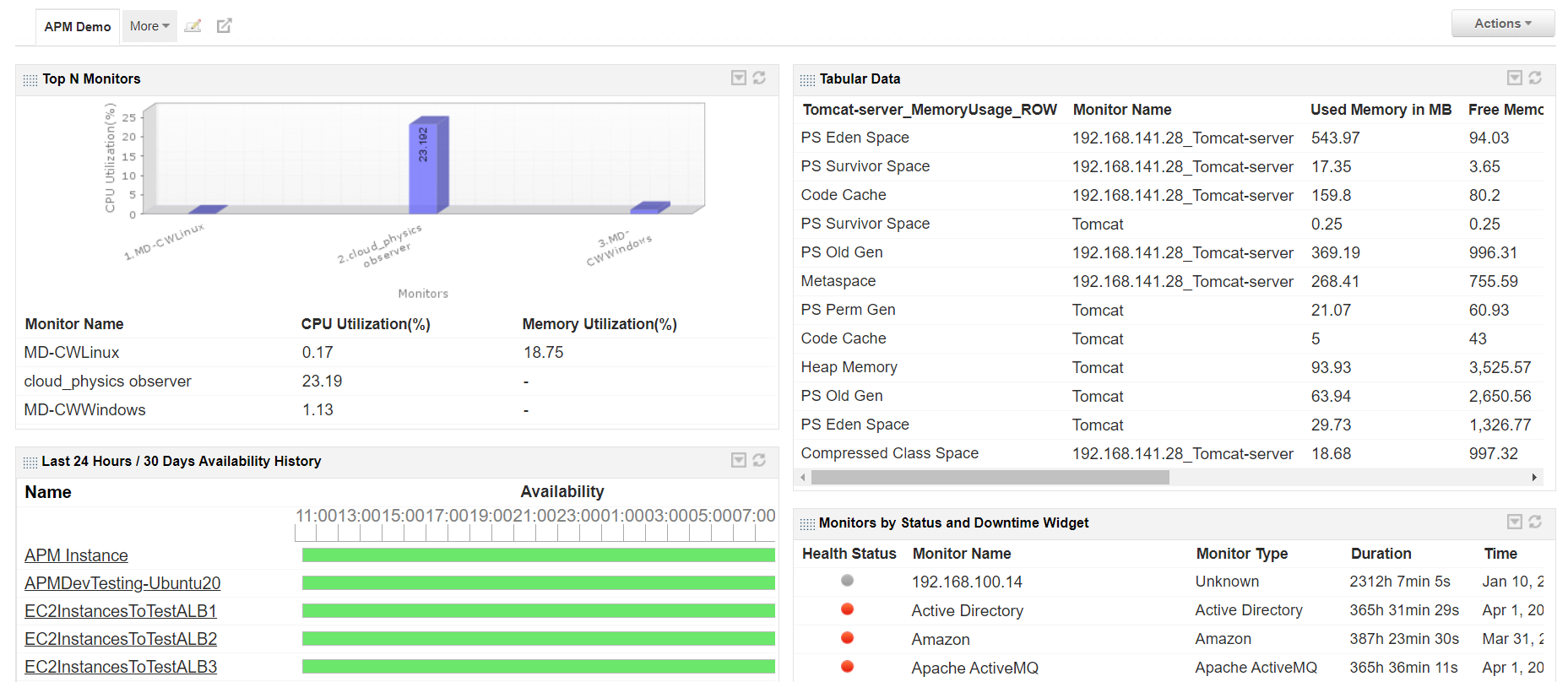 Add and monitor Azure services within minutes
If you're already using Applications Manager, you can start monitoring Azure services by adding monitors. Or, you can sign up for a free trial and immediately start monitoring your Azure services alongside your on-premises servers and services.