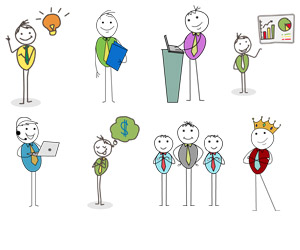 A successful business, like ours, can never be a one-person show, but a star-studded, mega budget gamble! So, this Thanksgiving, we decided to thank the stars of our business.
| | | |
| --- | --- | --- |
| Engineers For the passion you bring into the amazing products you build, which makes any marketer's life ever so easy. | Admin For the beautiful, clean, and pleasant working space we enjoy; no wonder we get "office-sick" after reaching home. | Sys Admins For rushing to our rescue each time we mess up, which is almost every single day. |
| Designers For the sheer user experience magic you weave into our products. | Marketers For beautifully presenting our products to the world. | Support Friends For being there for our users, right from their |
…
READ MORE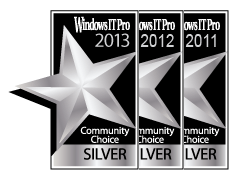 When Windows IT Pro, the IT magazine and community, announced the results of 2013 Community Choice Awards last Friday, we felt the same rare and elusive bliss that a golfer would feel after scoring two aces in one round, nice and clean, with no fluke involved! Why, you ask? Well, because ADManager Plus, our Windows identity and access management (IAM) solution, won this year's Windows IT Pro Community Choice Silver award for best Active Directory/group policy product. And this is the third year in a row that ADManager Plus has won this award! Now, that's certainly no mean feat!
That's not all…
ADAudit Plus, our Windows security and compliance product, which got listed as a hot product in 2012 survey for
…
READ MORE
It is a proud moment indeed. ManageEngine ADManager Plus has been voted the runner up in the
Active Directory Management category of WindowsNetworking.com Readers' choice awards
. The Active Directory identity and access management solution garnered 24% of the total votes cast, which is only 1% less than the winner! We thank all our amazing supporters who voted for us. We appreciate your finding time to vote for us. We also thank WindowsNetworking.com for conducting these polls diligently every year. It's all celebrations here at ADManager Plus team, and we are more than whelmed to share why this award means so much to us. Windowsnetworking.com presents Readers' Choice awards every year, as a tradi…
READ MORE
Here are 6 reasons why an admin might procrastinate, and we tell you how ManageEngine ADManager Plus can help fight them!
1.
I don't know how to do it
 – Lack of expertise in any Active Directory area could be one of your primary reasons, but it doesn't have to be any more. ADManager Plus offers
150+ pre-built reports and an exhaustive list of AD actions
that you can perform through a simple and an intuitive UI.
2.
It's not important right now
 – Well, many things that don't matter now might matter later. When an employee resigns, the chore of revoking his/her access permissions might appear insignificant and left to be done on a less-hectic day. However, the significance of completing such t
…
READ MORE
Do you often find yourself performing administrative tasks, glued to your office desk?
Have you wished that managing Active Directory from elsewhere became possible?
Well, it's good news to all android users as ADManager Plus App is here to take over. The App enables Active Directory Administrators and Helpdesk Technicians to Access/Manage the user accounts in their Active Directory environment right from their mobile devices. Using the app, you can o Reset Password
o Unlock User Accounts
o Enable User Accounts
o Disable User Accounts
o Delete User Accounts ..sitting at the comfort of your homes or spending the evening out with friends and even better- while traveling.
Now that your AD Management worri…
READ MORE
Black Hat USA
 bills itself as "the show that sets the benchmark for all other security conferences." While most conferences tend to over-promote themselves, given the activity at this year's show, that actually might be something of an understatement. From the defense of government surveillance delivered by NSA Director 
General Keith Alexander
 to briefings on the coming "cryptopocalypse" and the risks associated with embedded devices and the Internet of Things, Black Hat reminds us that a little bit of paranoia is warranted in today's connected world. Here are my leading candidates for surprising, damaging ways criminal hackers are breaching our online security and validat…
READ MORE
The Black Hat USA 2013 conference, which kicks off tomorrow in Las Vegas, brings together the 
brightest minds in IT security
 each year — those who are responsible for perpetrating and protecting against the latest hacks and vulnerabilities. And not a second too soon, since every week seems to usher in another security catastrophe.
This week's shocker
 was the outing of a hole in mobile device SIM cards, by Karsten Nohl, the founder of Security Research Labs in Berlin. Nohl was able to send a virus to the SIM card through a text message, then eavesdrop on calls, make purchases through the phone and even impersonate the phone's owner. He did all this in under two minutes using an everyday PC and estimates tha…
READ MORE
This Week's Five is a weekly column of five interesting reads from all over the web, with a different topic each week. This week, we'll explore the developments in active directory management. With the emerging trends, changing business needs and drivers such as IT compliance and BYOD, identity and access management (IAM) has undergone a sea change. And so have products offering IAM solutions. The most popular directory service and IAM solution – Active Directory, has evolved too. Check out the following blogs to know about the latest Active Directory developments. 1. Today, application access management is such a huge challenge, entailing IT administrators the same p…
READ MORE
The Bring your own device (BYOD) movement is getting bigger and faster. IT managers across the globe are striving hard to provide secure access to information through mobile devices. Providing support for various devices, managing BYOD costs and meeting compliance requirements also add to the list of challenges. With new smartphones and tablets getting released continuously and more data moving to the cloud, securing access to sensitive corporate information is easier said than done.
A Gartner study
reveals that about half of the world's companies will adopt BYOD by 2017 and will stop providing computing devices to employees. Another 40% of companies will provide a choice between BYOD and employe…
READ MORE
Here are some stats that will blow your mind: Every minute of every day, 48 hours of video content is uploaded to YouTube, Google receives over 2 million queries, over 100,000 tweets are sent and nearly 600 new websites are created. Perhaps most shocking is that quietly in the background, all of this data is tracked and stored. But what happens to it after that? Obviously, today's Internet is filled with vast amounts of data. When only a few short years ago a search would yield varied results, today search engines, social networks and even advertisers have realized that information must be culled, filtered and targeted for their consumers. In order to do this, many of these services collect data about you. Whil…