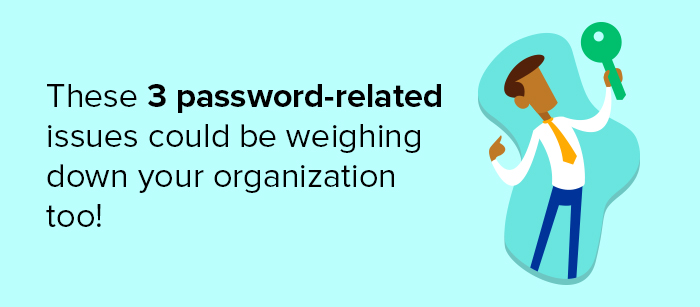 Managing user identities is an everyday affair for an IT administrator. However, in large organizations with complex IT hierarchies, things spiral out of control very quickly. Below are the top three password-related problems that plague IT admins.
1) Password reset calls from end-users
Gartner estimates 20 to 50 percent of all help desk calls are for password resets. When users forget their passwords and have no way to access their accounts, they turn to the IT help desk. IT admins have to help the user as soon as possible because the longer the user waits, the longer the user's work is delayed. Although responding to IT requests with a quick turn-around seems simple, when the organization has a high number of employees, IT admins struggle to keep up with the pace.
Also, resetting passwords is a mundane, repetitive job that doesn't require much technical expertise. The constant barrage of password reset calls drives the attention of the IT admins away from critical tasks that actually require their expertise.
2) Weak passwords
Since end users struggle to keep track of their application passwords, they often set weak, easy-to-remember passwords. And weak passwords give hackers an easy foothold into the organization's network. With regulations like GDPR, such a breach could cost the organization millions in fines and disaster recovery efforts, not to mention bad publicity. To prevent this scenario, IT admins need to enforce strong password policies that mandate users to set strong, hard to crack passwords.
3) Password fatigue of users
According to a poll, 59 percent of people use the same password everywhere and most continue using it until their IT team asks them to change it. Users struggle to keep track of their passwords and are forced to log into different applications multiple times for work on a daily basis. Quite often, this password fatigue leaves users locked out of their accounts or stranded with mixed up usernames and passwords. Once again, the burden of restoring users' access credentials falls on the IT admins.
Solving password management (and other IT) problems
ManageEngine designs solutions that help IT admins solve complex IT problems. In addition to the password-related issues above, we address many more troubles that plague administrators.
To know more about such issues faced by IT admins, check out our infographic of such common IT problems.