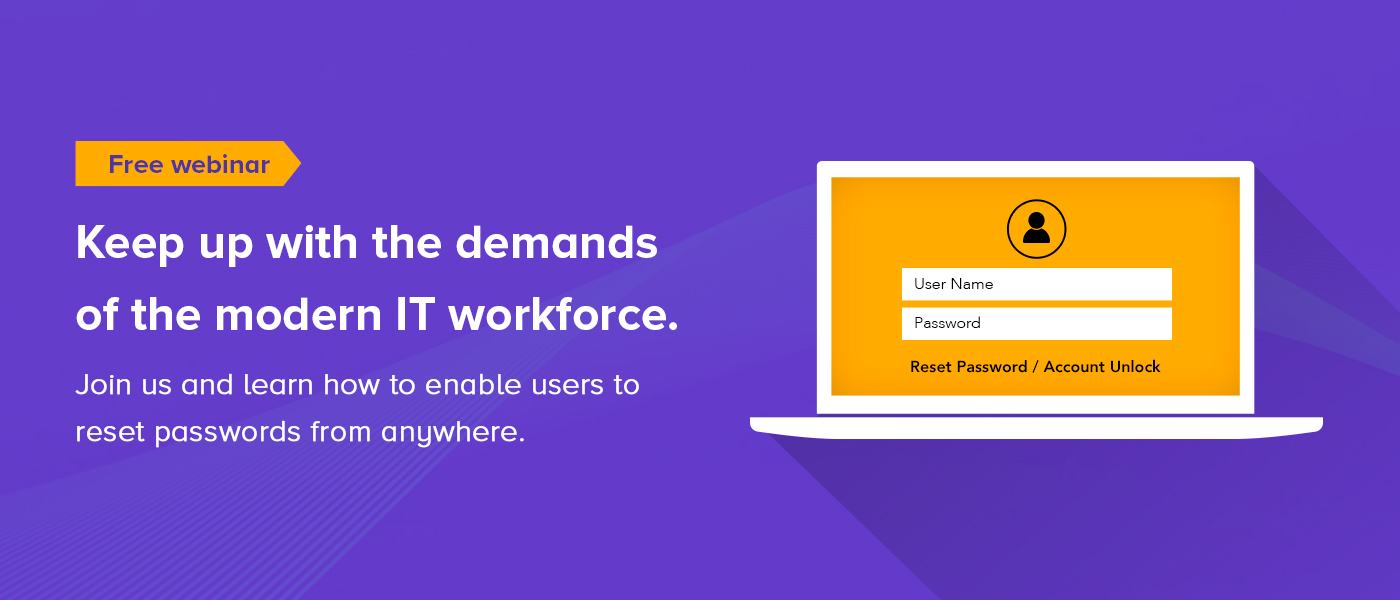 With so many rapid technological advances, today's employees break all the usual work conventions. They work remotely, operate during non-business hours, and use their mobile devices to complete business tasks. When these users forget their passwords, they need to be able to reset them quickly, and securely, so they can go about with their workday. But when users have to wait for help desk assistance to reset their passwords, productivity takes a hit, users often grow frustrated, and help desk teams get weighed down with multiple password reset requests, which are mundane to work on at best.
Join our free webinar, "Active Directory password self-service for Windows, macOS, and Linux systems," and learn how ADSelfService Plus addresses this concern by allowing end users to reset passwords by accessing a self-service portal from multiple access points. In addition to the default web-based portal, the solution also supports password resets via the login screen of Windows, macOS, and Linux, and even from their mobile devices (iOS and Android).
Date: May 22 at 2pm AEST
Join us to learn how:
Users can perform self-password resets and self-account unlocks from the login screen of their Windows, macOS, and Linux systems.

To secure every password self-service action with multi-factor authentication techniques.

To enforce custom password policies with advanced controls, such as dictionary rule and pattern check based on OUs and groups.

Remote users can perform self-password resets on the go using the ADSelfService Plus mobile app.
Can't make it that day? Go ahead and register anyway, and we'll email you a URL to an online video recording of the webinar!

Product Marketing Specialist