With each software as a service (SaaS) application used in your business, employees need to remember the correct credentials to be able to access them. If you use several of these types of applications, your employees may begin to experience password fatigue, which may entice them to use unsafe practices like writing down their passwords or reusing passwords for multiple applications. One way to mitigate password fatigue and the vulnerabilities that can come with it is with a single authentication for multiple applications or a single sign-on (SSO) solution. However, with the plethora of SSO solutions available, choosing the right solution can be a challenge.
Here are a few features to look out for when looking for the right SSO solution:
1) Supported applications
The primary motive behind finding an SSO solution is to enable seamless single sign-on to all work-related applications your employees use. If an SSO provider doesn't extend SSO-support for certain critical applications, it defeats the purpose of using SSO. So, always remember to check whether the applications you use are actually supported.
2) Security and customization
Security is another important factor to consider when looking for an SSO solution. If only one set of credentials is used for SSO authentication, it has to be governed by strict, yet customizable password policies. SSO integration with Active Directory—which employees use day in, day out—is one viable solution as these credentials are seldom forgotten. An optimal SSO provider also offers support for customizable privilege-based access.
Checking if the SSO solution supports Active Directory-based two-factor authentication (TFA) is another essential step. A combination of this and customizable privilege-based access constitutes a quality solution for SSO-related security issues.
3) Support and updates
Even with all security measures in place, you may still experience some hiccups like account lockouts or forgotten passwords. The best way to deal with these minor hiccups is by allowing users to securely reset or unlock their own accounts. This way, employees don't have to rely on their support desks and can always have access to the applications they need.
Furthermore, SSO providers should keep pace with the dynamic environment of the tech industry with timely releases of fixes and enhancements. Ultimately, a support team that is globally reachable and quick to resolve any product-related queries builds confidence with users, which influences enterprise-level decisions.
The right choice: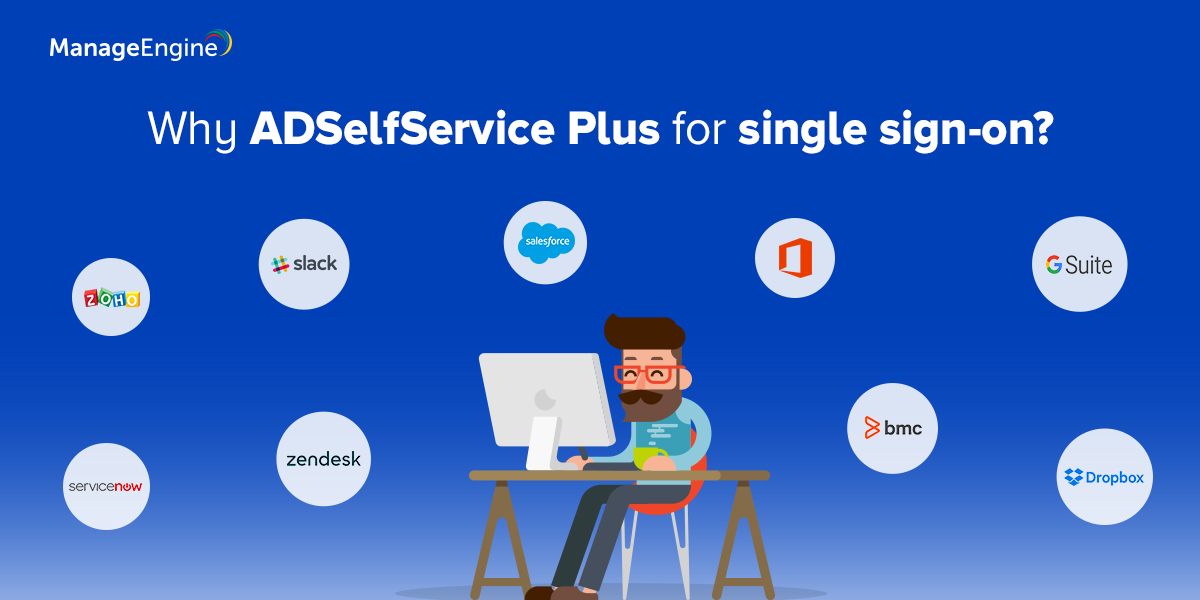 Want to give our solution a try? Get a 45-day complimentary license of ADSelfService Plus.
ADSelfService Plus is an SSO solution offering support for over 100 popular applications, multi-factor authentication, organizational unit and group-based access, and product support twenty-four hours a day (Monday through Friday), all at a price that won't break your budget. ADSelfService Plus even supports user-data synchronization with Active Directory using LDAP. 
What's more? You can even request features that your organization needs and, if possible, our team will be happy to incorporate those features for no additional costs.