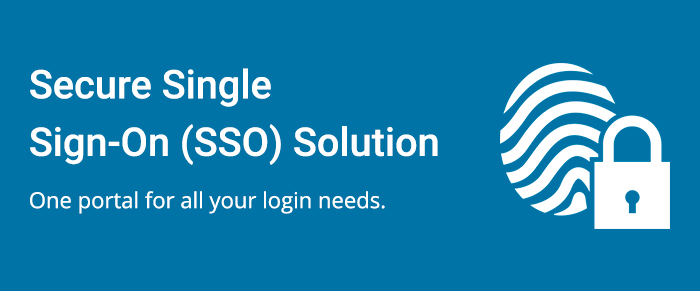 Remembering passwords can be maddening, since they can no longer be as simple as a pet's name or your favorite color. With rising occurrences of cyber attacks, organizations can't take any risks by letting users set up weak passwords. But with great password complexities come greater issues. A simple process of logging into business applications could become a nightmare for users if they forget their passwords. Forgotten passwords are the number one source of help desk calls, and can end up taking more than 20 minutes to resolve, depending on your help desk's bandwidth.
Single sign-on (SSO) is a great solution that makes users prove their identity just once, and then lets them automatically gain access to multiple applications. This means your users only have to remember one username and password to access all their applications. Pair SSO with two-factor authentication (TFA) and you've got yourself an effective one-two punch that takes care of both password fatigue and security.
And that's exactly what ADSelfService Plus, our integrated self-service password management and single sign-on solution, provides. It supports secure single sign-on for cloud apps, including Office 365, G Suite, Salesforce, Slack, Dropbox, and more.
How ADSelfService Plus curbs password fatigue
Once logged in, users will be presented with the list of apps they have access to. With just one click, users will be able to access each application without having to enter their username and password again.

And ADSelfService Plus uses Windows Active Directory credentials to verify users' identities during login. Since the Windows passwords are used day in and day out by users, and are governed by strict password rules, they are easier to use and also secure.
How ADSelfService Plus improves cloud security
Once SSO is enabled, users must log in to ADSelfService Plus to access their cloud apps. Even if they directly enter the URL of the cloud service in the web browser, they will be redirected to the ADSelfService Plus portal. To log in to ADSelfService Plus, users must first enter their Windows domain credentials, which serve as the first factor of authentication. Then, they have to authenticate again with another factor, such as Duo Security, RSA SecurID, RADIUS, SMS/email verification code, or Google Authenticator, to gain entry into the portal. These two factors join hands to keep hackers at bay.
Apart from using TFA, ADSelfService Plus also supports organizational unit (OU) and group-based policies which you can use to restrict access to cloud apps based on users' roles. For example, you can limit all access to HR applications, such as People HR and PurelyHR, except for HR users.
Password fatigue, if left unchecked, could easily pave the way for a security breach in your organization. If you don't want a string of characters to be a serious cause of concern for your business, then it's time you evolve and adopt SSO. If you already have Active Directory, you can easily implement SSO for cloud apps in your organization using ADSelfService Plus. Download the 30-day free trial here. And if you are a small business with less than 50 users, then you can use the application for free without any restriction.