Orchestration in an IT environment refers to the coordinated management of workflows, applications, and systems, with the primary goal to optimize business performance by streamlining processes. Using orchestration, IT administrators can automate, from a single console, a series of tasks to run at a defined time or interval. This includes automating IT tasks like provisioning of user accounts, as well as managing databases, incidents, applications, and cloud resources. Orchestration is crucial for supporting large workflows that feature IT services distributed across on-premises and cloud locations. But why does an organization need orchestration?
The importance of orchestration in identity management
A critical process of modern IT environments, orchestration enables organizations to manage and coordinate user identities and access rights across multiple systems and applications. As the number of systems and applications used by businesses and organizations increases, the need for a centralized and consistent approach to identity management becomes more crucial. Here are a few leaps that orchestration can help you take.
Automated provisioning and deprovisioning
Orchestration helps simplify and speed the process of provisioning and deprovisioning accounts, making it easier to manage and scale the infrastructure.
Upon hiring an employee, orchestration templates can create accounts for the employee in various applications, and provision access to the appropriate resources based on their role within the organization. Similarly, when the employee separates from the organization, orchestration templates can be used to move the user account to a different OU, and disable or delete the account after a set period according to company policies. It helps ensure that resources are configured consistently and securely, reducing the risk of human error.
A unified system for identity management
To establish a unified effort to implement identity management, orchestration coordinates and directs the flow of identity-related information within an organization. This is accomplished by integrating various identity management systems into a single system, such as directories, databases, and cloud-based services. This includes synchronizing and consolidating user data, mapping and aligning different identifiers, and enforcing consistent access policies and security controls. By implementing identity orchestration, organizations obtain a better view of their users and their different access systems. This helps to improve the efficiency and the security of their user life cycle management processes.
Increased organizational agility
Orchestration enables automating and managing the deployment and configuration of applications and services across the environment. This makes it easier to scale applications and services as needed. User accounts, groups, group permissions, and more can be synchronized instantly, reducing the time that IT admins have to spend setting up an application or system in the environment. This streamlines workflows within the organization, and can be used to dynamically enforce security policies on system configurations and grant authorized users access to required data.
Enhance user experience
By eliminating the waiting period for users to gain access to resources, orchestration can improve user experience once they join the organization. It ensures that all users have access to the necessary resources to perform their job functions from day one. Orchestration helps facilitate a hassle-free experience for users and reduces the cost of maintaining the environment.
Orchestration in ADManager Plus
ManageEngine ADManager Plus is a unified AD, Exchange, and Microsoft 365 management and reporting solution. This web-based solution can help IT administrators manage AD objects, Exchange mailboxes, Microsoft 365 licenses, and more in bulk. It offers a built-in library of over 200 reports to fetch vital information on AD objects. It also has capabilities like help desk delegation, customizable workflow, automation, and backup and recovery.
The orchestration feature in ADManager Plus allows IT admins to specify a sequence of tasks to be executed and the time delay between the tasks and the order of the tasks to be executed can be customized via orchestration templates. Orchestration profiles can be created to specify the condition under which an orchestration template will be executed.
ADManager Plus automation feature helps IT admins automate user creation in AD, Exchange, Google Workspace, Microsoft 365, and Skype for business. With webhook templates for configuring REST API endpoints in orchestration, the created users can be provisioned across in multiple applications like IAM tools, payroll applications, ITSM tools, and so on. Using this capability admins can enroll users in a CRM tool or raise tickets to create users or remove permissions of a user in a help desk tool. Further, stakeholders like IT admins, team managers, and the user can be notified via email or SMS notification about the provisioned user account.
In most organizations, complete de-provisioning of a user account and associated access permissions takes weeks or sometimes months, after an employee's last day. With orchestration templates in ADManager Plus, admins can define a series of offboarding tasks to be performed as per organizational policy like moving the account to a different OU, disabling the account for a set duration, and deleting AD, Exchange, Microsoft 365, Google Workspace, raise tickets to revoke access permissions in ITSM tools, and to notify stakeholders like IT admins and managers about the deletion of the account.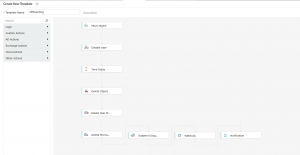 To streamline user life cycle management in your organization try out the orchestration feature by downloading ADManager Plus. You can also schedule a free, personalized demo to discover how ADManager Plus can meet your requirements and receive answers to your questions from one of our solution experts.