In a previous blog, we saw why generating random passwords is key to securing new user accounts for your Active Directory environment. But random passwords for new user accounts also need to be securely transmitted to the end user. In this blog, you'll learn how to securely notify users about their random passwords using ADManager Plus.
When configuring new user accounts manually in ADManager Plus, random passwords are displayed at the time of creation. All you have to do is document the password and relay it to the new users. When users are created in ADManager Plus using automation, you can either manually relay the password to the user or automatically send the password via SMS to the user's personal phone, if that user's personal phone is configured in AD.
How to create a template for SMS notifications
Notification templates in ADManagerPlus let you provide a customized message, specify which users the notifications should be sent to, and more. These notification templates help standardize the process of sending notifications and can be reused in as many notification profiles as needed.
ADManager Plus has a number of predefined notification templates that are available under different notification profiles. You can also choose to create a new template, as shown in Figure 1.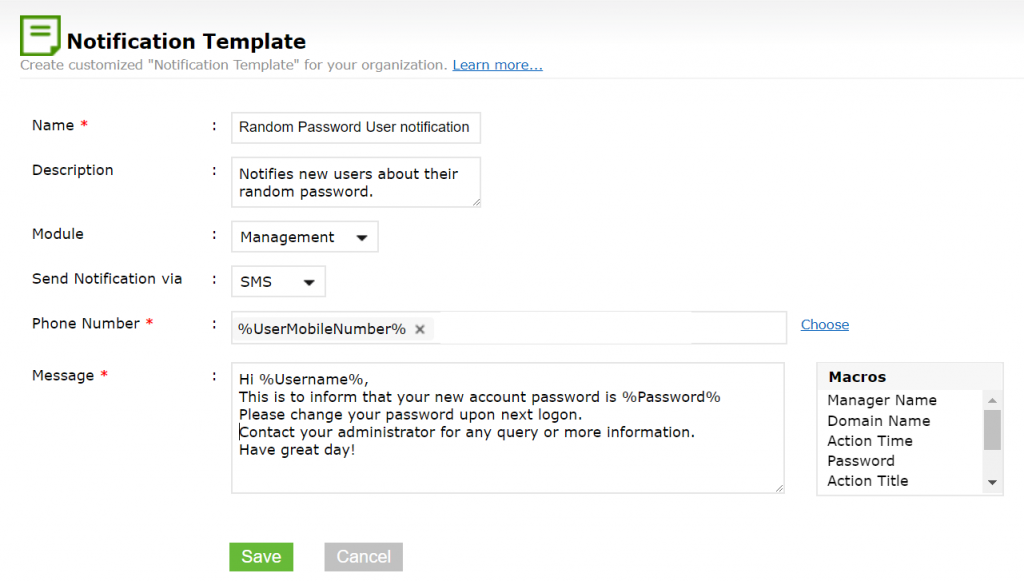 Figure 1. Creating a custom notification template to inform new users about random passwords via SMS.
In order to send notifications via SMS, you'll first need to configure the SMS server settings. Upon configuring the settings, you can type in the custom message you wish to send to new users informing them about their random password. You can also use the password macro or any other macros listed beside the message field as needed. The user will now be able to receive SMS updates containing their password.
The ADManager Plus advantage
ADManager Plus helps you generate random and secure passwords for all new user accounts in your Active Directory environment. You can choose to send users these passwords manually or automatically via SMS.
See how ADManager Plus works in your environment by downloading a free, 30-day trial.
Did you know that ADManager Plus can also help you automate other aspects of hybrid AD management including user provisioning and deprovisioning? Get a free copy of our white paper to learn how.