There are multiple reasons for restoring an Active Directory (AD) object to a previous version, such as a script error, deletion of the object, or an accidental modification. Unfortunately, the native AD backup and restore utility tools from Microsoft fail to provide attribute-level restoration, and because of their clunky user interfaces, object restoration using these tools can take a while. Dig a little deeper and you'll find there are even more drawbacks to using native Active Directory tools for object restoration.
Drawbacks of native Active Directory tools
Microsoft provides native solutions to back up and restore domain controllers in case they crash. However, when it comes to object restoration, there are some things that Microsoft's native backup and recovery tools just can't do. Here's a look at the main shortcomings of these tools:
The native backup and recovery tools from Microsoft can't control attribute-level changes.
They can't back up all versions of objects; only the last change before the backup is stored.
These tools completely back up AD after every change, which increases the storage required for backups and the cost to maintain security.
Restorations done using native tools require a domain-wide restart, which hinders your organization's productivity.
Overcoming the drawbacks
One way to overcome all of these shortcomings is by using a tool specifically designed for object restoration. RecoveryManager Plus is a web-based Active Directory backup and restoration solution that is easy to use and allows you to back up all your AD objects as well as recover any deleted objects in just a few clicks. Figure 1 below shows how you can use RecoveryManager Plus to quickly restore any type of AD object, including users, groups, OUs, GPOs, computers, and contacts.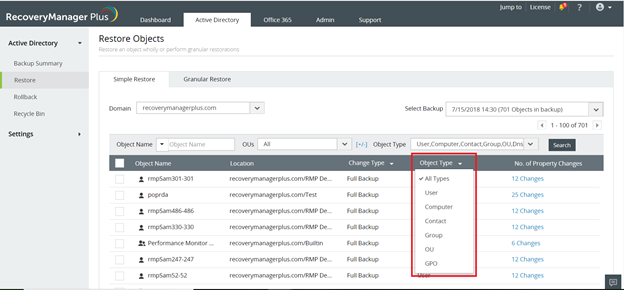 Figure 1. RecoveryManager Plus can restore nearly any object type.
With RecoveryManager Plus, you can also:
Restore data granularly by finding and restoring any modified attribute in seconds.
Track and restore changes made to individual objects, and roll them back to any previous point in time.
Restore group members to their security and distribution groups.
Track changes to your domain name system (DNS), such as changes to nodes and zones, for easy restoration in case of unexpected data loss.
Arrange scheduled and incremental backups of Exchange-related attributes to either partially or completely restore Exchange objects based on their attributes.
These extensive features are what sets RecoveryManager Plus apart from other Active Directory backup tools. With RecoveryManager Plus, you can control your AD environment and undo any change made without restarting any of your domain controllers, ensuring continuous availability.
Give RecoveryManager Plus' 30-day free trial a go today.