How a network's IP address space is structured, scanned, and managed differs based on the organization's size and networking needs. The bigger your network is, the more IPs you need to manage, and the more complex your IP address hierarchy gets. As a result, issues such as IP resource overutilization and address conflicts become challenging to avoid without an IP address management (IPAM) solution in place. This has encouraged organizations to deploy effective IPAM solutions to monitor their IP resources in place of conventional solutions such as spreadsheets.
IPAM solutions that offer IP address tracking capabilities help you track down and understand your network address space and foster effective IPAM.
In this post, we will discuss the three benefits of using OpUtils' IP address tracker and how to choose the right IP address tracker for your network.
1. Enabling a structured approach to IP address discovery and tracking
Traditional IPAM techniques rely on homegrown solutions that use a blend of built-in OS commands for IP scanning and spreadsheets for IP tracking. These solutions might be enough to monitor small-scale networks, such as home networks or networks spanning across one or two subnets. However, for larger networks, these solutions do not make the cut. Many organizational networks are more refined in address space structuring and span across multiple address groups, supernets, and subnets. Due to this distributed nature, IP address tracking becomes challenging.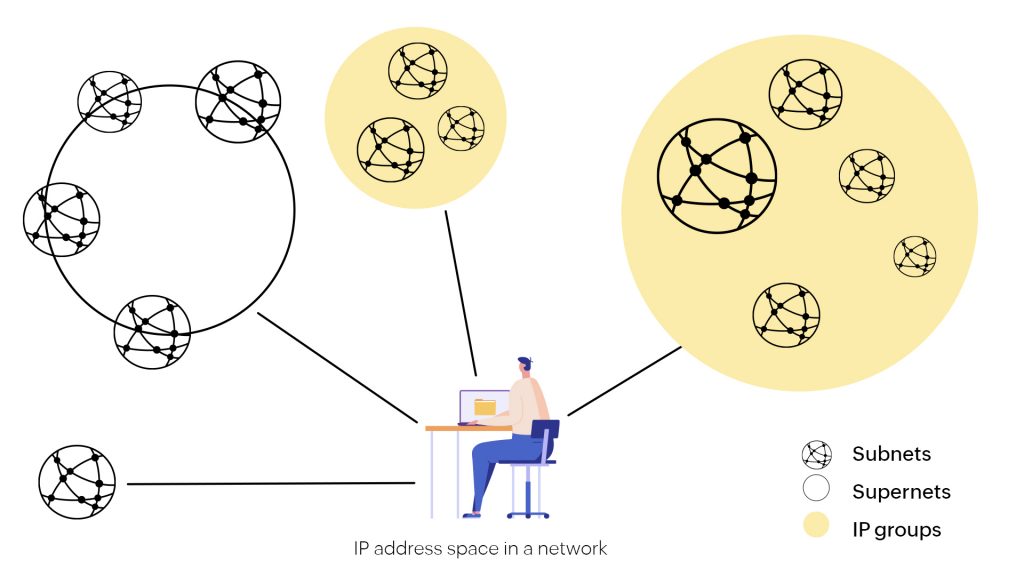 ManageEngine's OpUtils offers simple, automated IP address tracking. With OpUtils' flexible discovery option, you can easily find IP addresses to be managed. Once they are discovered, you can use the Tree View option to centralize and track IPs based on the group, supernet, and subnet to which they belong. This helps you structure your IPAM tasks based on the IP hierarchy implemented in the network instead of managing all the IPs as a whole. You can track down IPs within a subnet, set up a subnet-specific scan schedule based on its requirements, and search for an IP across subnets with the search option.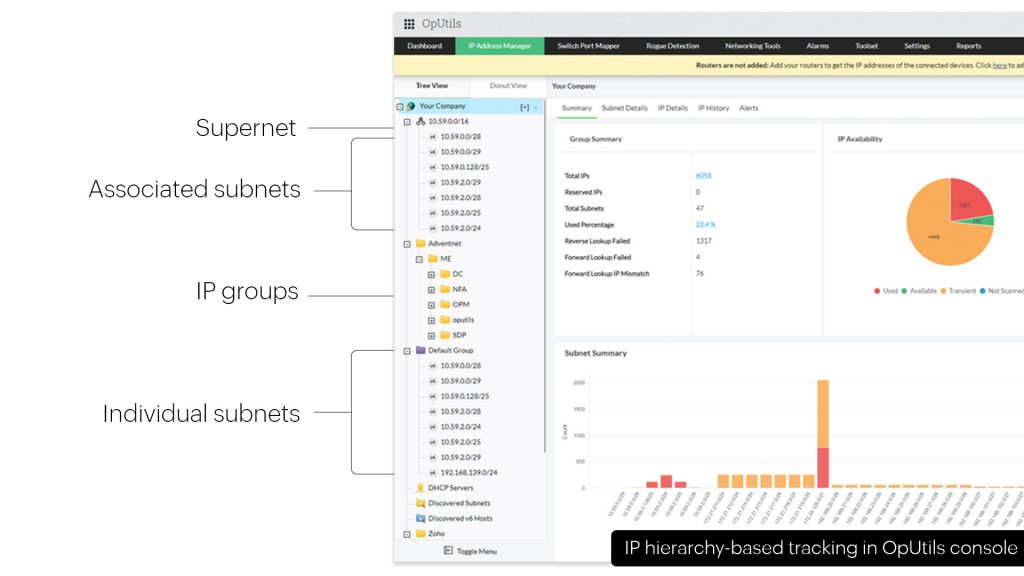 2. Knowing the details of connected devices by tracking associated MAC addresses
Tracking and monitoring the IP address space hierarchy alone is not enough. To effectively manage IP addresses, you need to have visibility into the details of connected devices and the networking aspects of the IPs.
With OpUtils' IP address tracker, you can view insights into an IPs associated MAC and its attributes. It displays to you the MAC's device data, such as Device Type, NIC Type, Asset Tag, Connected Switch, and Port details. You can also drill down to details such as the system name, description, and location. The IP address tracker also tracks the network aspects of the IP, such as its address resolution status, AD domain, reservation status, and authenticity. This helps you analyze how your IP is being used and by whom.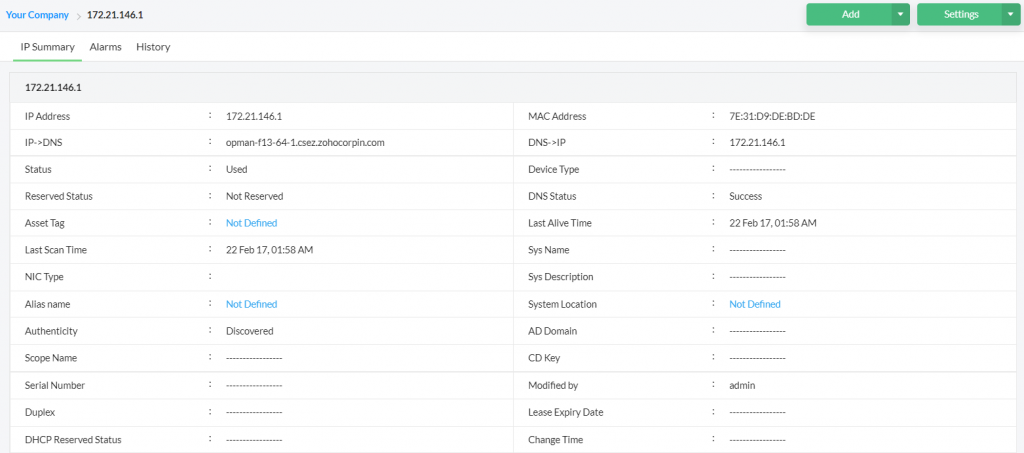 3. Ensuring the consistency of tracked data with periodic scanning
An important part of IPAM is ensuring that the data reflected in your console is the actual real-time status of your IP addresses in the network. This can be achieved with periodic scanning. Periodic scanning not only ensures data consistency between the network and the console, but also helps proactively detect emerging network issues. However, manually triggering scans to refresh the tracked data can be tedious.
OpUtils automates this process with its Scheduler option that requires far fewer manual interventions. Once you set up a scan schedule, OpUtils automatically triggers IP scans at the set interval. It updates the tracked data in the console with the scan results. This gives you a real-time view of your IP address space. OpUtils also monitors your network address space for a set of scenarios, such as IP conflicts, that might indicate potential network issues. Upon detecting one, it instantaneously alerts you via email or syslog entries. This helps you stay ahead of address space issues and ensure stable network availability.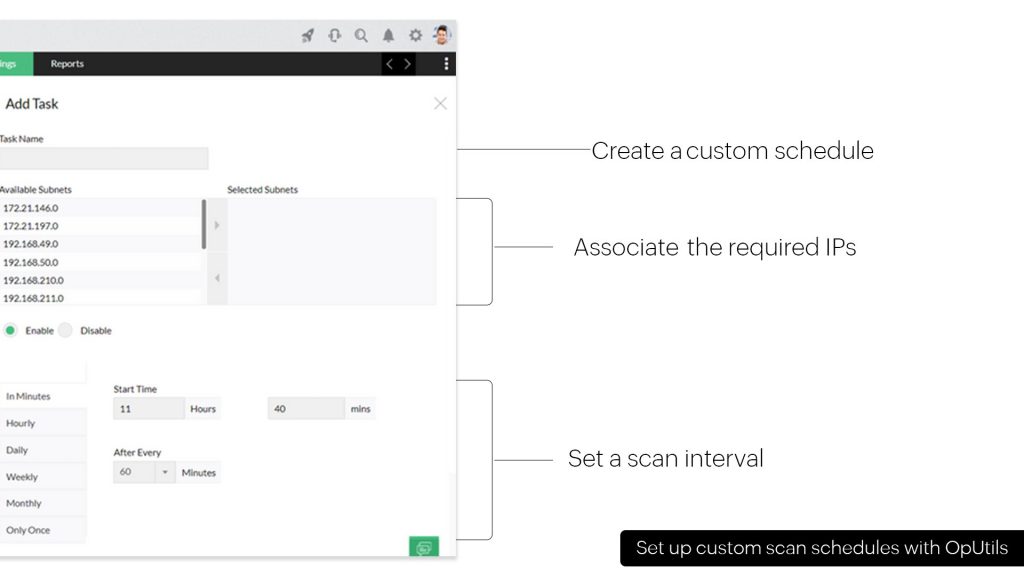 Choosing the right IP address tracker for your network
There are a number of free IP address tracker tools that are available on the market today. These free tools track a specified IP and offer insights into it. However, they have their limitations when it comes to capability and depth of data insights offered. These tools often provide surface-level insights and limit the number of trackable IP addresses to around a hundred. This is not sufficient to track and manage the massive address space of an organizational network.
This makes it a practical choice to opt for an enterprise-level IPAM solution like ManageEngine's OpUtils, which offers more than just IP address tracking. This highly capable solution can handle thousands of IP addresses at a time and provides in-depth insights into the IPs' networking aspects.
Meet OpUtils: The trusted IPAM solution for complex networks
OpUtils is a complete IPAM solution that offers comprehensive IP address tracking and advanced IP scanning capabilities. Suitable for small to large networks spanning across multiple subnets, OpUtils offers effective functions that enable network admins to:
Effectively track and monitor IPv4 and IPv6 addresses in tandem.
Automatically trigger IP-specific reports on usage data, with in-depth insights into associated MACs, connected devices, and more.
Inspect historical IP usage trends with automatically logged usage history.
Stay on top of address utilization issues by setting up thresholds for subnet utilization limits.
Ensure a problem-free network address space with proactive alerting on scenarios such as IP address conflicts.
Monitor network address space on the go with a supplementary Android and iOS mobile app that seamlessly integrates with the on-premises deployment.
Looking for an effective IPAM solution? Schedule a live demo with our product experts and discover how OpUtils can help your network. Or, download a free, 30-day trial and explore OpUtils hands-on today!