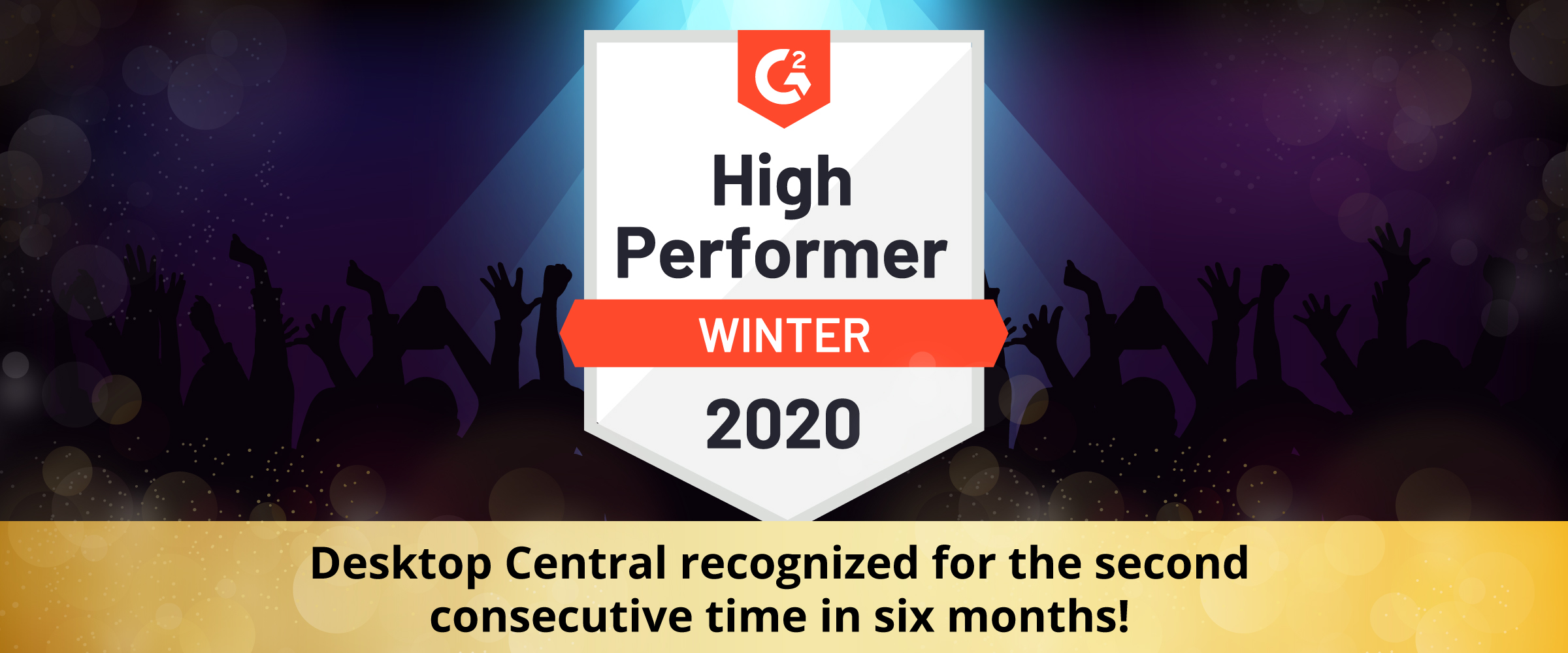 ManageEngine's unified endpoint management solution,, Desktop Central, has been recognized as a High Performer and Momentum Leader in G2's winter report for 2020. This is the second time in the past six months that Desktop Central has been named a High Performer in G2's Unified Endpoint Management category.   
G2 is a peer-to-peer review site that helps buyers learn the pros and cons of software directly from users. G2 releases its grid for every season (Fall, Winter, Spring, and Summer) across a number of software categories. This Winter, Desktop Central was named in the G2 Grid for Unified Endpoint Management (UEM). The Grid is based on G2's scoring methodology, which evaluates customer satisfaction and market presence for each software vendor.  
The G2 Grid is composed of four quadrants: Leaders, High Performers, Contenders, and Niche. You can visit G2's website for complete details on the Grid and G2's scoring procedures.
G2's Winter 2020 Unified Endpoint Management (UEM) Grid
Of the nine vendors mentioned by G2, two are named Leaders, three are High Performers, one falls under Contenders, and three are Niche.  
G2's grid is based on user reviews; check out what this ManageEngine customer had to say about Desktop Central: 
 "ManageEngine Desktop Central lets us manage multiple desktop computers in a more scalable way. Without it, we'd be spending countless more hours accessing each desktop computer manually." 
Desktop Central still holds a spot as a Momentum Leader 
Desktop Central was the Momentum Leader in the Fall 2019 report, and it continues to hold the spot for Winter 2020. The Momentum Leader category is based on a vendor's momentum score and user satisfaction with their software.
Why Desktop Central has such a high momentum score 
Our continuous development of features, web and social media presence, number ofemployees, and user reviews all contributed to our momentum score. Receiving great user reviews and delivering services to users at an affordable cost have helped keep Desktop Central in the Momentum Leader category.  
Choosing the right UEM solution 
While you're evaluating software for UEM capabilities, it's important to look at real-user feedback and utilize free trials (if available). Evaluators can also look into Gartner, Forrester, IDC, Info-Tech Research Group, and EMA reports for a detailed look at users' opinions on vendors, along with the technical capabilities each vendor has to offer.
Desktop Central is on a roll! 
In the last quarter alone, Desktop Central has been named the winner of the Next Gen UEM award by Cyber Defense Magazine, High Performer for Fall 2019 by G2, and ITAM Champion by Info-Tech Research Group. It has also been mentioned in Gartner's UEM Magic Quadrant and Forrester's UEM Report 2019.   
If you're in the UEM solution evaluation process, now's the time to become a part of the ManageEngine family. Try out Desktop Central now, and get started on enhancing your IT security and endpoint management.