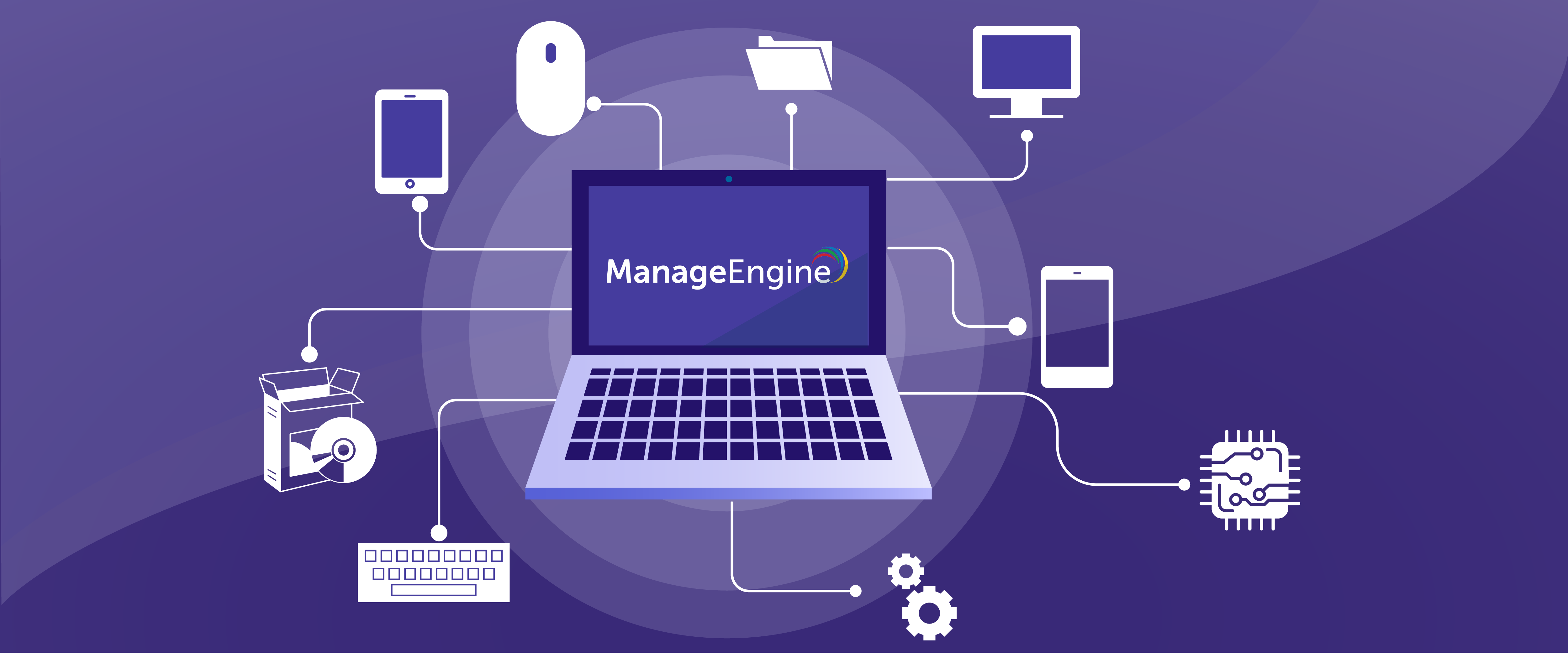 IT asset management is a humungous task for any business, but with the proper tools this task can be simplified; IT asset management software, for example, can provide a huge advantage for streamlining the management of your software and hardware.
What is IT asset management?
IT asset management (ITAM) is "a set of business practices that incorporate IT assets across the business units within the organization. It joins the contractual, inventory, financial, and risk management responsibilities to manage the overall life cycle of these assets including tactical and strategic decision-making in a IT ecosystem." ITAM is usually combined with IT service management (ITSM) and IT operations management (ITOM) to bring a holistic approach to enterprise IT management.
IT asset management software is the subsection of ITAM that covers hardware and software in general. Business can use an ITAM software to see how assets are being utilized, which, in turn, helps them find and remove any superfluous instances of hardware and software to reduce overhead costs.
Why is IT asset management software so important?
A business is composed of different departments, and each department will have its own set of IT assets. These IT assets are expensive and often require regular maintenance like license renewals, updates, etc. to maintain value. With the right ITAM software, technicians will be able to monitor all hardware and software from one central location, reducing costs and improving productivity for a business.
According to Gartner, "IT asset management provides an accurate account of technology asset life cycle costs and risks to maximize the business value of technology strategy, architecure, funding, contractual and sourcing decisions." ITAM is not limited to managing hardware or software; it also includes taking a holistic approach where the entire IT infrastructure, the technology employed, finances, data procedures, and business decisions can all be scrutinized and streamlined.
Types of IT asset management
Asset management in general can be used to refer to many different things in an IT environment. Below are some of the common types of IT asset management.
Hardware management:
This is the management of physical assets including desktops, laptops, servers, keyboards, mouses, printers, IoT devices, and more.
Software management:
This includes managing IT assets such as applications, programs, and software.
Digital asset management:
This is the management of corporate files, folders, photos, videos and other media files that also fall under IT assets.
License management:
This includes managing commerical software based on their usage and role in productivity.
Understanding IT asset life cycle management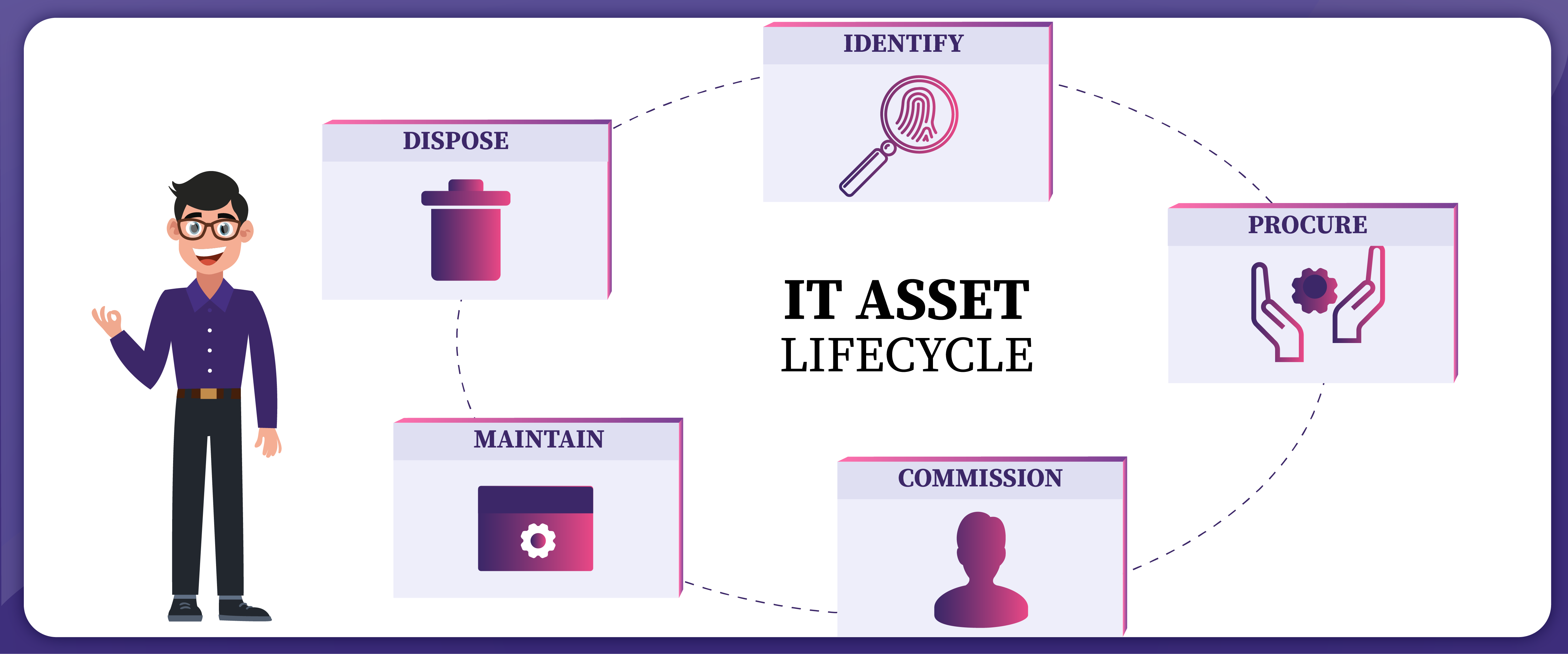 Businesses handle all different types of assets within their ecosystems, including both physical and digital assets. Managing these complex assets is a crucial routine; keeping hardware well maintained and quickly fixing it if it breaks helps foster efficiency through the business as a whole, while keeping applications up to date and monitoring the number of licenses purchased against those used provide better returns in the long run.
IT asset management software involves the process of identifying, procuring, commissioning, maintaining and disposing of network devices and applications.
Identify
IT departments need to identify the type of devices and software applications required for the various departments in their business. Once these types are identified, the next step is researching which vendors to select as well as how long you'd like to purchase licensed software.
Procure
Assets can be procured on different bases; for example, they can be developed, purchased or loaned.
Commission
After procurement, the asset has to be installed inside the network and integrated with other crucial components of your business.
Maintain
Proper maintenance of these assets will reduce the overhead costs for your business. Timely service, repairs, and updates will play a vital role in the ITAM life cycle.
Dispose
Once assets have exceeded their life span, IT departments should dispose of them and procure new ones based on what's available in the current market as well as the business need at the time of purchase.
How can IT asset management software help streamline business continuity?
With the proper IT asset management software, IT admins can easily streamline the entire life cycle of corporate IT assets. Below are some of the benefits for utilizing an IT asset management software.
Automated inventory management:
Discover all network devices and applications automatically whenever they enter or leave the corporate ecosystem.
License management:
Identify the hardware and software existing inside a corporate ecosystem to measure the usage of licenses and warranty renewals.
Prohibiting applications:
Unwanted software, such as social, gaming, and torrent applications that hinder efficiency should be prohibited in the corporate environment to boost employee productivity and IT security.
Blocking EXEs:
Any floating EXE and other EXE-based applications that are unfit for corporate network should be blocked.
Software usage metering:
Usage of commercial software across the network of computers will help IT admins identify the right quantity of licenses that should be renewed for the following year.
Why Desktop Central as an IT asset management software will make the difference
Desktop Central, ManageEngine's IT asset management software, allows you to manage IT assets holistically. With its unique ITAM capabilities, Desktop Central can help with the entire IT inventory management process, including management of licenses, USB devices, and users and groups as well as other network-specific configurations for browsers, printers, network drives, firewalls, and Wi-Fi.
Compared to other IT asset management software in the market, Desktop Central offers the widest range of capabilities at a price that won't break the bank. Manage your smartphones, tablets, servers, desktops, laptops, and kiosk devices with OS support for Windows, Mac, Linux, iOS, Android, TvOS, Chrome OS, and more.
Download your free trial of Desktop Central now and kick-start your ITAM implementation right away. Desktop Central is completely free IT asset management software that comes free for 50 endpoints. Let ManageEngine Desktop Central be the catalyst for your ITAM strategy.