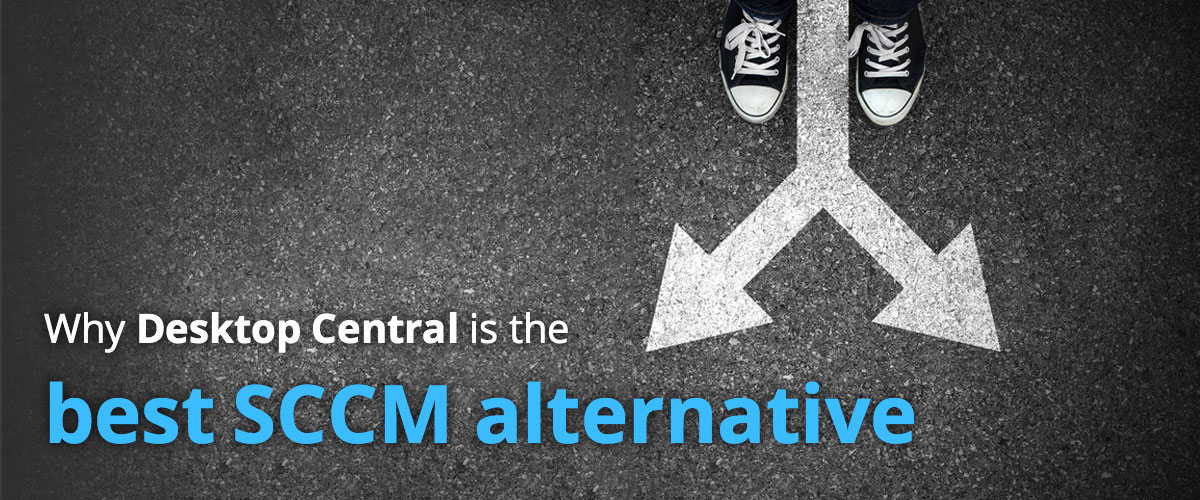 Managing endpoint devices is a tough job, especially without the right IT management software. Microsoft is a leader in the unified endpoint management field, but is there a better alternative to System Center Configuration Manager (SCCM)? Some kind of endpoint management software that doesn't cost an arm or a leg, or have a steep learning curve? Where simple jobs like deploying software, patching systems, administering roles, tracking and baselining assets, and so on are actually simple?
Here are six reasons why we believe Desktop Central is the best SCCM alternative out there: 
1) Effortless client/agent configuration
SCCM's client configuration process is complicated, with an overwhelming number of settings for BITS background transfer throttling, client caches, client policies, compliance, hardware/software, and at least a dozen other components. On the other hand, Desktop Central's client settings are straightforward for faster implementation; you only have to complete a few necessary options, all of which are self-explanatory. If you're looking for hassle-free client/agent configuration, Desktop Central is the best SCCM alternative on the market. 
2) Easy setup for faster software updates
A lot needs to be done before you can even think about updating software through SCCM. The long list of prerequisites includes: running IIS on site system servers, installing WSUS Server (only version 3.2 and 4 with mandatory hotfixes 3095113 and 3159706), installing the WSUS Admin Console on the site server that will be managing the remote site, installing the Windows Update Agent client on client computers, installing and configuring a software update point and distribution point, etc.
Software updates in Desktop Central are as simple as it gets. Everything is streamlined without any need of cumbersome configuration tasks. Just scan your computers, check for updates, and update your software. Easy and efficient. 
3) Third-party content support
One other place where Desktop Central excels as a SCCM alternative is its support for over 250 third-party applications. Desktop Central helps you patch third-party applications in a timely manner to keep your network safe and updated. Absence of this feature in SCCM limits your ability to manage network-wide third-party content, leaving you vulnerable.
4) Patch declining
Using Desktop Central, you can decline specific patches (e.g. a Java update) if your network supports any legacy systems to keep your applications performing well. We dare you to find a better SCCM alternative with the same functionalities.
5) Automatic prohibited software removal 
Desktop Central has two features dedicated to combatting prohibited software: one that automatically uninstalls any prohibited software detected on client computers, and another that blocks any prohibited executable from even running on systems in your network. With SCCM, there's no way to stop clients from using prohibited software either by uninstalling or blocking executables.
6) Budget-friendly pricing
Pricing plays a major factor in choosing any software, including an alternative for SCCM. Desktop Central has your budget concerns covered, with a Free edition for small businesses managing up to 25 devices. Larger companies can subscribe to Desktop Central's Professional edition for managing desktops in LAN for $795 per year. Desktop Central also offers an Enterprise edition for managing desktops in LAN and WAN for an annual subscription of $945.
On the other hand, SCCM's Standard Edition, priced at $1,323, provides rights to manage up to two operating system environments (OSEs), assuming you have a 16-core 2-processor server. The Datacenter Edition will cost you $3,607. SCCM customers taking advantage of Software Assurance will also have to pay an additional fee for each core.
This discussion would be incomplete without mentioning that our customers absolutely love the user-friendly UI and the vast amount of options Desktop Central provides. From Wake-on-LAN to remote troubleshooting, and OS deployment to Active Directory reports, Desktop Central gives admins granular control over every aspect of endpoint management.
Learn how Desktop Central can upkeep your endpoint security by downloading our free Endpoint Security solution guide.