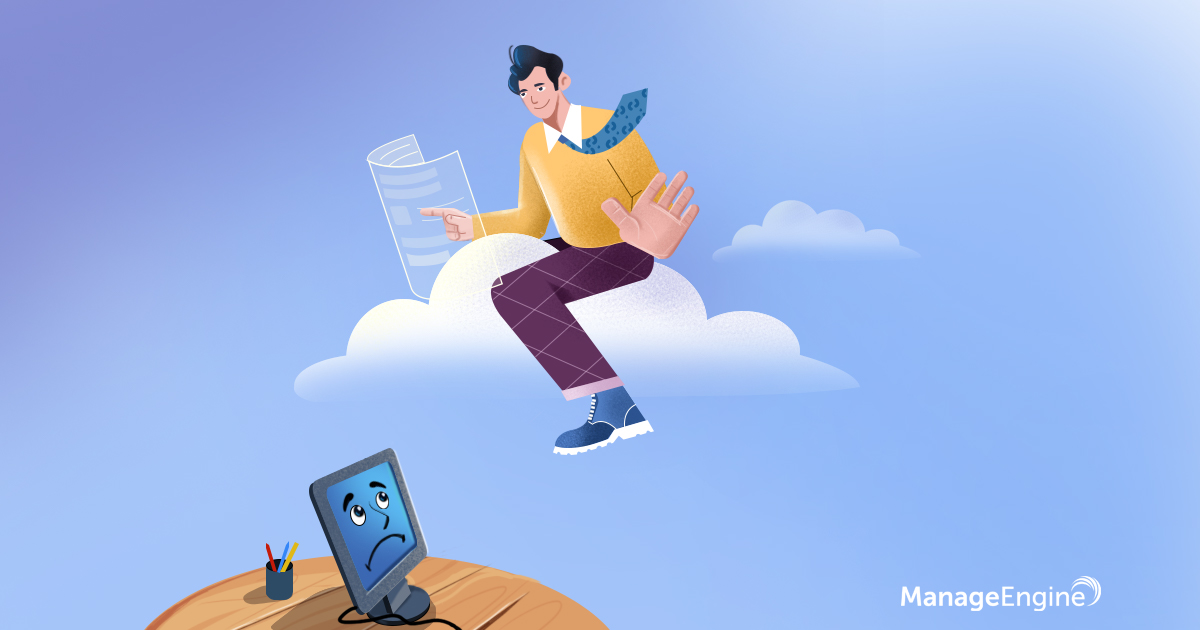 Five worthy reads is a regular column on five noteworthy items we've discovered while researching trending and timeless topics. This week, we explore the rise of DaaS services across organizations, and the role it could play in the hybrid workplace of tomorrow.
When we last wrote about the era of everything as a service (XaaS), desktop as a service (DaaS) was still a relatively niche concept.
That's not to say it didn't exist, DaaS offerings have been around in some form or the other for over a decade now. However, adoption of these offerings had been relatively slow until now.
Today, two years after our piece on XaaS, DaaS seems to be getting its day in the sun.
As per our 2021 Digital Readiness Survey, 96% of organizations will continue to support remote workers for the next two years. With hybrid models likely to be the future of work, there's been an increased need for ways to support remote workers securely.
Currently, most organizations allow users to access the corporate network from a dedicated work laptop, or a personal device, through VPN. In some cases, they also use virtual desktop infrastructure (VDI) to allow users to connect to virtual machines from any device.
However, in both cases, the organization usually has to maintain, monitor, and manage hardware—be it the individual endpoints or the sever hardware to support VDI. This can prove to be cumbersome and expensive for some organizations.
DaaS, on the other hand, offers organizations all the benefits of VDI without the need to maintain the server hardware themselves. As some authors astutely put it, DaaS helps shift IT expenses from CapEx to OpEx.
Wondering how it does this and why it could prove useful? Here are five interesting reads that explain the what, why, and how of DaaS, and its potential impact on organizational IT:
1. What is DaaS (Desktop-as-a-Service)?
What is DaaS? How does it work? Read this article to receive answers to these questions, and explore the potential advantages and challenges of implementing DaaS.
2. VDI vs. DaaS: What is the difference, and which is best for your virtualization needs?
VDI and DaaS seem to share a lot of similarities. So what sets them apart? This article explores the differences between the two and shares useful pointers that could help you decide which of these would work best for your organization.
3. Desktop as a service: Yesterday, today, and tomorrow
From the "dumb" terminals of yore to tomorrow's "desktops" that run on the cloud, computing has come a long way. Read on to get a glimpse into the journey thus far, and the challenges that are driving the shift to the cloud.
4. Make Hybrid Working Easier With Desktop-as-a-Service
With hybrid and remote work becoming a permanent fixture for many organizations, DaaS may emerge as a savior for IT teams looking to support large numbers of remote or hybrid workers permanently.
5. Why virtual desktops make sense for a virtual workforce
Enabling these virtual workers to be productive and secure is a primary concern for organizations as many employees may not be familiar with security best practices. Azure Virtual Desktop, a DaaS offering, is an example of one solution to this hurdle.
As organizations increasingly adopt cloud solutions for their daily IT needs, it only seems logical that the next step in the journey to XaaS involves moving "desktops" to the cloud. DaaS could ease the provisioning of "desktops" for employees and prove cost-effective for many organizations.
That said, DaaS is still evolving and maturing as a technology, and several challenges still exist. For one, DaaS deployments require a certain minimum network speed and reliability. High network latency could lead to a frustrating experience for the end users. Then there's the question of security and compliance.
Data being stored on the cloud might have certain special security considerations that don't apply to data stored locally. Then there's the plethora of data privacy and security mandates organizations need to take care of when cloud storage is involved. However, none of these challenges are insurmountable. Organizations just need to ensure they perform their due diligence before welcoming DaaS offerings into their network.