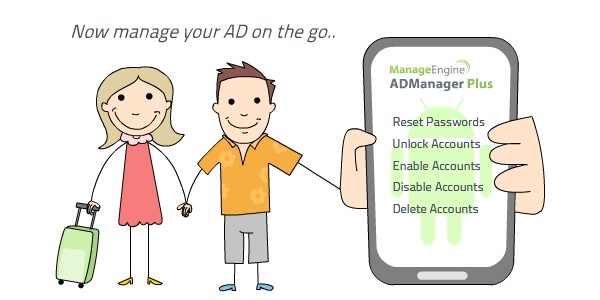 Do you often find yourself performing administrative tasks, glued to your office desk?
Have you wished that managing Active Directory from elsewhere became possible?
Well, it's good news to all android users as ADManager Plus App is here to take over.
The App enables Active Directory Administrators and Helpdesk Technicians to Access/Manage the user accounts in their Active Directory environment right from their mobile devices.
Using the app, you can
o Reset Password
o Unlock User Accounts
o Enable User Accounts
o Disable User Accounts
o Delete User Accounts
..sitting at the comfort of your homes or spending the evening out with friends and even better- while traveling.
Now that your AD Management worries are gone, go on – book yourself a nice holiday! We got you covered!
Download the app here: https://play.google.com/store/apps/details?id=com.manageengine.admp
You can share your thoughts on the app in our support forums here: https://forums.manageengine.com/admanager-plus
Follow our blogs here: http://blogs.manageengine.com/admanager