What is mobile-first, and how can enterprises be mobile-first? Enterprises that realize that mobile devices are primary tools for employees to get work done are referred to as mobile-first enterprises.
Enterprises are slowly but surely opening up to the idea of their employees using mobile devices for work. A research study by Juniper even suggests that there will be one billion employee-owned devices by 2018. It is imperative that enterprises start preparing their monitoring capabilities to withstand the barrage of mobile devices that will come into their environment over the next few years.
While the mobile transition is happening, another transition that enterprises are making is the move to a hybr…
READ MORE
Email is an indispensable business communication medium. It's fast, targeted, and makes it simple for the recipient to respond. With mobile devices transforming workplaces, email communication has become more pervasive and valuable. Unfortunately, this transformation has a dangerous side effect: data leakage due to the vulnerability of the mobile devices.
Clearly, email security is the need of the hour. With the arrival of mobility management tools, one practical way of securing email is by managing the mobile devices that access email. You can do just that with Exchange ActiveSync's conditional email access for mobile devices.
Give email access only to managed devices.
 Exchange Act…
READ MORE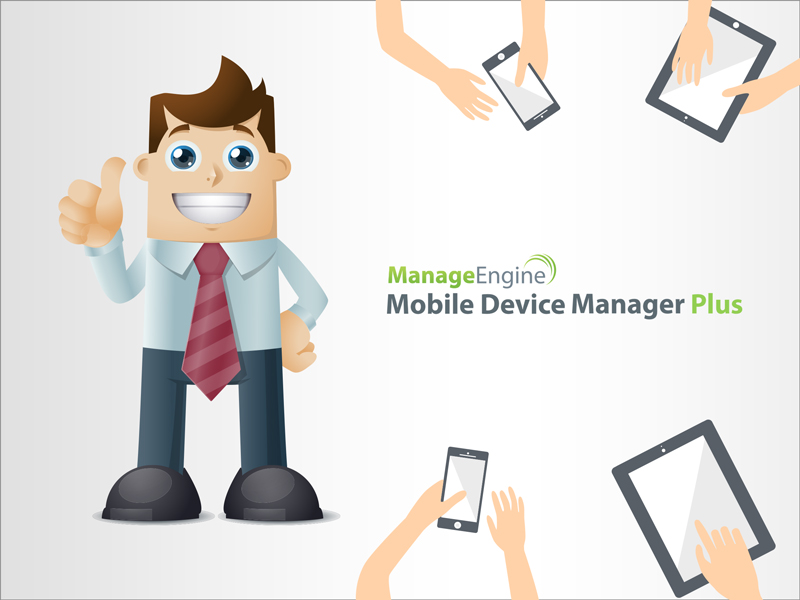 Given the nature of today's job environment, employees increasingly use mobile devices to do their work. Enterprises go through an elaborate decision–making process to choose the right mobile devices for their workforce or to allow employees bring their own devices (BYOD). IT administrators then enroll these devices into the management so that the users can create, share and access resources without compromising the enterprise's data security.
The task of device enrollment is undertaken by the IT admins who would have to program the devices into a Mobile Device Management (MDM) system. Generally, the admins would redirect the enrollment to the end users, who will need to co…
READ MORE
The IT landscape is changing at an extremely fast rate, and sometimes it feels like we are trying to manage a continually moving target with the evolution of apps, consumerisation of IT, and the shift to mobile devices. This digital tsunami also means that users are now more demanding, and they require faster and more reliable networks.
Organisations should therefore monitor – in real time – their network's speed,  committed information rates (CIRs), response times, and latency times.  This will enable them to identify degradation early; take proactive, remedial action and avoid costly downtime – a key consideration when downtime of just about 10 minutes in a 2​,500 person organisat…
READ MORE


When Steve Jobs launched the iPhone in January 2007, it marked the birth of a new era in mobile technologies. The mobile revolution has come a long way since then with enthusiasts now talking about wearables, targeted apps, remote charging, and more. In the next two years, the Internet of Things will make automation a part of daily life.
Businesses are also taking part in the mobile revolution by using mobile technologies to improve employee productivity and customer loyalty. But this adoption of mobile technologies by businesses has not come without challenges. For example, company CIOs are scrambling to put management controls on mobile computing, such as bring your own device (BYOD) policies. IT manage…
READ MORE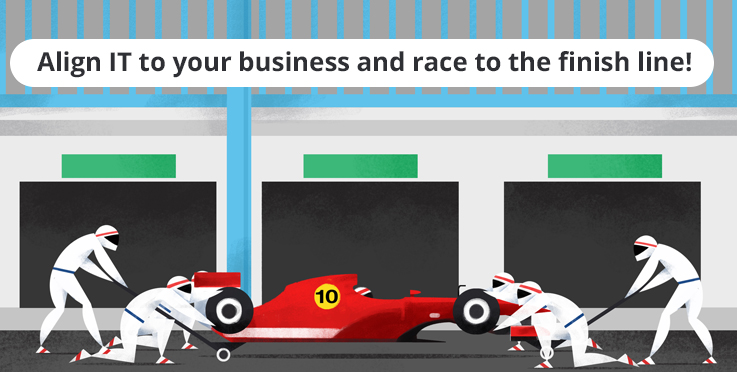 Have you ever felt your car pull to the left or right when you wanted to go straight?  You'd immediately know that the wheels must be realigned. Now, if your business were your car, your IT is undoubtedly the wheels.  So if your business starts to underperform, it may be time to check your IT and business alignment.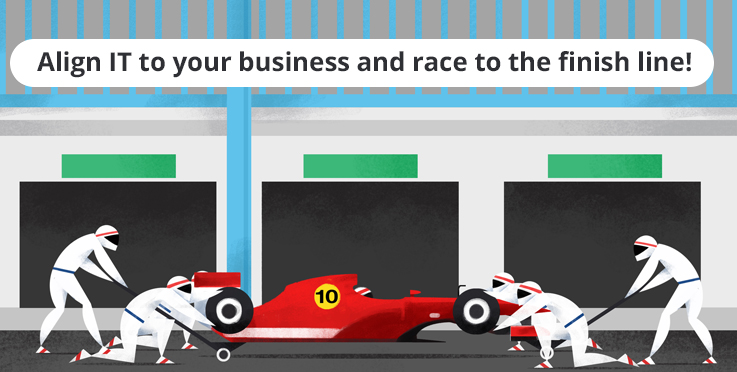 Here are 10 key steps to aligning your IT and business and straightening things out.
Have a dynamic 

CIO

: You need a 

CIO

 who collaborates with top executives, analyzes market data and trends, and 

strategizes

 for the future. The 

CIO

 must invest in the right technologies that will power your company to win in the marketplace. This will help transform the way your company does business.

Re

…
READ MORE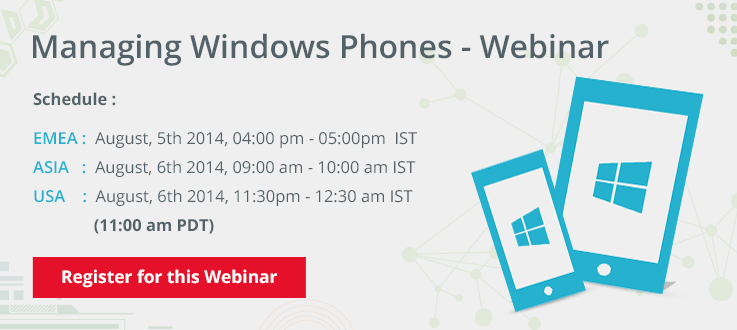 Mobile devices are an integral part of today's enterprises. And the Windows Phone operating system is gaining traction in many organizations, making Windows Phone device management essential for corporate data security. Managing these devices manually would be a cumbersome and time-consuming for IT. That's why we are introducing mobile device management (MDM) support for ​Windows Phone.
Join our upcoming webinar, "Managing Windows Phones Using Desktop Central," and you'll get an idea of managing Windows phones and discover the benefits that Desktop Central offers. We will also take you on a walk-through of the entire Windows Phone MDM feature set. I…
READ MORE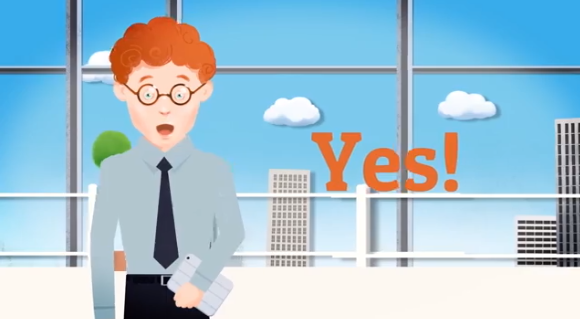 Mobile devices are an integral part of today's enterprises. And, Windows phones are gaining traction in many ​organizations. Therefore, it's essential to manage them to keep corporate data safe. If  IT teams were to manage these devices manually, it would be a cumbersome and time-consuming process. However, teams that adopt Desktop Central can ensure hassle-free device management.
Desktop Central provides the following features that simplify Windows phone management to a great extent:
Supported OS – Window 8.0 and Windows 8.1
Profile configuration – Configure policy framework to provide device access
 Asset tracking – Track device details at a granular

…
READ MORE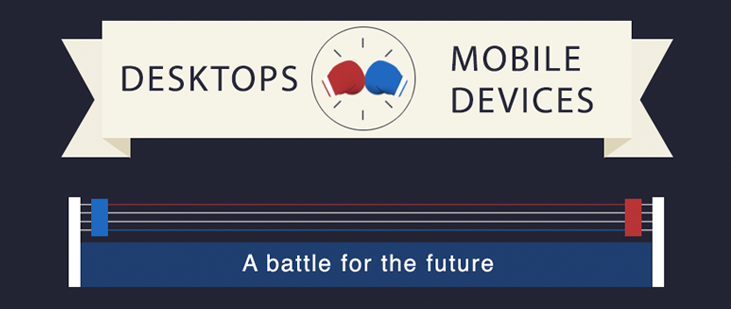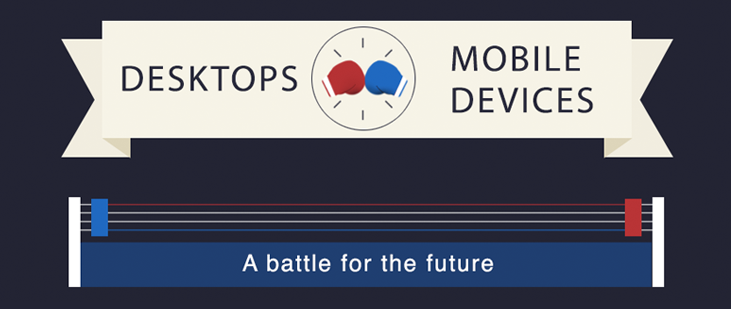 IT consumerization is all the rage. Growing numbers of tech-savvy employees are bringing their smart gadgets and apps to work, driving trends from BYOD and BYOA to BYOx. While the mobile grass looks greener, we at ManageEngine wanted to better understand our customers' views on desktop computer usage and their views on mobile device and desktop compatibility.
To that end, we conducted a global survey of IT admins to understand how IT teams are responding to the challenges of managing mobile devices and desktops together. Our survey asked questions about:
How IT departments are adapting to IT consumerization trends
What level of awareness the typical  IT team has regarding device usage patterns

…
READ MORE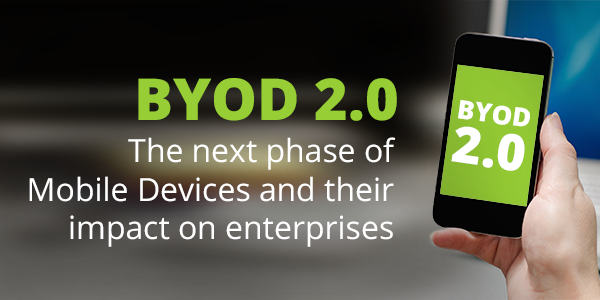 The rate at which technologies are evolving is so rapid that the current technology is becoming 'a thing of the past' within a few months of its introduction in the market. Such a quick trend shift happens a lot, especially in the area of mobile devices. Yet technology advancements continue to drive economic growth in changing the way we work and live.  The technological innovations in mobile devices are creating new opportunities for users and challenges for enterprises.
Imagine how when supercomputers were first introduced to perform computational tasks, the machines occupied a vast amount of space. Today, computational power has been transformed into a smart phone that fits in a palm, wh…