Sometimes being a customer of an IT Department is like visiting the worst shop in the world.Imagine that you need a new mobile device but you have only one place to shop for it. You go into the shop and there is no stock on the shelves.  Not just stock, but there's no mention of the opening and closing time and no details of to how to go about ordering. There's a telephone in the corner and you give a ring to ask whether you can order a mobile device.  The customer care person on the other end isn't too sure and has to check with someone else to get back to you.In the outside world this would seem completely crazy and undoubtedly the business loses many customers.  However, this is how many IT Departments treat thei…
READ MORE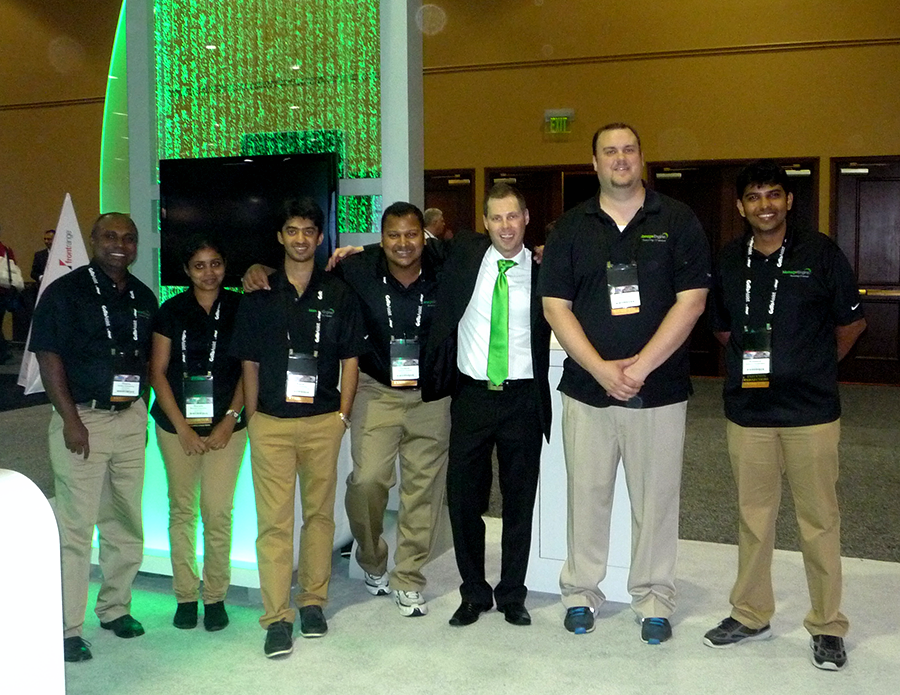 This year, HDI was held in Orlando, Florida, which carries the nickname "The City Beautiful." Attending the conference for the umpteenth time, we strongly feel that HDI should adopt the moniker " The Conference Beautiful." It was truly a wonderful experience for all of us here at ManageEngine. With scores of people visiting us at our booth, it was a time of introductions, conversations, and intense learning.​
One of the highlights of HDI 2014 was our very own infotainer, Anders Boulanger, who was a busy man the entire time, showing visitors how to remove complexity and strike gold in their IT service management operations with a world-class solution ​like ServiceDesk Pl…
READ MORE
This is a guest post by Kenneth Gonzalez.
If you've read or paid attention to anything that I've written over time, you'll know that I hate clichés.
OK, I'm lying through my teeth! I love them, but not for the reason which might seem apparent. You see, I think there's a lot of truth and a lot of mischief in clichés. In each one, there is a nugget of truth which is often obscured or masked by a thick layer of common sense. Not the common sense that is like "you shouldn't let your kids play in traffic." No, I mean the common sense that is more like sleight of hand — if you say it quickly enough, (most) people will accept the statement at face value, nod their head approvingly and then move on as if what was sa…
READ MORE
This is a guest post by Peter Dorfman.
Help Desk Software is now a FREE download !
The wheels turn slowly in the enterprise software business. For all the talk among the industry pundits about accelerating technological change, it always feels as though the end user community is at least two years behind whatever fanciful curve the analysts are scratching out on corporate whiteboards. But markets simplify – they move toward entropy – until some event gives the whole lethargic field a much-needed kick in the pants.
The IT Service Management segment received just such a kick on March 5, when one of its maverick vendors, ManageEngine, announced it was cutting the price of its base platform – the help desk pac…
READ MORE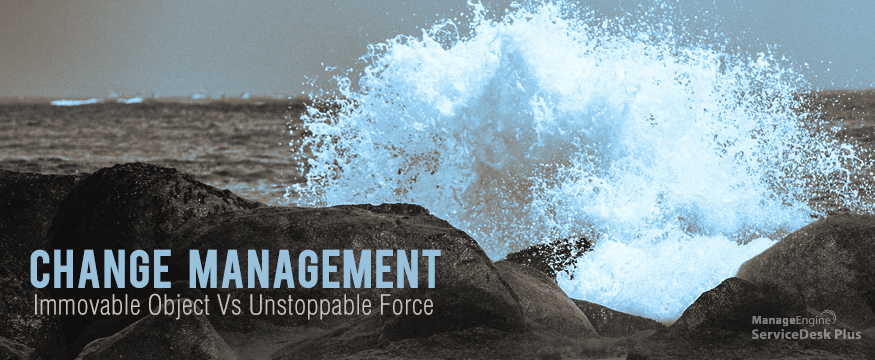 (Originally published in Technology Spectator)
The world is ever changing. Those who adapt and change along with it, survive. Those who don't, will perish. This statement is true and has never been so poignant. Change is both driven by – and managed by – technology. In this changing world, businesses must be agile and that agility frequently relies on IT's ability to develop and adapt technology to support new and improved business processes.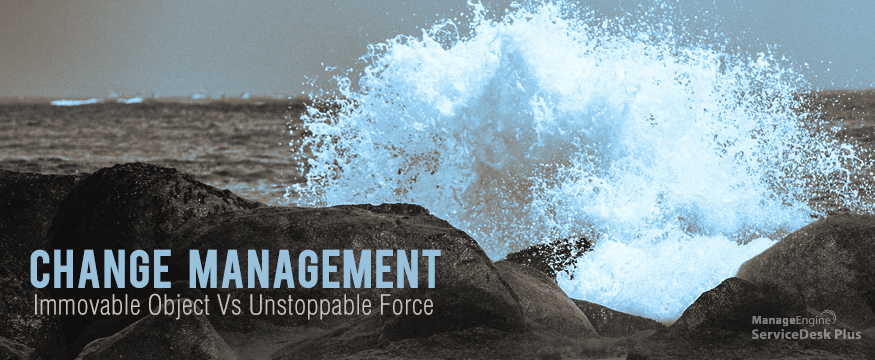 Changes often bring uncertainty
There is a conflict raging in the heart of IT that must be carefully managed to make the IT department both responsive and responsible. Development teams, charged with implementing new technologies to underpin new busi…
READ MORE

Before we make the big announcement, let's set the scene with some history.
Since 1996, we at ManageEngine have been providing IT enterprise solutions with the goal of milling providing the finest IT enterprise management solutions and impeccable service to our customers at a competitive price. Our steady growth ever since is centered on that philosophy.

WHY SHOULD YOU PAY FOR HELP DESK SOFTWARE?
So with that in mind, we've done things differently from the very beginning. Earlier, we made ServiceDesk Plus affordable starting at $995.
This year, taking a look back, we realized three things. 60,000+ companies have adopted the Standard Edition of ServiceDesk Plus. There are many IT managers out the…
READ MORE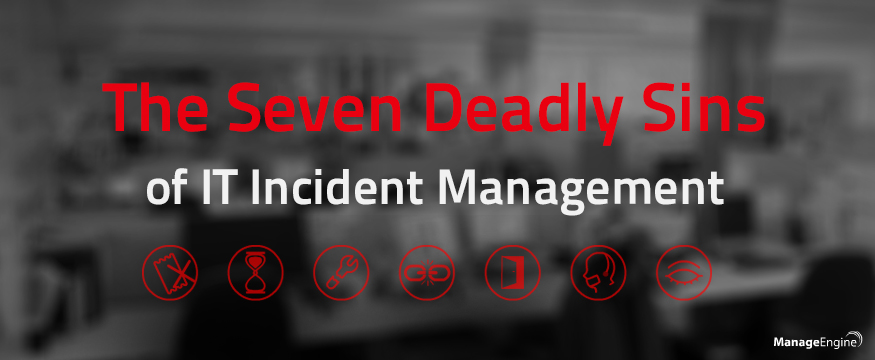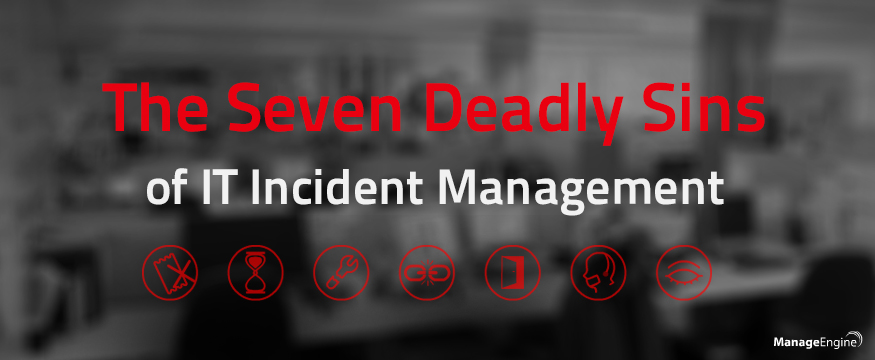 IT environments today are boiling cauldrons of complexity triggering incidents that can have major impact on business and user satisfaction, not to mention legal and financial implications. Incident Management teams race against time firefighting service disruptions and resolving incidents. In the already challenging and high pressure environment of Incident Management, you'll be wise to stay clear of these seven deadly sins, that if ignored, can send your service desk's reputation tumbling.
1.       Incorrect Ticket Assignments
When end users have visibility to the incident assignment process, incorrect and subsequent reassignments (passing the ticket from one support t…
READ MORE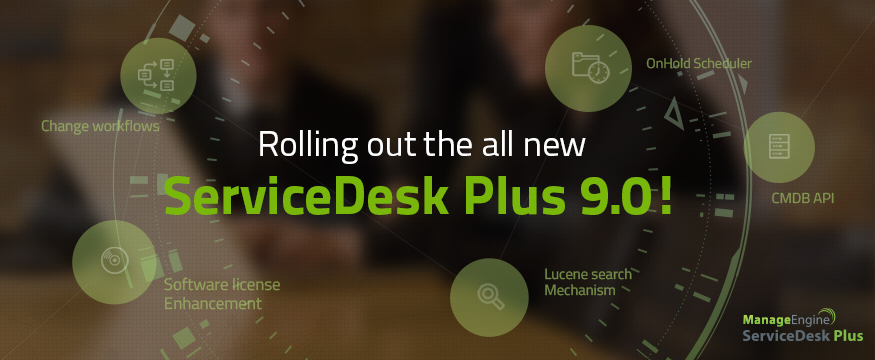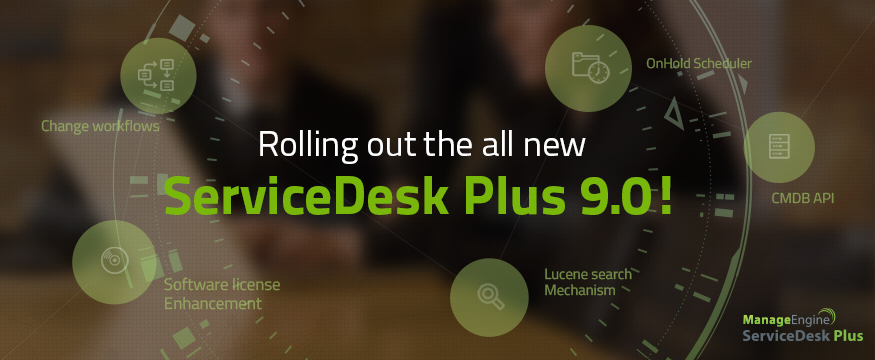 We started off in 2005 with help desk module. Thanks to our customers, we've come a long way since then. Unlike other players, ServiceDesk Plus is a help desk software that is built entirely on our customers' feedback and requirements. In line with our customer-savvy approach, each new version is a direct result of the requests we receive from our customers.
Once gain, we've released the much-awaited ServiceDesk Plus 9.0 based in large part on suggestions and feedback from our loyal customers!
So why upgrade?
This release is loaded with new and exciting features that will take your help desk experience to the next level. We brought in workflows and automations to ease your help desk operations. We a…
READ MORE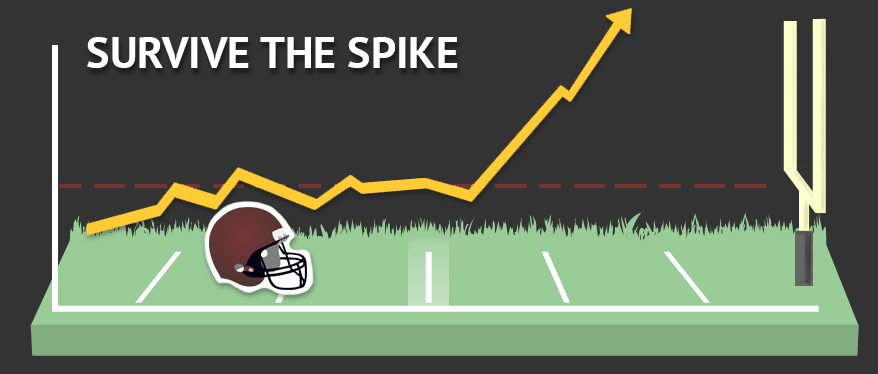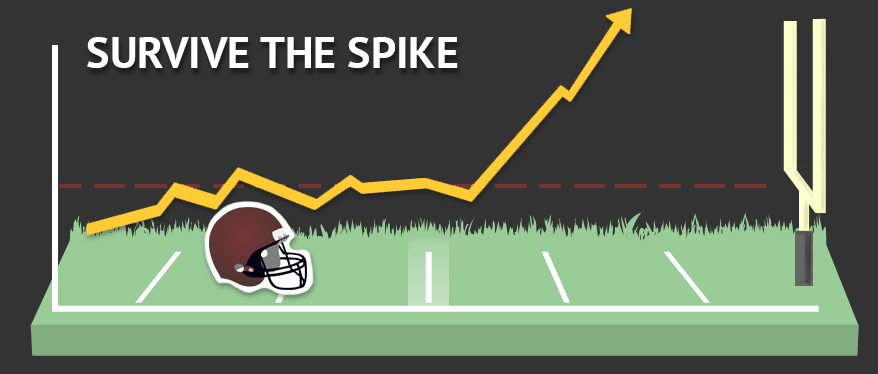 Super Bowl Sunday is traditionally known as a day when people across America, and even the world, see spikes in various forms of activity. The mind-boggling quantities of food consumed, skyrocketing advertising costs and inflated ticket prices make America's most-watched television event a party for the ages. Every business, from pizza shops to telecom services, gets pushed to the limit trying to serve the tsunami of customer requests that come its way.
IT help desks, too, have "Super Sunday" moments when there is a significant increase in ticket volume as a result of events, both planned and unplanned. Here are seven tips that can help your IT help desk stay prepared and k…
READ MORE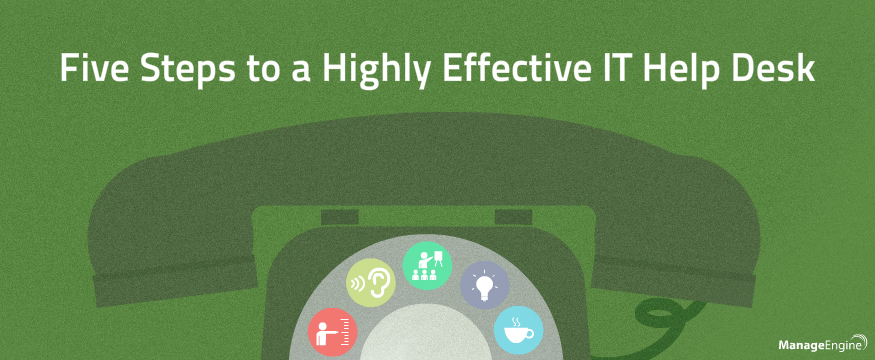 It is that time of the year again when you sit down, take stock of your IT Help Desk's performance these past 12 months, and chart a course for success in the New Year. Call them New Year resolutions, departmental priorities, or simply a plan of action, whatever the name, here's a list of the top five things you could focus on in 2014.
1.       Get a Grasp on the Metrics that Matter
You cannot manage what you don't measure. List and measure a set of KPIs to help track your Help Desk performance. Metrics help define your help desk's success and hold everyone accountable. Insight on key metrics like first call resolution rate, average resolution time, percentage of SLA compliance, Average En…