Before we make the big announcement, let's set the scene with some history.
Since 1996, we at ManageEngine have been providing IT enterprise solutions with the goal of milling providing the finest IT enterprise management solutions and impeccable service to our customers at a competitive price. Our steady growth ever since is centered on that philosophy.

WHY SHOULD YOU PAY FOR HELP DESK SOFTWARE?
So with that in mind, we've done things differently from the very beginning. Earlier, we made ServiceDesk Plus affordable starting at $995.
This year, taking a look back, we realized three things. 60,000+ companies have adopted the Standard Edition of ServiceDesk Plus. There are many IT managers out the…
READ MORE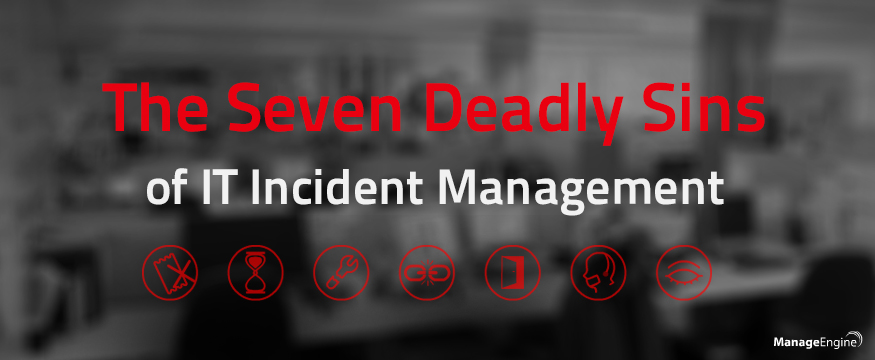 IT environments today are boiling cauldrons of complexity triggering incidents that can have major impact on business and user satisfaction, not to mention legal and financial implications. Incident Management teams race against time firefighting service disruptions and resolving incidents. In the already challenging and high pressure environment of Incident Management, you'll be wise to stay clear of these seven deadly sins, that if ignored, can send your service desk's reputation tumbling.
1.       Incorrect Ticket Assignments
When end users have visibility to the incident assignment process, incorrect and subsequent reassignments (passing the ticket from one support t…
READ MORE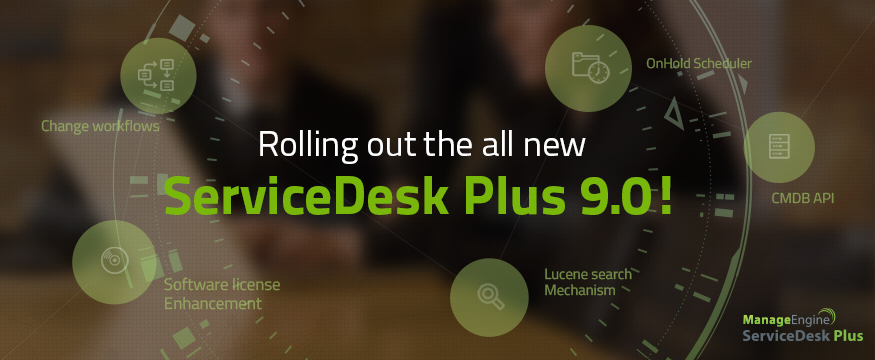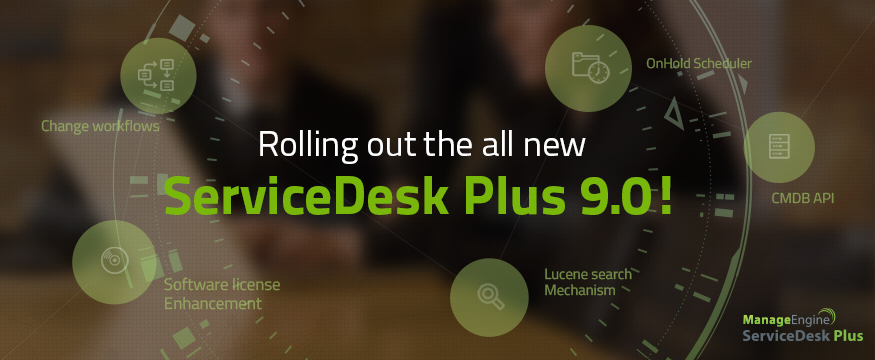 We started off in 2005 with help desk module. Thanks to our customers, we've come a long way since then. Unlike other players, ServiceDesk Plus is a help desk software that is built entirely on our customers' feedback and requirements. In line with our customer-savvy approach, each new version is a direct result of the requests we receive from our customers.
Once gain, we've released the much-awaited ServiceDesk Plus 9.0 based in large part on suggestions and feedback from our loyal customers!
So why upgrade?
This release is loaded with new and exciting features that will take your help desk experience to the next level. We brought in workflows and automations to ease your help desk operations. We a…
READ MORE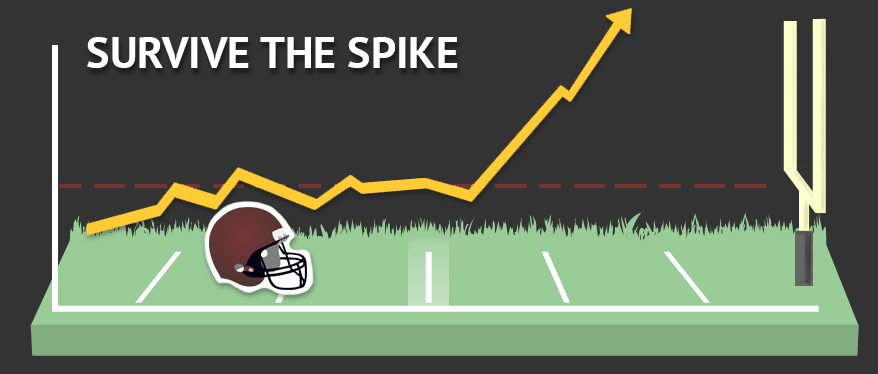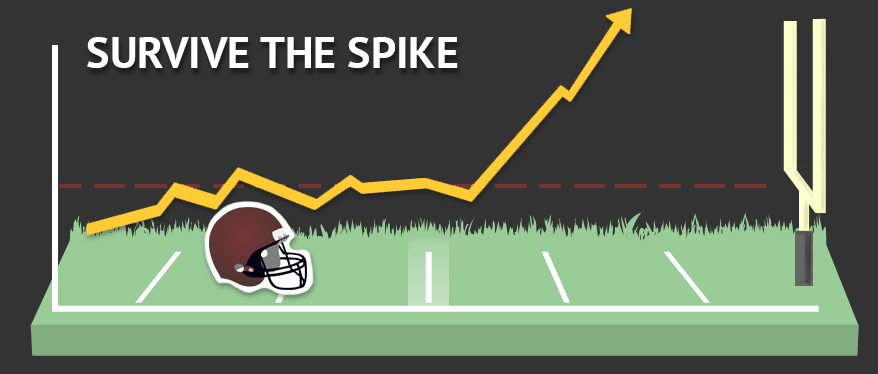 Super Bowl Sunday is traditionally known as a day when people across America, and even the world, see spikes in various forms of activity. The mind-boggling quantities of food consumed, skyrocketing advertising costs and inflated ticket prices make America's most-watched television event a party for the ages. Every business, from pizza shops to telecom services, gets pushed to the limit trying to serve the tsunami of customer requests that come its way.
IT help desks, too, have "Super Sunday" moments when there is a significant increase in ticket volume as a result of events, both planned and unplanned. Here are seven tips that can help your IT help desk stay prepared and k…
READ MORE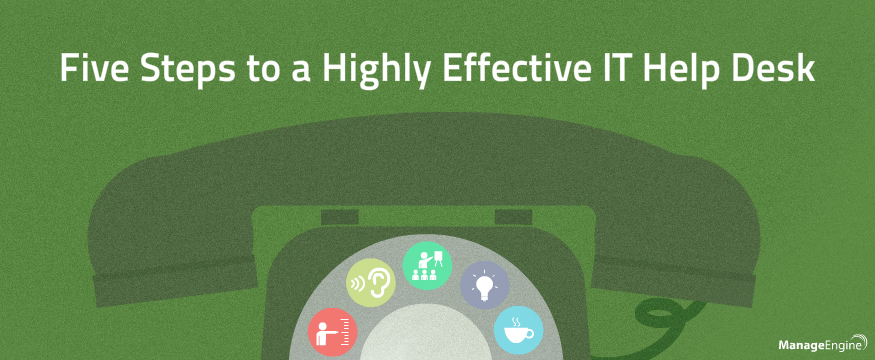 It is that time of the year again when you sit down, take stock of your IT Help Desk's performance these past 12 months, and chart a course for success in the New Year. Call them New Year resolutions, departmental priorities, or simply a plan of action, whatever the name, here's a list of the top five things you could focus on in 2014.
1.       Get a Grasp on the Metrics that Matter
You cannot manage what you don't measure. List and measure a set of KPIs to help track your Help Desk performance. Metrics help define your help desk's success and hold everyone accountable. Insight on key metrics like first call resolution rate, average resolution time, percentage of SLA compliance, Average En…
READ MORE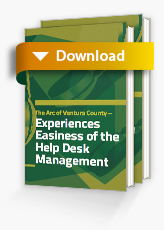 It's often been stated that people don't just buy from storefronts or catalogs. Instead, they buy from other people. A endorsement from a friend, family member, or work colleague often goes a long way when choosing which product or service to purchase. In today's world, it's fairly common for someone to "share", "like", or "yelp" their opinion on everything from gadgets to gastropubs.
Andy Mac, Director of Information Technology with Arc of Ventura County, has been doing this for ManageEngine's help desk management tool, ServiceDesk Plus, for over 10 years. He's been singing the praises for ServiceDesk Plus, to no…
READ MORE
The holiday season is now over. The Christmas tree is dismantled. Shopping is completed. Vacation photos are shared. Boxes are unpacked. People, including IT staff, are now headed back to work for the New Year with hopes that the holidays won't lead to a flood of issues coming their way. As the phones start ringing and emails begin to fly in, we've compiled a list of the four most common requests that come up in the first two weeks of the year. Furthermore, we've provided details as to how the IT helpdesk staff can deal with them.
1. Automating Password Resets
The most common issue related to the holiday hangover is users forgetting their passwords. It's very common to see a big spike in pas…
READ MORE


Making predictions about the future is tough. So instead of trying to forecast events in 2014, we're kicking off the new year in the coolest way we know – by looking back at our top stories of 2013.
Like the hardworking elves at Santa's workshop, we did quite a bit of running around in 2013. And even now, as we take a second look at the past year, it's just as breathtaking.
In the links below, we'll take you through the top ServiceDesk Plus stories of 2013, including those that gripped users, those that you may have overlooked but shouldn't have, and those that were incredibly surprising – even to us.
For a month-by-month look back at 2013, click here. And because it was an epic year, we c…
READ MORE
In the newly pub­lished 2013 Gart­ner "Magic quadrant for ITSSMT report", ManageEngine ServiceDesk Plus is posi­tioned as a Niche player. It's an honor in an industry that's rapidly growing amid the intense pace and competition.
We believe that this is good news for the management board of companies who delegate enterprise software decisions to IT departments and purchase departments as their technology vision tends to dilute while moving down to the operational levels. The IT managers or technical staff might be reluctant to try new help desk software. We also believe that the Gartner ITSSM tools report helps bridge this information gap and provided an in-depth and independent an…
READ MORE
With the worldwide social media boom, IT businesses are increasingly emphasizing on technologies and platforms to keep up with the ever-changing social media landscape as well as consumers' demands. Customer expectations are changing in the blink of an eye. This explains why "social IT", or the integration of social media with IT, is the buzzword for IT organizations looking to optimize the power of social media and get closer to customers. Will IT get ahead of the social media curve and embrace the virtual future?


Join in for an exciting webinar on "Is Today's IT compatible with Tomorrow's Social Media Consumer?" by George Spalding, Executive Vice President, Pink Elephant.
When…