The crucial challenge in managing your IT is always staying connected  — anytime, anywhere . Being connected ensures that you can troubleshoot any problem immediately, in real time.   The new iPad app from OpManager lets you do just that. Using this app, you can view your IT performance and also troubleshoot issues, on the move.
With the iPad app, you can:
View your IT performance
View recent alarms raised and sort them by severity
Add notes to, clear, acknowledge, and delete an alarm
Troubleshoot issues by ping, traceroute, and workflow automation
Customize dashboards and widgets
Visit the iTunes store to download the iPad app for OpManager.
OpManager iPad app is available in two editions. The …
READ MORE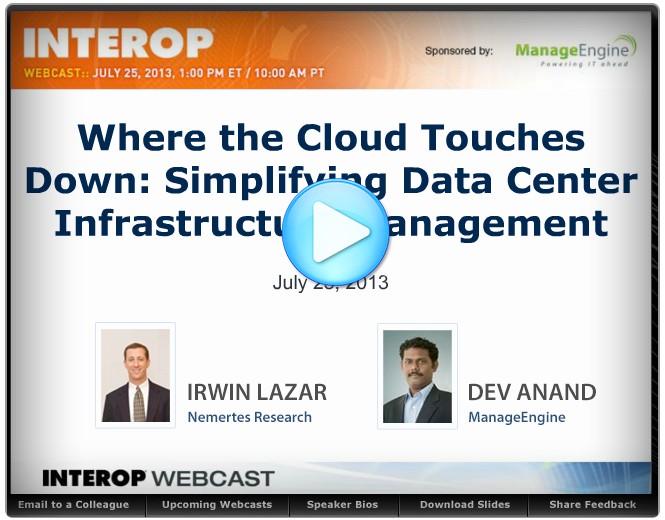 In most data centers, DCIM rests on shaky ground: manual record keeping and scattered documentation. Data center managers maintain–and wade through–wikis, spreadsheets, text files, and un-integrated freeware tools and databases just to find two things: What is that we manage? and Where is it located? The biggest problem with all this documentation is that it is maintained manually, and who has time to do it perfectly? Moreover, locating an asset quickly is almost next to impossible, and because sources are scattered and ad hoc, the documentation often fails to capture how assets relate to each other.
OpManager helps you bridge this gap between the documentation you have and the documentation you ne…
READ MORE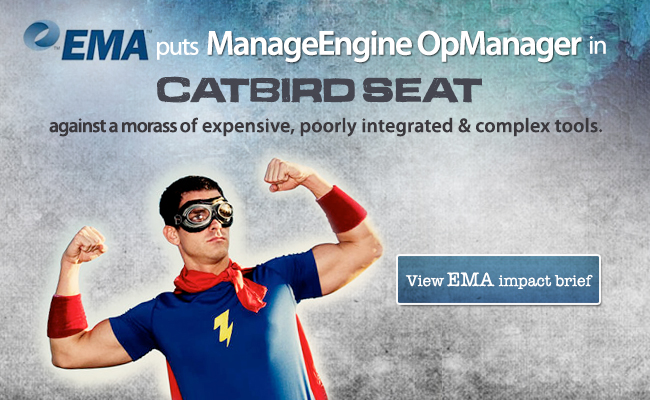 ManageEngine introduced huge enhancements to OpManager recently making it the industry's most cost-efficiently scalable network management platform. This caught the attention of EMA, the leading industry analyst and consulting firm. Impressed by the enhancements, EMA's vice president Dennis Drogseth published an impact brief analyzing the benefits and value of the enhancements to the IT teams of large enterprises and data centers.
The brief also includes an interview with a global manufacturing unit using OpManager Enterprise Edition for managing 80,000 interfaces. View the full impact brief.
Excerpts from the brief:
"ManageEngine introduced its next version of OpManager wi…
READ MORE
(Originally published in Information Week)
Manual processes to managing device configurations often create gaping security holes!
Today's enterprises face unprecedented cyber-security threats. New breed of cyber-attacks are constantly evolving even as enterprises continue to bolster their defenses. Though cyber-attacks happen through myriad ways, attackers always look for easy holes in network devices like switches, routers, firewalls and other devices on the perimeter to gain illegal access to the network. Due to lack of processes, unknowingly, we tend to simplify the job of intruders.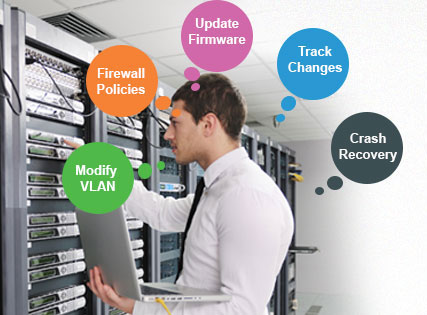 Enterprises make huge investments on procuring network infrastructure and employ highly skilled pro…
READ MORE

We have a contest running – 'Doodle Your Data Center'. The contest is very simple and just takes a minute. All you have to do is design a data center using OpManager's 3D Data Center Builder (beta) and tweet it with the hash tag #DataCenterDoodle. The best 3D data center design wins an iPad mini.
OpManager's 3D Data Center Builder
ManageEngine previewed OpManager's 3D Data Center Builder (beta) in Cisco Live 2013, London. With the 3D Data Center Builder you can create an exact replica of your data center in 3D. First you have to create racks by populating the devices, and then add the racks to the data center floors.

You can embed the 3D data center view in OpManager dash…
READ MORE
In  IT infrastructure management, integration of tools/software with one  another has always been a crucial requirement. In Network Change and  Configuration Management (NCCM), which predominantly deals with change  control, such integration becomes all the more essential as network  configuration data lies at the core of enterprise network  administration. However, due  to the inherent incompatibility issues among tools, the integration goal  is fraught with too many roadblocks. DeviceExpert now breaks all the barriers in integration efforts through its REST APIs. Any third-party application or software can integrate  with DeviceExpert directly and add, access and extract dat…
READ MORE
With Software Defined Networking (SDN) being the new industry buzzword, more and more people including network architects, CIOs and CTOs have started exploring SDN and its capabilities to cater to the growing demands of enterprise and cloud services. Google statistics show there has been an exponential increase in search numbers for Software Defined Networking in recent times.
This industry interest has triggered a wave across networking giants to tag "SDN" for marketing mileage,
Some things in life can never be fully appreciated nor understood unless experienced firsthand. Some things in networking can never be fully understood by someone who neither builds commercial networking equipment n

…
READ MORE
ManageEngine continues our weekly blog series called Talk to ME Tuesday. Each week we discuss interesting topics from the world of technology with you, the people that live and breathe it everyday. 
Years ago, Scott Rich, now VP of IT for Avantguard Monitoring Centers, a wholesale alarm monitoring central station, started a company of his own. It was then he learned about ManageEngine which was at that time in its infancy. As he came into his new position at Avantguard, he looked back at ManageEngine and really liked the way the company had grown.
"For the price and features that you get, you can't beat it," said Rich in conversation with Arvind Parthiban, Senior Product Manager of ManageEngine at the 20…
READ MORE
Wow! We are really really excited to see ManageEngine solution listed as the "Product of the week" twice this July'2012. Following the 2nd week listing of ServiceDesk Plus MSP version 8.0, NetworkWorld has recognized OpManager v9.2 as interesting new product release.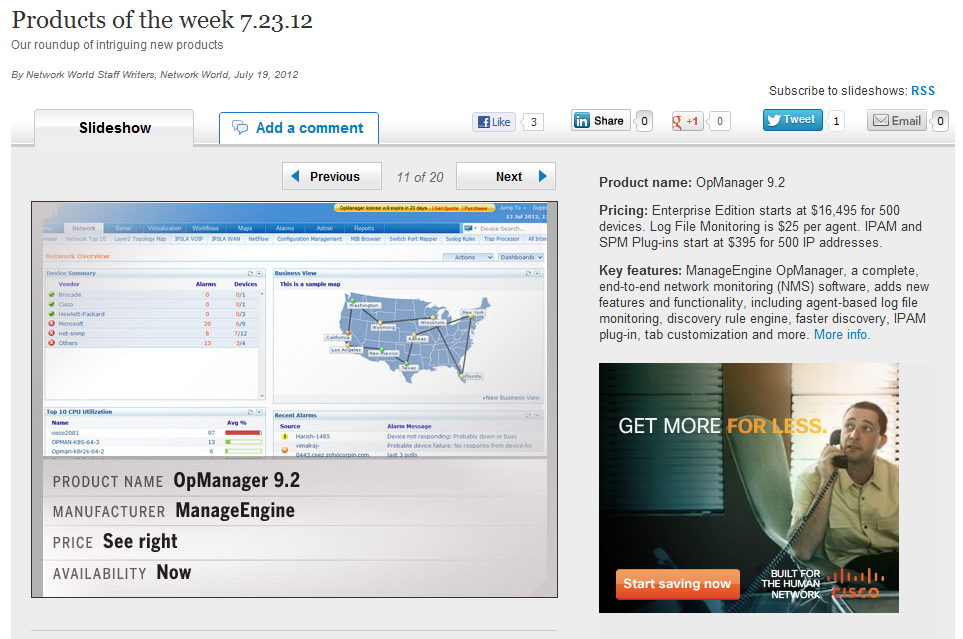 If you were to see the past 3 major releases in OpManager, it is clear that we are heading towards making the product enterprise ready in terms of scalability, reliability, interoperability, automation & more. This includes the core modules, which are reworked to make it more scalable and reliable.
We are overwhelmed for being recognized by one of the top tech news site in the industry and would like to thank our customers for helpin…
READ MORE
It is a 3 cheers moment for ManageEngine OpManager. Yes, we are happy to share with you all that Network Products Guide, industry's technology research and advisory guide has named ManageEngine OpManager as one of the finalists for the 7th Annual 2012 Hot Companies and Best Products Awards program.

OpManager is shortlisted as finalist under the following categories
Network Management
IT Products and Services for Enterprise (Large)
IT Products and Services for Enterprise (Medium)
We take this opportunity to thank the judiciary committee for shortlisting us and our customers for their continued patronage to ManageEngine.
For years the rich functionality, easy-of-use and affordability has mad…