​"The complexity of APM solutions will continue to decrease, making them lower cost and easily implemented."
Jonah Kowall
Research Director in Gartner's IT Operations Research Group
​"Smaller [APM] boxes/solutions ​with less features but advanced capabilities and an emphasis on ease of use, to target mission critical pain points, will do well in the wider market."
Michael Azoff
Principal Analyst, Ovum
Towards the end of 2013, Gartner, Ovum, and other industry experts sounded the death knell for monolithic, end-to-end APM solutions with exhaustive feature sets. With an alarming degree of certainty, no less. The same experts also heralded the rise of "smal…
READ MORE
In SQL Server, statistics can be created using CREATE STATISTICS command or using CREATE INDEX command. At the feature level, the statistical information created using CREATE STATISTICS command is equivalent to the statistics built by a CREATE INDEX command on the same columns. The only difference is that the CREATE STATISTICS command uses sampling by default while the CREATE INDEX command gathers the statistics with fullscan since it has to process all rows for the index anyway.
A typical command will look like:
CREATE STATISTICS [IX_Stats_City]
ON [Person].[Address]([City])
WITH SAMPLE 50 PERCENT;
In this command, we are sampling 50% of the rows. For bigger tables, a random sampling may not produce a…
READ MORE

Every year at Oracle OpenWorld, Oracle technologists, customers, and partners come together to learn, discuss, and optimize Oracle. This year, it's slated to be held at the Moscone Center in San Francisco between September 22 and 26, 2013. We'll be there this year as well. So, if you plan to be at the event, join us at booth #2220.
At the booth, our experts will be exhibiting and conducting live demos of Applications Manager, our application performance monitoring solution. Using Applications Manager, you can proactively track performance of your business-critical applications and servers, regardless of whether they are running on physical, virtual, or cloud environments. You can also monitor the …
READ MORE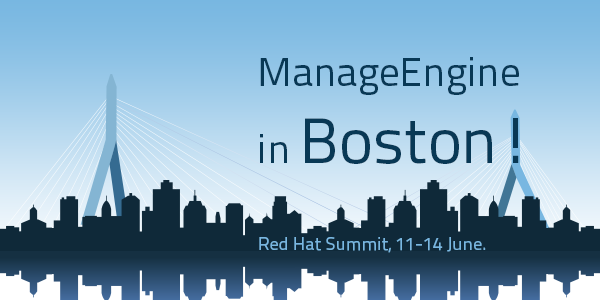 The Red Hat Summit in Boston kicks off in less than a week. This is ManageEngine's first participation at the Summit and we are really excited to be there this year! ManageEngine is proud to host The Red Hat's 9th Summit as a bronze partner at the event.
The Red Hat Summit is a premier open source technology event that showcases the latest and greatest in cloud computing, platform, virtualization, middleware, storage and systems management technologies.
ManageEngine will be showcasing  Applications Manager, a server and application performance monitoring software that helps businesses ensure high availability and performance of their business applications. Applications M…
READ MORE
In today's complex business environment, the first question thoughtful IT leaders ask when
considering any new IT investment or change is, 'How will it impact the business?' That the
business depends on well-managed IT is well understood. What is less well understood is how an
IT organization can manage an infrastructure that is growing ever more complex. It's not just the
network infrastructure that IT teams need to consider; it's not even the increasingly complex
application infrastructure that stands between the
…
READ MORE
Quality end-user experience is what keeps your customers coming back for more.  As application architectures become more complex and cloud and mobile trends drive user expectations higher, it's more important than ever to understand how your customers and users experience your application.
For web-enabled, customer facing applications, monitoring real users in real time is the best way to ensure great application performance. Applications Manager goes beyond application performance monitoring to provide comprehensive insights into your business-critical network services. Ensure that your web services are available and meeting response time goals for your local and global users, pinpoi…
READ MORE
This is the first of a series of posts where I'm going to share some Applications Manager tips and tricks, some of which you might have missed due to oversight.
If you are an Applications Manager user with over 500+ monitors configured, you will have a plethora of performance metrics and reports to look at. However, there will be certain servers and metrics that are more business critical than others. What's better than having the KPIs of multiple apps in a single page! Dashboards will let you do that.
By default, the dashboards can be viewed under the Home tab of Applications Manager. This week we will look at couple of tips related to the dashboard.
Quick Tip 1: Set dashboard as a tab
The tabs in Applications Man…
READ MORE
Cassandra is a NoSQL database from Apache Software Foundation that is known for its BigTable data model. It provides highly scalable services with no single point of failure with its large volumes of data distributed across different servers. The main features of Cassandra are fault tolerance, replication and clustering for redundancy and failover, decentralized and scalable architecture and tunable consistency.
Monitoring the performance of Cassandra database is very important to rule out any functional deficiencies in the database system. Applications Manager make the life of IT administrators easier by monitoring the key performance indicators of Cassandra and providing the necessary oper…
READ MORE
There is a new trend in the database world that is fast becoming the toast of cloud computing – NoSQL technologies. Elastic scalability, increasing volumes of 'Big Data', flexible data models that are non-relational and non-structural, are a few reasons for the emergence and exponential growth of NoSQL database systems. Let us take a look at 'MongoDB' – a key player among NoSQL databases, and how Applications Manager can help monitor your MongoDB systems.
MongoDB is a pioneer among NoSQL databases. It is famous for features like dynamic schemas, BSON format of data storage, ad hoc queries, indexing, master-slave replication, load balancing through sharding, ag…
READ MORE
Applications Manager offers out-of-the-box monitoring support for 50+ applications and servers to help you take control of your heterogeneous IT Infrastructure. But what happens when your pre-built Applications Manager monitors just aren't enough to monitor your enterprise? Think ad-hoc custom scripts. Dedicated custom scripts provide the flexibility to tailor your monitors to suit your needs.
With Applications Manager's script monitoring functionality, you can automatically monitor the output of your in-house Windows, Linux and Solaris scripts. You can monitor script present in a local or remote system, generate periodic graphical reports on the attributes configured, set threshold…