In today's complex business environment, the first question thoughtful IT leaders ask when
considering any new IT investment or change is, 'How will it impact the business?' That the
business depends on well-managed IT is well understood. What is less well understood is how an
IT organization can manage an infrastructure that is growing ever more complex. It's not just the
network infrastructure that IT teams need to consider; it's not even the increasingly complex
application infrastructure that stands between the
…
Quality end-user experience is what keeps your customers coming back for more.  As application architectures become more complex and cloud and mobile trends drive user expectations higher, it's more important than ever to understand how your customers and users experience your application.
For web-enabled, customer facing applications, monitoring real users in real time is the best way to ensure great application performance. Applications Manager goes beyond application performance monitoring to provide comprehensive insights into your business-critical network services. Ensure that your web services are available and meeting response time goals for your local and global users, pinpoi…
This is the first of a series of posts where I'm going to share some Applications Manager tips and tricks, some of which you might have missed due to oversight.
If you are an Applications Manager user with over 500+ monitors configured, you will have a plethora of performance metrics and reports to look at. However, there will be certain servers and metrics that are more business critical than others. What's better than having the KPIs of multiple apps in a single page! Dashboards will let you do that.
By default, the dashboards can be viewed under the Home tab of Applications Manager. This week we will look at couple of tips related to the dashboard.
Quick Tip 1: Set dashboard as a tab
The tabs in Applications Man…
Cassandra is a NoSQL database from Apache Software Foundation that is known for its BigTable data model. It provides highly scalable services with no single point of failure with its large volumes of data distributed across different servers. The main features of Cassandra are fault tolerance, replication and clustering for redundancy and failover, decentralized and scalable architecture and tunable consistency.
Monitoring the performance of Cassandra database is very important to rule out any functional deficiencies in the database system. Applications Manager make the life of IT administrators easier by monitoring the key performance indicators of Cassandra and providing the necessary oper…
There is a new trend in the database world that is fast becoming the toast of cloud computing – NoSQL technologies. Elastic scalability, increasing volumes of 'Big Data', flexible data models that are non-relational and non-structural, are a few reasons for the emergence and exponential growth of NoSQL database systems. Let us take a look at 'MongoDB' – a key player among NoSQL databases, and how Applications Manager can help monitor your MongoDB systems.
MongoDB is a pioneer among NoSQL databases. It is famous for features like dynamic schemas, BSON format of data storage, ad hoc queries, indexing, master-slave replication, load balancing through sharding, ag…
Applications Manager offers out-of-the-box monitoring support for 50+ applications and servers to help you take control of your heterogeneous IT Infrastructure. But what happens when your pre-built Applications Manager monitors just aren't enough to monitor your enterprise? Think ad-hoc custom scripts. Dedicated custom scripts provide the flexibility to tailor your monitors to suit your needs.
With Applications Manager's script monitoring functionality, you can automatically monitor the output of your in-house Windows, Linux and Solaris scripts. You can monitor script present in a local or remote system, generate periodic graphical reports on the attributes configured, set threshold…
Yesterday, I connected to Apple's website on my iPhone, only to discover that the undisputed leader of all things mobile didn't have a mobile-friendly website. Well to be fair, Apple does offer a native app for purchases on its Apple Store, but it's ironic, isn't it? Especially considering Apple helped to usher in the mobile craze dominating this week's Cyber Monday stories.
The Wall Street Journal reported that online sales were brisk, showing a 30 percent increase from last year. Interestingly, early reports suggest that this year shoppers using a mobile device represented 24 percent of site traffic and 16 percent of all online sales over the four-day weekend. That's a hug…
An IT infrastructure has hundreds of log files and directories spread across dozens of machines. Manually monitoring an entire directory or scanning countless log files is a tedious job and often, prone to errors. Applications Manager's file/directory monitor can help.
File Monitor:
Applications Manager's file monitoring utility monitors file system parameters such as the size, age and content of a file. You can configure alarms and set thresholds on various attributes and get alerts when a threshold is breached. You can customize monitor behavior to verify the contents of files and alert you to content changes and pattern matches in a file.
Custom corrective actions, such as e-mail, S…
We recently introduced a new edition to Applications Manager – the  Cloud Starter Edition. As the name suggests, the Cloud Starter Edition is ideal for SaaS startups and businesses looking to get started with offering cloud services.
We thought it would be fun to illustrate all the details about the cloud Starter Edition as a neat infographic. Enjoy!

For a detailed comparison between the various editions of Applications Manager, refer this comparison chart.…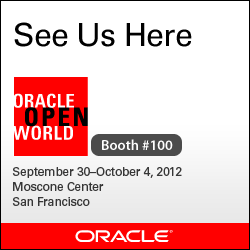 Meet the ME APM experts at Oracle OpenWorld, to be held between Sep30-Oct4, 2012, at the Moscone Center in San Francisco. We will be in booth#100. Stop by our booth, and say a hi to the Applications Manager team. We would love to meet you, and hear from you.
Oracle OpenWorld is the leading global educational and networking event held each year for Oracle technologists, customers, and partners. At the show, we will be showcasing our applications performance monitoring capabilities which includes Oracle applications like the Oracle E-Business Suite, Oracle and MySQL databases, Oracle AS and Oracle WebLogic server. You can also learn more about our capabilities to monitor applications running on Java, .Net a…