This
week's five
is a weekly column on five recent reads from all over the web. This week, we'll talk about
IT security
.
"The computer is a moron."
– Peter F. Drucker
An eminent thinker, Drucker's intention wasn't to undermine the amazing capabilities of computers. He merely underlined the fact that computers don't make their own decisions—they just follow orders, regardless of who's giving the
m.
As long as the command syntax is correct, computers do what they are told.
And unfortunately, all our advances, including those in IT, depend
on these digital morons. No wonder IT is never safe.
"There are only two types of companies: Those that have been
…
READ MORE
This week's five
is a weekly column on five recent reads from all over the web. This week, we'll talk about the
chief information o
fficers.
"More and more, every company is becoming a technology company. We
CIO
s are the leaders and stewards of this new economy."  
– Rob Meilen, 
CIO, Hunter Douglas
Chief information officers. Who do you think they are?
They are senior business executives who handle a company's IT strategy, implementation, and operation
s.
With companies beginning to use multiple and new technologies, the role of a CIO has only become more pronounced. According to a recent
survey
, in the UK alone, a tech company is born every hour. Such an exponential growth fu
…
READ MORE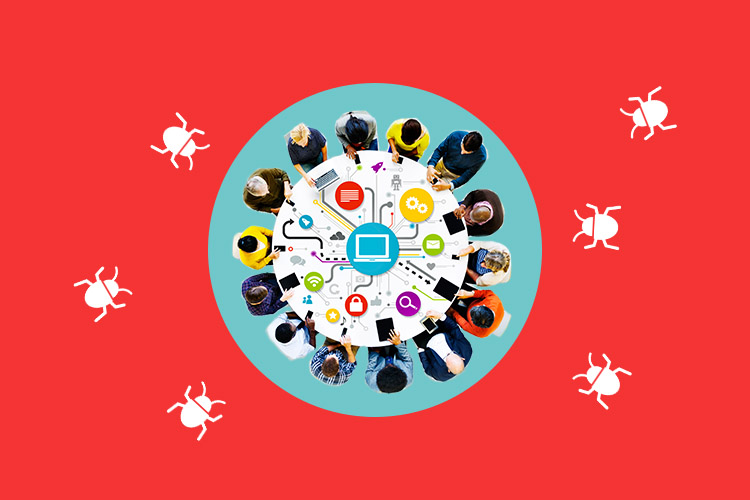 This article was originally published at http://www.cso.com.au/article/597035/proactive-it-security-solution-cyber-crime-an-age-collaboration/
Cybercrime costs the global economy as much as
$450 billion
each year. And the median cost of cybercrime has increased by nearly
200%
in the last five years. Meanwhile, collaboration has become the cornerstone of successful organizations. But collaboration often comes with a risk. The number of cyberattacks will grow as employees increasingly use collaboration tools to maximize their company's productivity. This is because these tools can provide new points of entry for hackers looking to cause damage. This issue could become more serious a…
READ MORE
This Week's five
is a weekly column on five recent reads from all over the web. This week, we'll talk about
IT security
.
"I get hired by companies to hack into their systems and break into their physical facilities to find security holes. Our success rate is 100%; we've always found a hole."
–
Kevin Mitnick
How do you feel when you go back to your
workplace
after a weekend, switch on your computer, go through your accounts, and find out that nothing bad has happened? Lucky? Well, probably not. It might be just another day at work for you. But
, trust me when I say this, you should definitely feel lucky. There are many not-so-
lucky ones out there.
Anthem wasn't so lucky when its
datab
…
READ MORE
What is mobile-first, and how can enterprises be mobile-first? Enterprises that realize that mobile devices are primary tools for employees to get work done are referred to as mobile-first enterprises. Enterprises are slowly but surely opening up to the idea of their employees using mobile devices for work. A research study by Juniper even suggests that there will be one billion employee-owned devices by 2018. It is imperative that enterprises start preparing their monitoring capabilities to withstand the barrage of mobile devices that will come into their environment over the next few years. While the mobile transition is happening, another transition that enterprises are making is the move to a hybr…
READ MORE
Email
is an indispensable business communication medium. It's fast,
targeted, and makes it simple for the recipient to respond. With mobile devices transforming workplaces,
email communication has become
more pervasive and valuable
. Unfortunately, this transformation has a dangerous
side effect: data leakage due to the vulnerability of the mobile devices.
Clearly,
email security is the need of the hour. With the
arrival
of mobility management tools, one practical way of securing email is by managing the mobile devices that access
email. You can do just that with
Exchange ActiveSync's
conditional email access
for mobile devices.
READ MORE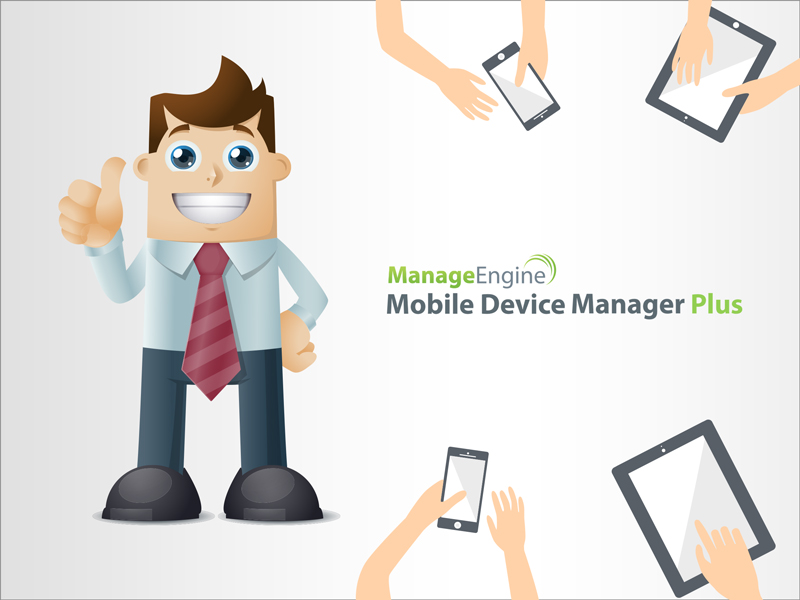 Given
the nature
of today's job environment, employees
increasingly
use
mobile devices
to
do
their
work. Enterprises
go
through
an elaborate
decision
–
making
process
to choose
the
right 
mobile devices
for
their workforce
or
to allow employees
bring
their
own devices (
BYOD).
IT administrators 
then
enroll
these devices
into
the
management
so
that
the
users
can create, share
and access resources
without compromising
the enterprise's data security.
The task
of
device
enrollment
is undertaken
by
the
IT admins 
who
would
have
to program
the devices
into a
Mobile
Device
Management (
MDM)
system
.
Generally,
the admins
would redirect
the
enrollment
to
the
end
users,
who
will
need
to co
…
READ MORE
The
IT landscape
is changing
at
an extremely fast rate,
and
sometimes
it feels
like
we
are trying
to manage
a continually moving target
with
the evolution
of apps,
consumerisation
of
IT,
and
the shift
to mobile devices.
This digital tsunami
also
means
that users
are
now
more demanding,
and
they require faster
and
more reliable networks.
Organisations
should therefore monitor –
in real
time –
their network's speed,  committed information rates (
CIR
s
), response
times,
and latency
times. 
This
will enable
them
to identify
degradation
early;
take proactive, remedial action 
and avoid costly downtime – a key consideration
when
downtime
of
just
about 10 minutes
in a
2
​
,500 person
organisat
…
READ MORE

When Steve Jobs launched the iPhone in January 2007, it marked the birth of a new era in mobile technologies. The mobile revolution has come a long way since then with enthusiasts now talking about wearables, targeted apps, remote charging, and more. In the next two years, the Internet of Things will make automation a part of daily life. Businesses are also taking part in the mobile revolution by using mobile technologies to improve employee productivity and customer loyalty. But this adoption of mobile technologies by businesses has not come without challenges. For example, company CIOs are scrambling to put management controls on mobile computing, such as bring your own device (BYOD) policies. IT manage…
READ MORE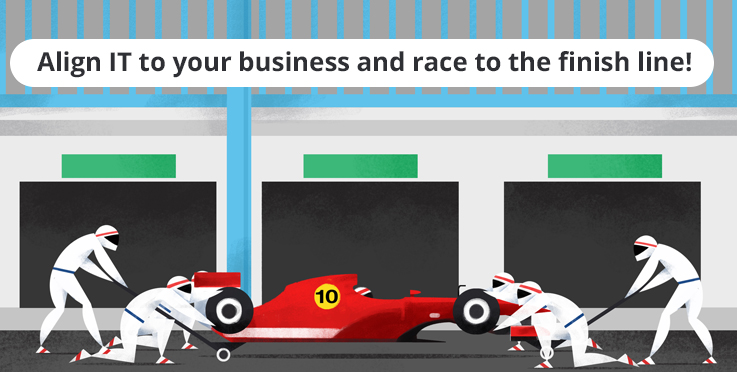 Have you ever felt your car pull to the left or right when you wanted to go straight?  You'd immediately know that the wheels must be realigned. Now, if your business were your car, your IT is undoubtedly the wheels.  So if your business starts to 
underperform
, it may be time to check your IT and business alignment.
Here are 10 key steps to aligning your IT and business and straightening things out.
Have a dynamic 

CIO

: You need a 

CIO

 who collaborates with top executives, analyzes market data and trends, and 

strategizes

 for the future. The 

CIO

 must invest in the right technologies that will power your company to win in the marketplace. This will help transform the way your company does business.

Re
…