Information is one of an organization's most important assets. In the global wide area network (GWAN), operations of all sizes store, change, and exchange their business data. Similar to how the meaning of digital data sharing has evolved, aspects like data availability and security have taken on important new meanings as well. Today's IT administrators need to ensure the network is stable. To accomplish this, they need visibility into all aspects of the network through powerful network visualization tools. IT admins need to gain insights beyond a flat data model, and they need the means to ensure they can grasp the connections between the data.
Network visualization is the process of visually presenting networks of connected entities as links and nodes. A network visualization displays undirected and directed graph structures. Nodes represent data points and links represent the connections between them. A visual representation of network nodes can reveal non-trivial data discrepancies that could otherwise go unnoticed. Because of the great amount of data produced by even small networks, network visualizations are essential to retrieve fast and easy access to different aspects of the network.
Challenges in visualizing a network 
Networks are designed in many sizes, and they expand as a company grows. With so much volatility in play, visualizing networks and their components becomes crucial. Network visualizations help us contextualize and make sense of the metrics we monitor. The following are some of the challenges in visualizing a network.
 Mapping – With manual mapping of networks, businesses can't monitor network devices for their status and availability. With network visualization, we can discover elements of the network we didn't already know and can communicate them effectively.

Network Operation Center (NOC) – To ensure quality of service 24/7, a network operations center (NOC) use network visualization solutions to display network maps and other business critical information.
Enterprise visibility – Network admins need to see into every corner of the organization. This means end-to-end visibility across your organization—from endpoints, applications and sites to tunnels, VPNs, and service provider transport SLA performance—all in one understandable and action-oriented view.
Alerts and alarms – When network conditions deviate from the baseline, alerts and alarms are crucial. Alerts are overlaid on top of the topology, site, and summary views for cross-team notifications so you can engage in incident response together with the same information. These alerts should present the information like the severity level of the issue, the trigger, or the cause.

Site views – Site-level insights are critical for gaining visibility into a specific site and to better understand and managedata interconnections and service provider performance.
ManageEngine  OpManager: Comprehensive network visualization software    
ManageEngine OpManager is a comprehensive network monitoring tool with network visualization capabilities that enables administrators to easily manage complex and distributed networks. You can create dashboards with graphical network performance metrics and live device status information using OpManager's network visualization feature. A live graphical representation of the IT network gives better visibility than skimming through thousands of events. This is true, especially when you have hundreds of services, devices, and network events to manage that combine both critical and not-so-critical resources. OpManager helps you consolidate the critical devices and connections in a single view. The solution provides a drill down from maps to screenshot page which helps in troubleshooting. In addition to instantly identifying performance bottlenecks and outages, a live pictorial map solves other day-to-day operational constraints such as:
Identifying where the resource is located physically in a datacenter when the onsite administrator has to be sent in person to troubleshoot the device.
Foreseeing the dependent or affected services, departments, end users and devices from an administrator perspective.
 With OpManager's drag-and-drop diagram builder, IT admins can quickly create virtual replicas of their network's topographies and data centers.
 The following formats are available in OpManager for visualizing your networks:
 Layer 2 maps

Virtual machine topography diagrams

Business views
Zoho Maps and Google Maps

Hyper-converged infrastructure (HCI)
SD-WAN topology view

3D rack and floor views
Layer 2 maps
OpManager is a network visualizer that allows you to discover and visualize Layer 2 devices connected to your network. In addition to interfaces, this offers a comprehensive map of all nodes, interlinked layers, and port-to-port connection.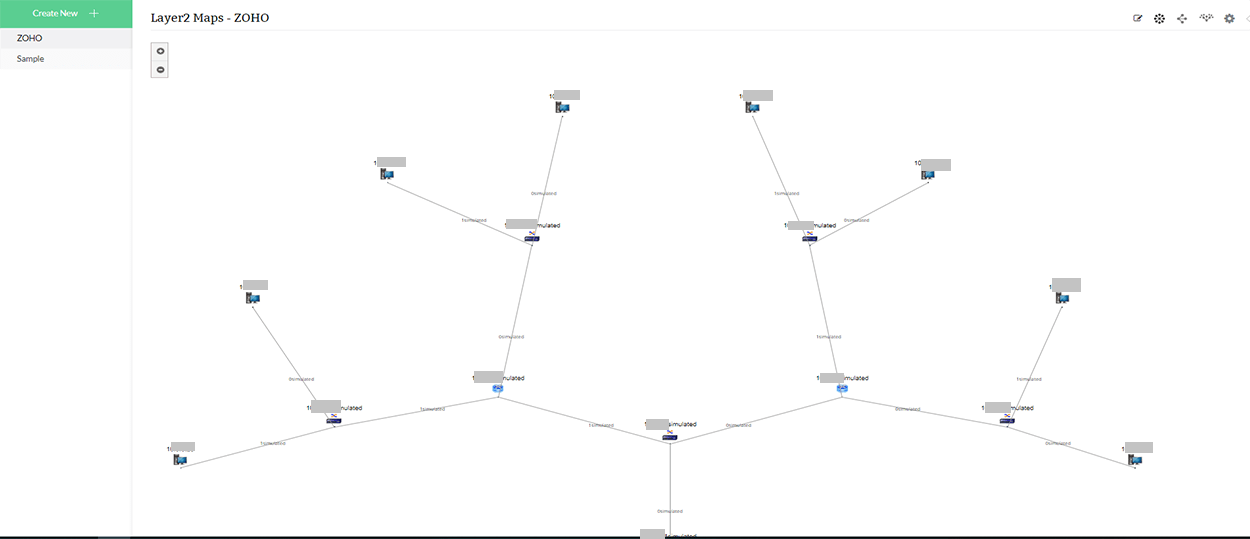 Virtual machine topography maps
OpManager visualizes your virtual networks. The virtual network topology maps in OpManager depict the relationship between hosts, virtual machines, and data stores. You may also track VM migration across physical hosts with OpManager.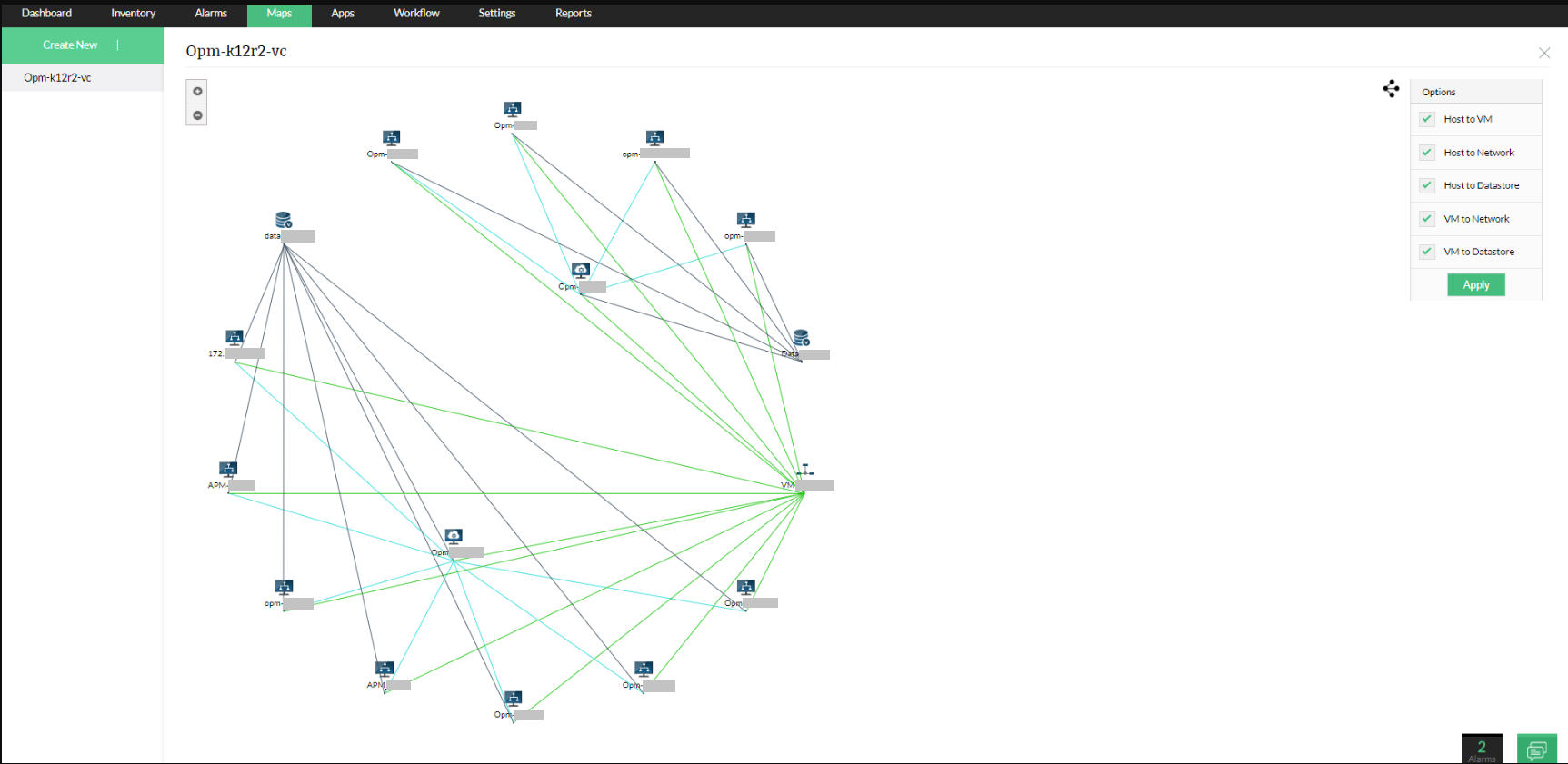 Business views    
OpManager is a network visualizer that uses a drag-and-drop diagram builder to create business views. In OpManager, business views show devices in a graphical format based on the business service they deliver. This ensures the continuous availability of mission-critical programs and facilitates troubleshooting.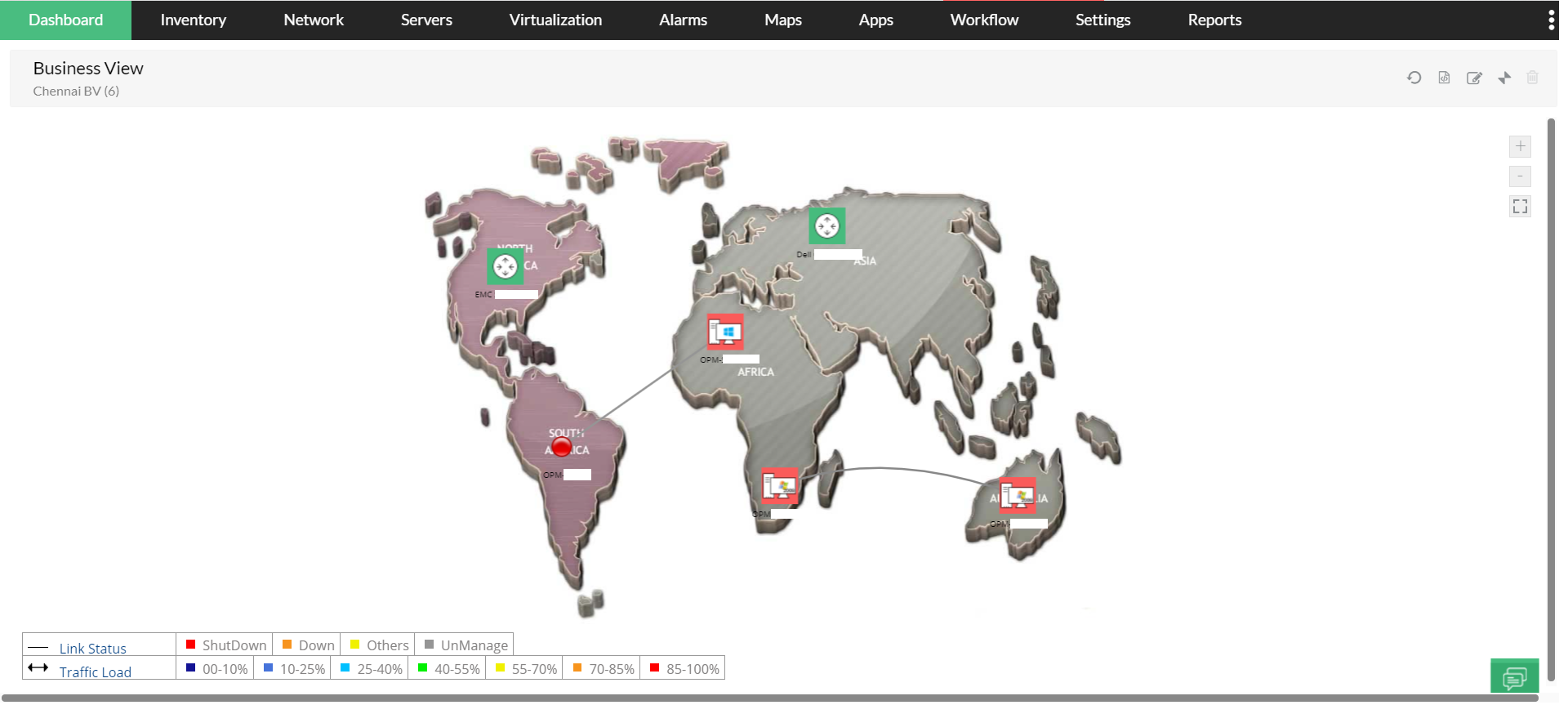 Zoho Maps and Google Maps   
The default map source for the maps feature in OpManager is Zoho Maps. It can be used to visualize your network by arranging devices on maps based on their geographic distribution. The same ground distance in miles or kilometers can also be displayed using Zoho Maps. You can also use OpManager to integrate Google Maps and place devices on it based on their geographic distribution.

Hyper-converged infrastructure (HCI)
Hyper-convergence is an IT framework that combines storage, computation, virtualization, and networking into a single system to simplify data center management and boost scalability. OpManager's network visualizer enables you to discover the Nutanix cluster, which will automatically discover the hosts and VMs, and display their relationship by placing them on a map. You can add the Nutanix Prism Central to automatically discover all the clusters mapped under the HCI device. This will give you a detailed network map of each and every virtual machine in the organization managed by the HCI,irrespective of the number of nodes.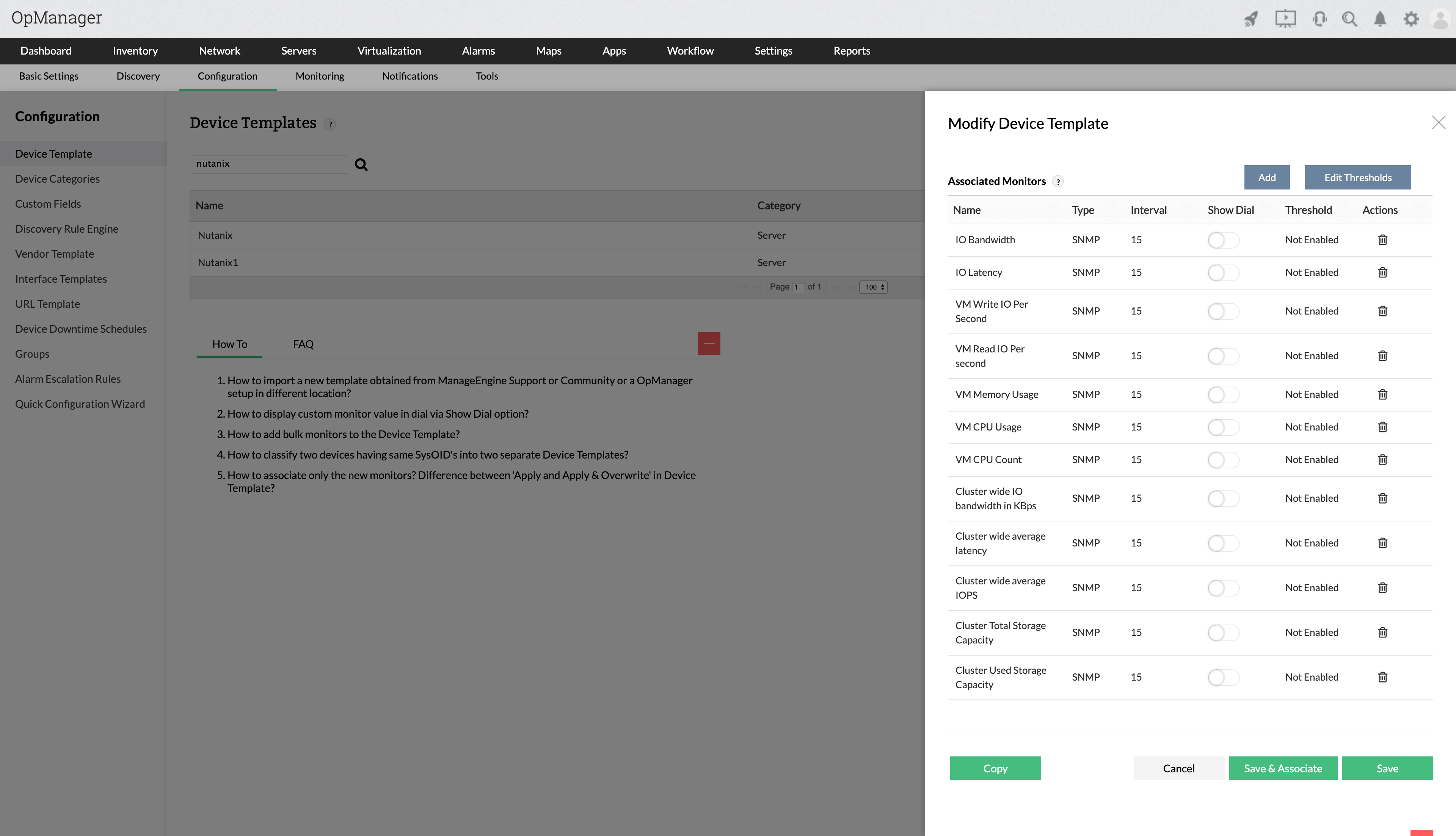 Software-defined networking ( SDN) infrastructure 
SDN is a network architecture approach that allows networks to be intelligently and centrally controlled using software applications. Regardless of the underlying network technology, this allows operators to manage the entire network consistently and holistically. Application Centric Infrastructure (ACI) is Cisco's SDN architecture for data centers. OpManager's network visualizer automatically plots the topology map of your ACI environment for better visualization. This gives you a comprehensive look at the APIC controller, the spines, and the leaves available in your network and how they are interconnected. Click on a device and you'll see its availability status too. The Topology tab is pretty much a network map with live status updates.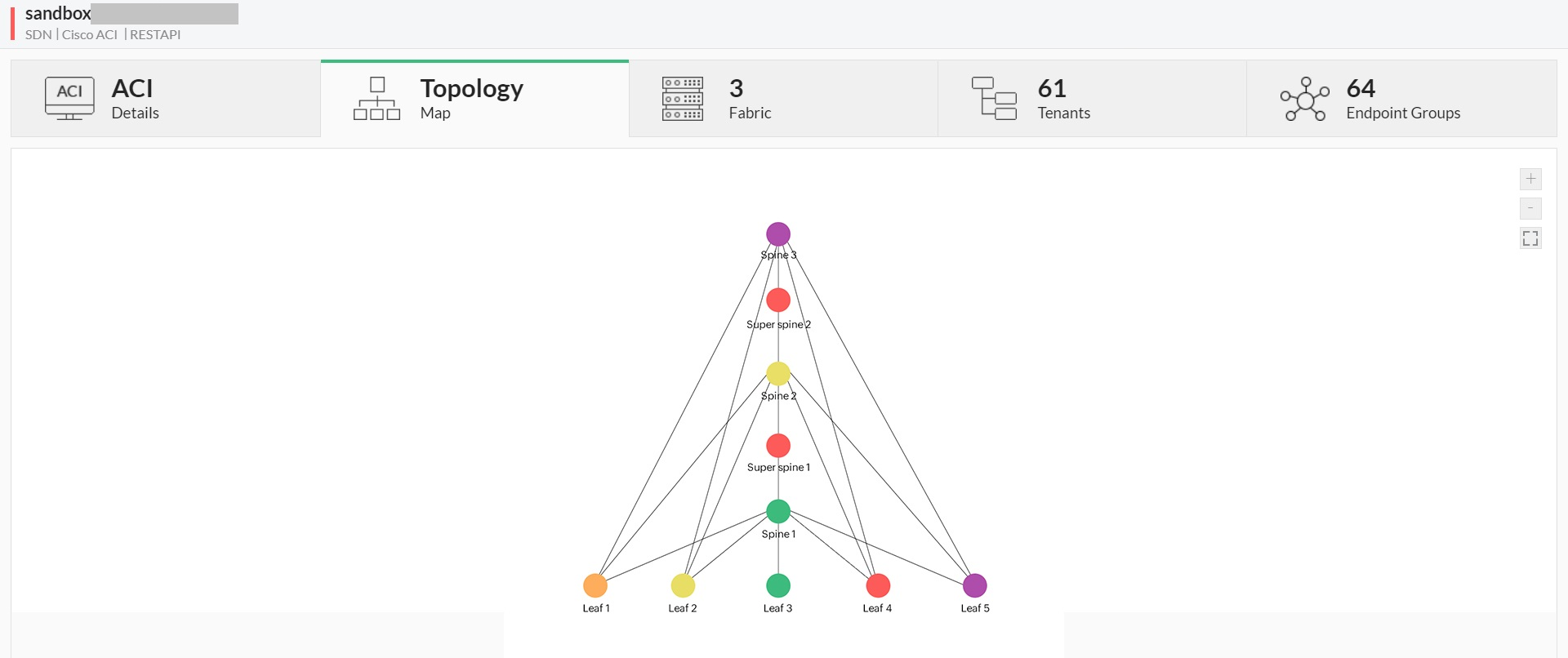 Software-defined networking wide area network (SD-WAN) topology view 
A SD-WAN is a virtual WAN architecture that allows businesses to securely connect users to applications using any combination of transport services, such as Multiprotocol Label Switching (MPLS), Long-Term Evolution (LTE), and broadband internet services.
OpManager's network visualizer's topology view option gives you a complete map-like representation of the various devices in each network of the discovered Cisco Meraki controller, which has built-in SD-WAN technology. This topology view option helps you know the interconnections between the various devices in the selected network.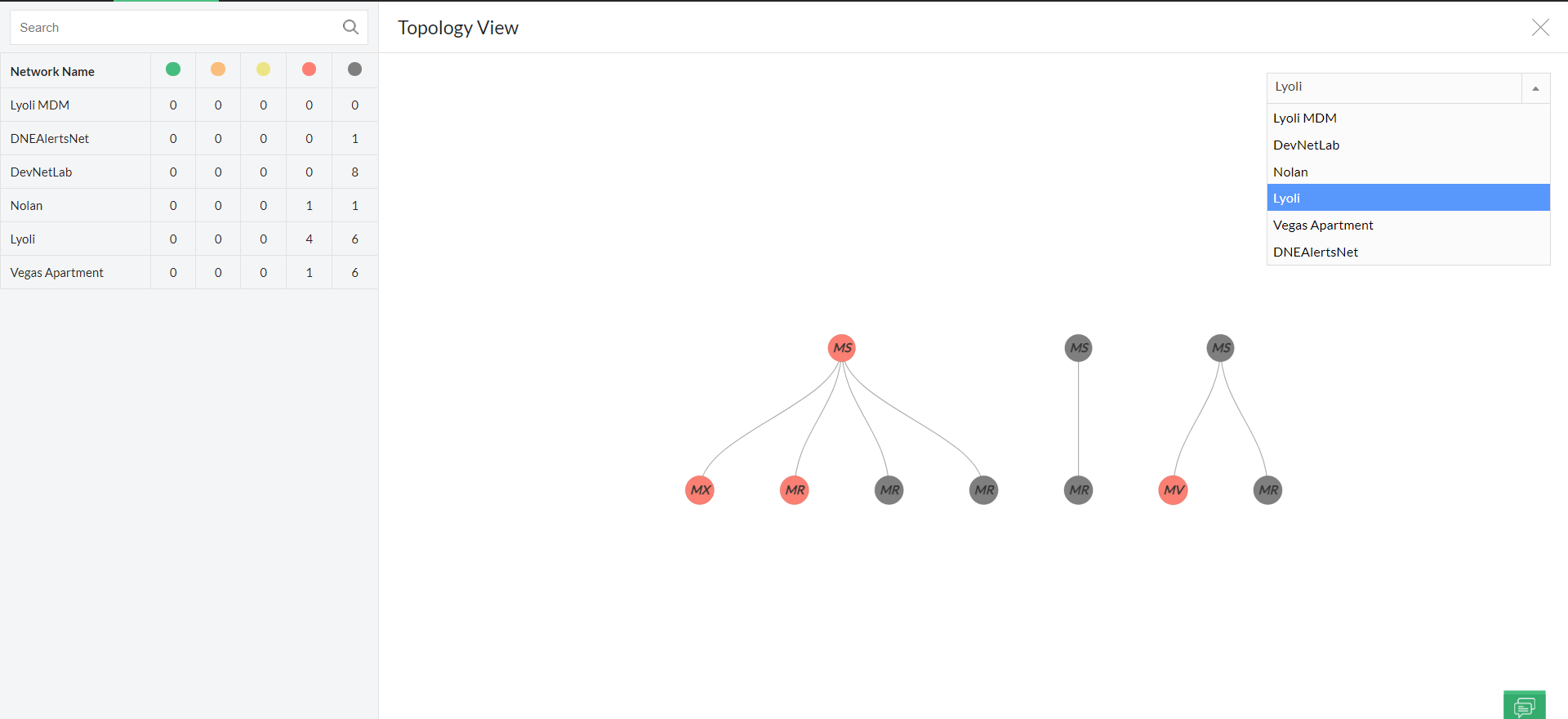 3D rack and floor views
OpManager's network visualizer allows you to make virtual three-dimensional replicas of your data centers. You can build 3D rack and floor views of your server rooms with OpManager. These views assist network administrators in keeping track of server availability and status.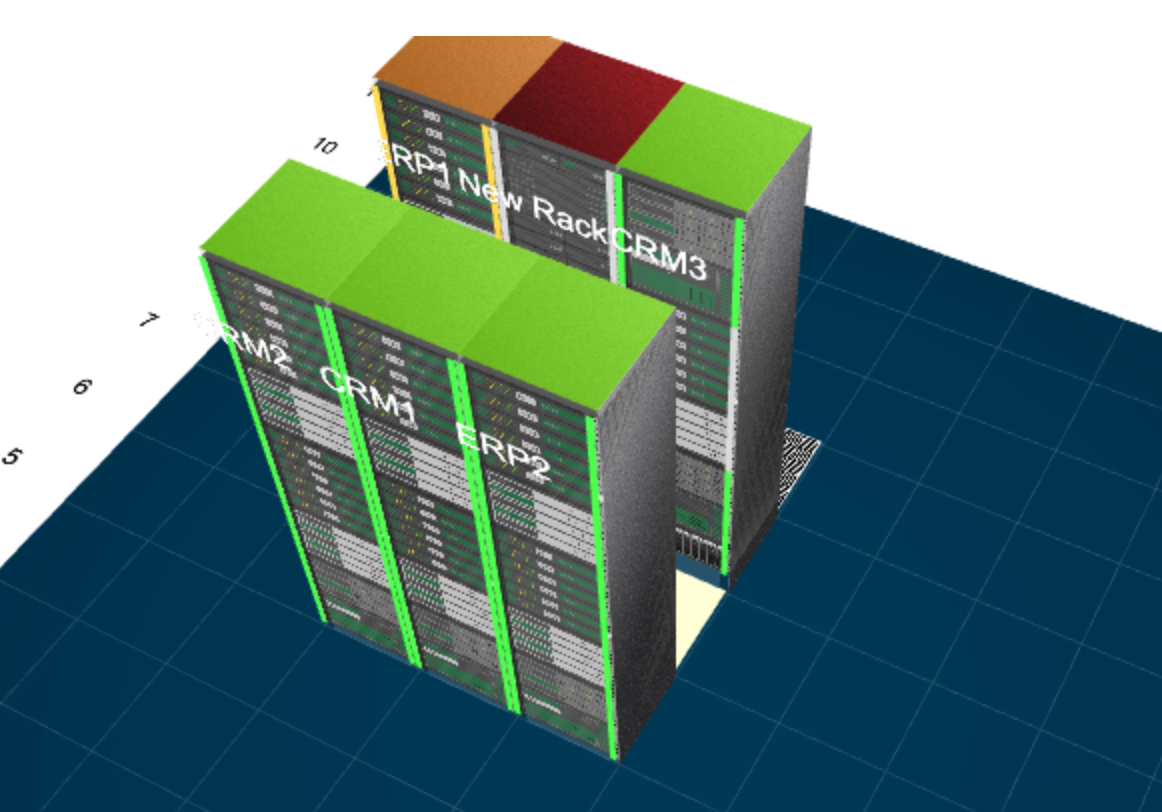 By pinpointing network issues, OpManger's network visualization tools make network monitoring easier. If you're not an OpManager user but are interested in seeing how it can help with visualizing your networks, try OpManager free for 30 days. You can also schedule a free OpManager demo to discover more about network visualization tools that make your network monitoring tasks easier. You can contact us at eval-itom@manageengine.com if you need any assistance, or have questions.
OpManager is a part of ManageEngine's ITOM suite of solutions. Apart from network monitoring, this suite also offers solutions for streamlining server monitoring, application monitoring, bandwidth monitoring, configuration management, firewall security and compliance, and IP address and switch port management. This is why ManageEngine's ITOM solutions are the ideal choice for over one million IT admins worldwide.