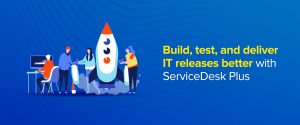 We're proud to announce the latest feature in ServiceDesk Plus Cloud: IT Release Management. This new capability helps you build, test, and deliver IT software releases with minimal risks and greater transparency.
As organizations evolve, they often need to regularly upgrade their IT infrastructures, part of which involves software releases. Such software releases, whether simple or complex, are plagued with common challenges like lack of communication between different teams, scheduling conflicts, and absence of central control. Failing to adequately address these challenges may result in underdeveloped or failed releases. This can cause a backlog of pending releases and an increase in outages leading to costly downtime that could have otherwise been prevented.
Moreover, most organizations handle their release management processes independently from change management processes. These organizations are missing out on all the benefits that leveraging release management to efficiently implement IT changes can offer.
So how do you ensure that your changes are effectively released into your IT infrastructure? Through effective release management that works in tandem with change management to offer transparency and central control. And that's exactly what ServiceDesk Plus' new capability provides.
ServiceDesk Plus' Release Management module enables you to establish a clear governance structure through release roles, automated workflows, and customizable templates. Integrated with the Change Management module, you can associate changes to releases, thereby carrying over all the necessary documentation to the latter.
All scheduled releases and changes are highlighted in both modules through the integrated calendar view, ensuring that no scheduling conflicts arise. The graphical drag-and-drop canvas for release workflows enables you to create custom workflows for various types (Major, Minor, or Emergency) of releases.
Bridge any communication gaps in your organization by keeping key stakeholders in the loop using announcements and notification rules. Augmented with other existing functionalities like task dependencies, IT software upgrade releases have never been easier and more secure from risks that impede your organization's day-to-day operations, making for a seamless and effective release management process.
Know more about IT Release Management in ServiceDesk Plus here!
walk-through video. You can also register for our free webinar on Release Management, or read detailed step-by-step instructions to configure release management here.