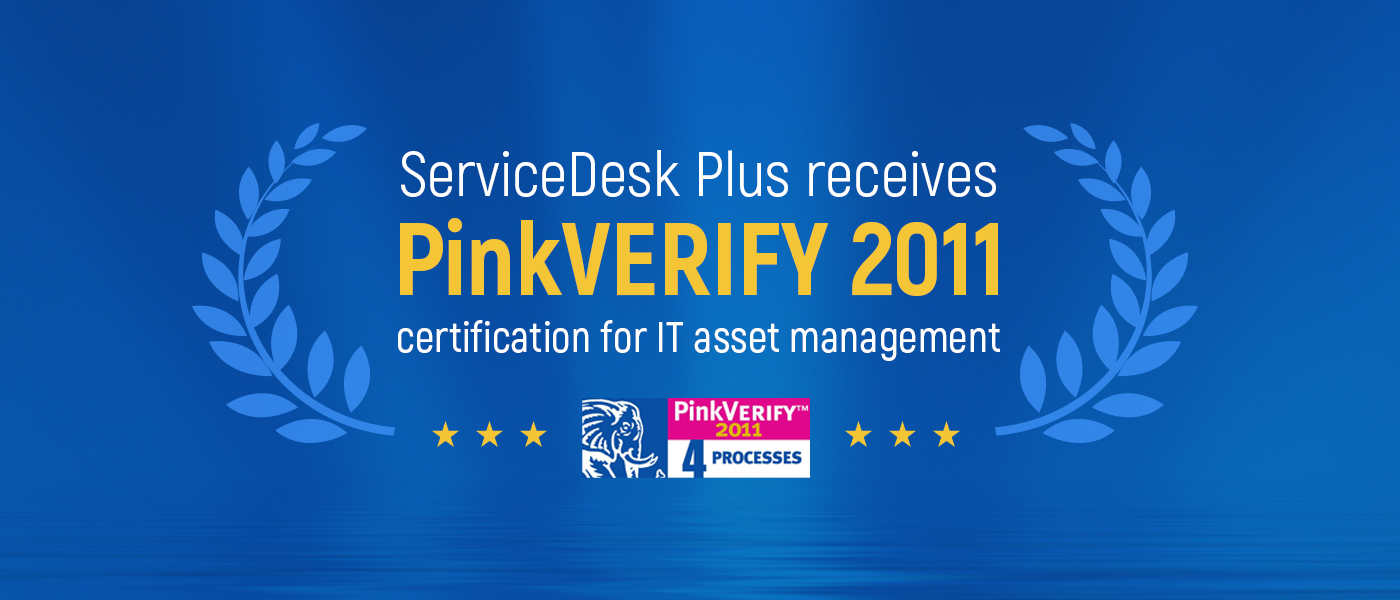 We're delighted to announce that ServiceDesk Plus, our flagship IT service management (ITSM) solution, received PinkVERIFY 2011 certification for its IT asset management (ITAM) processes. This adds to ServiceDesk Plus' existing PinkVERIFY certifications for its incident management, request fulfillment, and change management processes.
PinkVERIFY is a globally recognized ITSM tool suite assessment service from Pink Elephant that helps organizations identify ITSM tools to support their process improvement initiatives. Being PinkVERIFY 2011 certified confirms ServiceDesk Plus' ITIL v3 compatibility and gives our customers confidence that they've made the right choice.
Tracking missing, broken, and ghost assets is a challenge even for companies with mature ITAM processes; once license compliance goes out the window, substandard asset and license usage could send your IT costs spiraling before you know it. ITAM is part of most IT service desk team's responsibilities, but more often than not, organizations find that their ITSM software does not stack up when it comes to ITAM. This often results in companies investing in a separate ITAM solution in addition to their existing ITSM tool.
The single solution for both ITSM and ITAM
At ManageEngine, we understand the frustration of using multiple tools for ITSM and ITAM. With ServiceDesk Plus, you don't have to. ServiceDesk Plus ensures organizations can focus on effective service delivery while minimizing the risks and costs involved in asset management. Manage the complete life cycle of your hardware and software assets, from purchase to disposal, using ServiceDesk Plus. The best part is that ServiceDesk Plus' asset management is tightly integrated with its other ITSM modules.
As one ServiceDesk Plus customer put it:
"I love ServiceDesk Plus' asset management and ticketing. It's easy to associate an asset with a ticket, and connect to a user to fix any issues they may be having. ServiceDesk Plus is a one-stop shop for your IT ticketing needs."
ServiceDesk Plus' ITAM module is available in both the Professional and Enterprise editions. Learn more about PinkVERIFY 2011 certified ITAM processes in ServiceDesk Plus.
Try it now!
So, what are you waiting for? To learn more about ServiceDesk Plus and start your free, 30-day trial, click here.