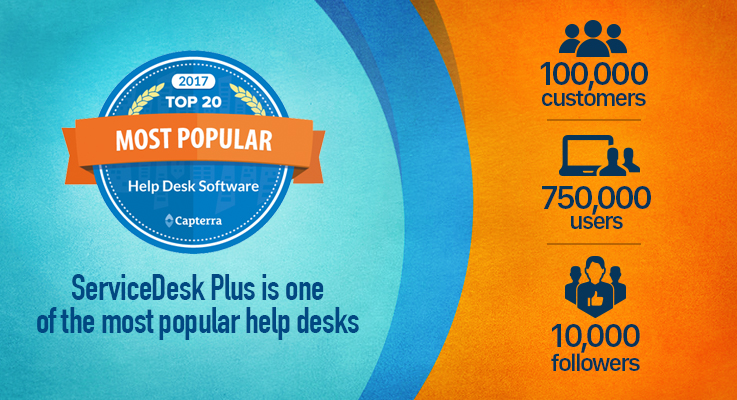 We are pleased to announce that Capterra has recognized ServiceDesk Plus as the second most popular IT help desk in their latest report.
Capterra helps organizations choose the best software for their business by offering a comprehensive list of business software solutions. Part of their service includes regularly publishing reports ranking business software solutions under certain criteria.
How ServiceDesk Plus did it
For their latest report on the most popular help desk software, Capterra took three factors into consideration:
Number of customers
Number of active users
Social media presence
ServiceDesk Plus emerged as the clear leader in the number of active users category, with more than 750,000 IT technicians using ServiceDesk Plus to streamline their IT operations. Our large, worldwide customer base accounting for more than 100,000 organizations also helped ServiceDesk Plus get ahead.
Rachel Wille of Capterra summarized the report methodology and ManageEngine's performance as such:
"We updated our most popular help desk software report to display the biggest software products in the help desk market. To update this report, we took a look at each software products the total number of users, the total number of customers and social presence. These factors determine the Top 20 most popular help desk product using a weighted formula, and that formula would determine the top 20 most popular help desk products. ManageEnginge, with the largest number of users, ranked #2 in the report."
What this means for you
This recognition from Capterra means that when you use ServiceDesk Plus to manage your IT operations, you can rest assured that you're getting a best-in-class IT help desk offering vouched for by thousands of IT service management professionals worldwide.
More than 100,000 organizations trust ServiceDesk Plus
With a wide breadth of fine-grained, ITIL-ready modules covering important aspects of IT service management, as well as customizable processes and automated workflows, ServiceDesk Plus gives you a 360 degree ITSM experience by seamlessly integrating with other IT management software from ManageEngine.
To read the Capterra report on The Top 20 Most Popular Help Desk Software, please follow this link.
To learn more about ServiceDesk Plus, schedule a demo, or start your free trial, please visit our website here.