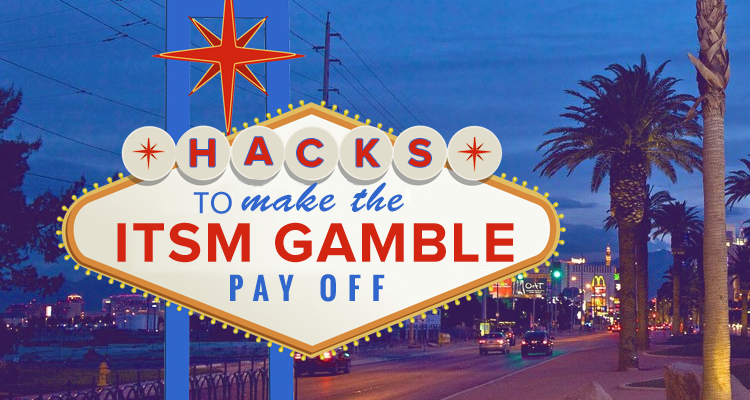 Everything's a gamble, love most of all.
-Tess Gerristen
IT help desk teams might beg to differ with Gerristen. For them, IT service management is usually the biggest gamble.  With business continuity at stake, IT admins can't afford to take uncalculated risks with their IT management policies and processes. An incident or change that falls through the cracks could bring down a business quickly, like when Knight Capital Group lost $440 million in only 30 minutes because of an untested software deployment. With the majority of ITSM conferences happening in Las Vegas, like Pink17, there's no better place than the casinos to learn how to make the ITSM gamble pay off. So here are a few ITSM lessons from the casinos to help you steer clear of service delivery failures.

Roulette, as simple as it may seem, might leave a huge hole in your wallet if the ball doesn't land in the right pocket. The same is true with a ticket that doesn't land in the right technician's queue. This could lead to longer resolution times, incorrect resolutions, and lower customer satisfaction levels. Unlike roulette, you don't have to rely on luck or work on complex mathematical algorithms to assign tickets to the right technician. Most IT help desks can automate ticket classification and assignment to the appropriate technician or support group.

Managing to keep a poker face might help you win a game of poker, but can prove to be a disaster in help desk management. New-gen IT end users are part of the e-commerce wave, which has simplified the shopping experience and set high standards for IT service delivery. They expect transparency when it comes to services, associated SLAs, technician details, and ticket statuses. Your IT help desk software should simplify this process with the help of a service catalog published on a self-service portal.

Pulling the lever and hoping to win is a common casino strategy. Sometimes IT admins adopt a similar strategy, just closing incidents day in, day out. But this method of IT firefighting — resolving incidents as they pop up — does not ensure better service delivery. To provide uninterrupted services, and to achieve business objectives, IT help desk teams have to implement ITSM processes like problem and change management in addition to solving tickets. With the appropriate integrations, the scope of IT service management can be extended to include Active Directory management and self-service, client device management, and IT operations management.

Disciplined gamblers know how much money they have and how much they're willing to lose before they start a gambling session. In short, they know their bankroll; and sticking to it helps them win at a casino. Similarly, to run a successful IT help desk, you need to know your IT infrastructure. You have to discover and manage every component, configure relationships between each component, and track those components across their life cycles. An integrated IT asset and configuration management system can help you identify incidents easily, detect the root cause, perform smoother change implementations, and achieve maximum software compliance and utilization.

If you're new to Vegas, the overwhelming number of game rules and strategies can scare you away from the casino tables. Likewise, ITIL processes and principles that make ITSM look too complex can intimidate you from effectively running your help desk. It might help to imagine these processes simply as guidelines to help improve service delivery and not as rules. To ensure a successful IT help desk, understand your business objectives, then define and align them with the IT objectives before configuring IT workflows.

You can win a game of Blackjack if you train yourself to count cards. Similarly, when it comes to your IT help desk, keeping tabs on key metrics and performing the right kind of analytics will improve help desk performance. Reports like simple incident trends or technician workload per hour can impact service management immensely when used as sources of business intelligence.
 These are some of the ITSM lessons  that can be learned from the casino floors of Vegas. If you have any you'd like to add, please share them in the comments section. Meanwhile, if you are looking for an IT help desk tool that can help you streamline your IT service management or expand the scope of your help desk, take a look at ServiceDesk Plus, the ITIL-ready help desk software from ManageEngine.
Join this free webinar, to learn more about the IT help desk lessons from the casinos of Vegas.
Related posts :